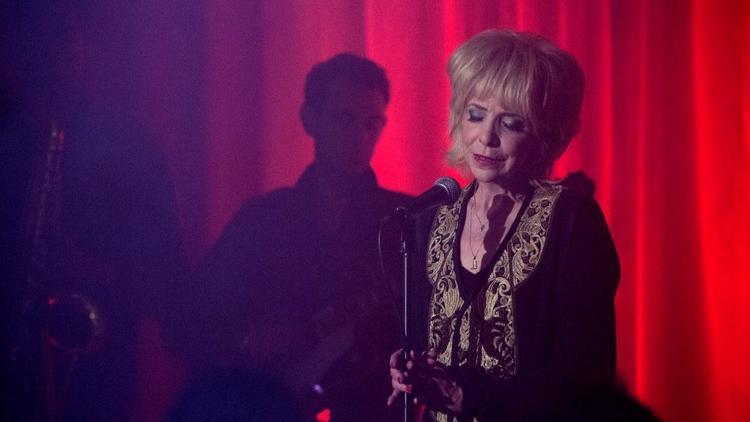 Julee Cruise is a singer, songwriter, actor, and musician. She's been involved in a wide number of projects in her career and is still active to this day. Her collaborations and original pieces have elevated her to the type of stardom that isn't always easy to notice but is important when it comes to working behind the scenes. Her work has managed to find a place in TV shows aplenty and has been instrumental in making such shows just a little more important and a little more popular with audiences, though few would ever really recognize what she's done to enhance the experience. The mere fact that she loves what she does is enough though.
Here are a few things you might not have known about her.
5. She began singing professionally at age 11.
I'm not talking about singing in school plays and the like, but actual professional singing. This woman's voice was still considered good enough by adult standards when she was still a kid, and that's seriously impressive. Cruise obviously loved the feel of being able to contribute and getting her voice heard that she decided to continue with this career.
4. She has a degree in French Horn.
I honestly never knew that you could obtain a degree that focused around an instrument but I won't go doubting it since music is a very obvious degree that many individuals go for these days. Plus just taking a look at the French horn and it seems like it would take a while to really get it down. I can see how focusing a degree on this type of instrument might be feasible.
3. An actress from the Bob Newhart show was her babysitter.
Bob Newhart's secretary on the show was Cruise's babysitter. I wonder if that was before or after, or even during her stint as Julee's babysitter. It might not hold a lot of merit with some people but it would still be kind of cool to reminisce and tell your grandkids or your kids that you once got babysat by a famous person. Even if that famous person was an extra.
2. Growing up her father was the town dentist.
Her hometown must have been fairly small when she was young since most towns these days are so large that you can't have a town anything unless it happens to be an elected official or something similar. The town dentist is a position you might still find in a small, out of the way location, but more or less most people have a variety of dentists to pick from.
1. She is a resident of New York.
So many celebrities live in New York that it seems like a mecca of sorts for the popular and famous. A good number of them come from there but Julee is from Iowa. Maybe she was a young girl with visions of the Big Apple during her earliest days. Whatever the case she made it, and she's still there doing what she does.
Julee Cruise is a talented woman that deserves a little more credit for her work.
Save