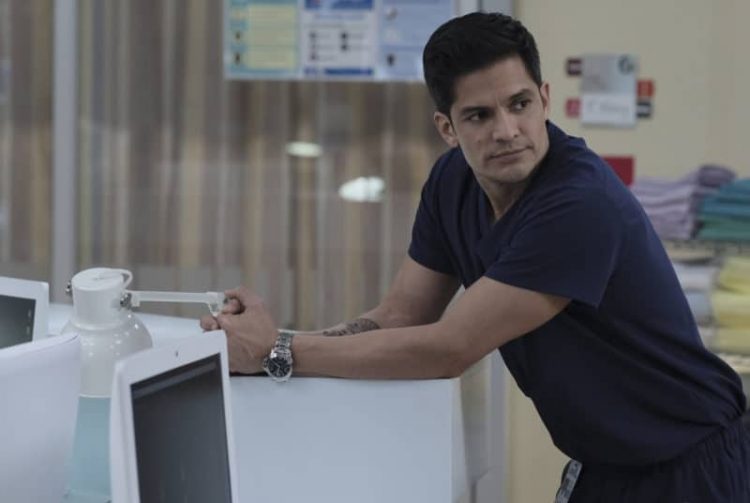 You may not know Nicholas Gonzalez by name, but you've seen his face. He's the handsome guy that has probably made guest appearances on some of your favorite shows. Best-known for his roles in Resurrection Blvd and The Good Doctor, Gonzalez has also appeared in popular series like Pretty Little Liars. His current role as Dr. Neil Melendez is earning him some much deserved attention. Although most viewers remember him for his good looks and charming characters, he's got a lot more to offer than a handsome face. Not only is Nicholas Gonzalez interesting as hell, but he's also a loving father and husband. Let's get into 10 things you didn't know about Nicholas Gonzalez.
1. He Was An English Major
Whoever said English majors have no future might want to think again. Nicholas Gonzalez majored in English at Stanford University. He even studied literature at Oxford University in London. He may not have taken the traditional English major route, but he still managed to find a great deal of success.
2. He Was A Track Star
Long before he was a TV heartthrob, Nicholas Gonzalez was a talented runner. During his time at Central Catholic High School in Texas, Gonzalez was a star on the track and cross country teams. In 1994, he won the Texas State Championship for the one and two mile events.
3. He Supports Animal Rights
If Nicholas Gonzalez' good looks and charisma weren't enough to win you over, his love for animals should definitely do the trick. I mean, seriously, how could you not love someone that cares about animals? Nicholas Gonzalez is a strong supporter of animal rights. In 2020 he worked with PETA on a campaign on the importance of treating dogs like family members.
4. He Dated Regina King
Am I the only person who never knew that Nicholas Gonzalez and Academy Award winner, Regina King, had a thing in 2007? If you're not familiar with any of Regina King's work, you should check her out. The two dated for a short time before splitting. Nicholas eventually married his Good Doctor co-star, Kelsey Crane, in 2016.
5. He Comes From A Medical Family
There's probably a lot of research that goes into portraying a doctor. But luckily for Nicholas Gonzalez, he has easy access to a wealth of medical knowledge. Nicholas' father and brother are both surgeons and his mothers works as a bookkeeper in a radiology office. His brother even landed an opportunity to have an uncredited role as a medical consultant in an episode of The Good Doctor.
6. His Tattoo In The Good Doctor Is Fake
If you're a fan of the The Good Doctor, you've probably noticed Dr. Menendez' elk head tattoo. However, Nicholas Gonzalez has no such tattoo in real life. Gonzalez has to spend extra time with the makeup team to get the tattoo drawn on for any episode where it will be seen.
7. He's A Girl Dad
After Kobe Bryant's tragic passing, the phrase 'girl dad' became a popular way for fathers to show how much they love and appreciate their daughters. Nicholas Gonzalez is a very proud girl dad to his adorable daughter, Ever Lee Wilde Gonzalez. He and his wife welcomed their bundle of joy in 2017. She is the couple's only child.
8. He's Feeling The Bern
Nicholas Gonzalez isn't the most outspoken actor when it comes to politics, but he's made it known that he's on team Bernie. During the 2016 election, Gonzalez rallied for Sanders and shared his thoughts on why he felt Sanders was the best candidate for the job. He also credited Sanders with reignited his interest in politics.
9. He's Selective About The Roles He Takes
Nicholas Gonzalez has been acting for over 20 years. During that time, he's been able to take on a wide variety of roles. In more recent years, however, he's gotten much more selective about the roles he's willing to take stating, "I no longer take on everything offered. Instead, I go up for roles I like, things that I would enjoy watching, stories that I want to tell."
10. He Loves Independent Women
Nicholas Gonzalez is a pretty progressive guy, so it's only right that he also has open minded views when it comes to women. Gonzalez appreciates strong; independent women and believe everyone else should as well. Looks like his wife and daughter are pretty lucky.
Tell us what's wrong with this post? How could we improve it? :)
Let us improve this post!