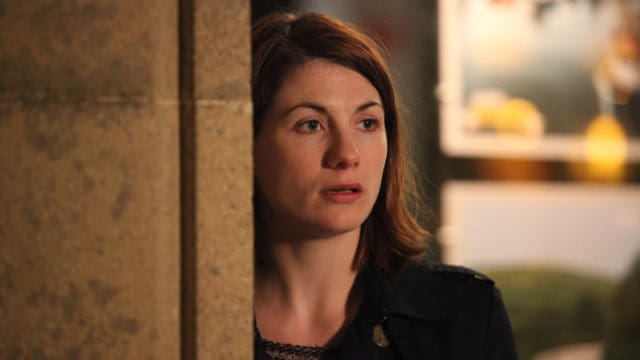 Anyone that is a fan of the popular show Broadchurch should be at least somewhat familiar with actress Jodie Whittaker, who plays Beth Latimer on the show. However, it is always fun to try to find out more information about your favorite actor or actress. Since Broadchurch is such a popular show and is just beginning its third season, it's time to stop for a minute and take a look at five things you might not know about Jodie Whittaker.
1. She won a gold medal for acting
Whittaker attended the Guildhall School of Music and Dance, an extremely prestigious school where only the most talented of individuals graduate. Not only did she graduate, but she also won a gold medal for her acting prowess. This served as an indication of things to come, as she has experienced a number of successes since that time and she has never looked back.
2. She's starting her third season on the show Broadchurch
Whittaker has been there from the beginning and as the third season gets underway, her character will be featured again. Since the show has been her home for the last several years, she has truly found her place but she has never stopped working on other projects as well. In fact, she typically works on additional projects whenever the show isn't shooting and sometimes, she is even working on things simultaneously. Therefore, she is building an impressive list for her resume, including her work on Broadchurch.
3. She didn't get her first name by accident
She might have a rather popular name, as a lot of women are named Jodie. However, her parents named her this with a very specific intention in mind. She's actually named in honor of fellow actress Jodie Foster. As you can see, she has been in good company since the day she was born.
4. She sometimes struggles with her role on Broadchurch
On the show, she plays a mother grieving the loss of her son. In real life, she still struggles with losing her nephew, so the similarities between her role and her actual life are sometimes difficult for her to deal with. Despite the difficulty, she also knows that she can tap into this same grief when she needs to film an especially poignant scene where her emotions need to be more raw. She admits that she is an emotional person, so she sometimes has to work overtime to avoid allowing her emotions to get the best of her.
5. She had a nephew that also acted
Her nephew, Harry, acted in Emmerdale before his death in 2014. Sadly, he was just 3 years old when he died from complications that occurred as the result of suffering from Down syndrome. Despite his challenges, it is nothing short of astounding that he was able to land a role at such a young age. It's too bad that audiences won't have the opportunity to see him act in the future.