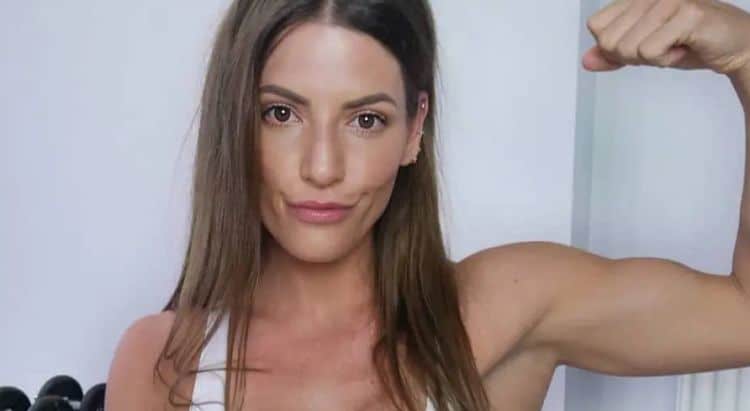 It may be hard to believe, but The Challenge has been airing on MTV for more than 25 years. Originally called Road Rules: All Stars, the show has come a long way since 1998, and the challenges are now more intense than ever and the competition is surprisingly fierce. In addition, contestants no longer have to be part of the MTV family in order to be considered for the show. As one of the newer contestants on the show, Jenny came into the current season as somewhat of an underdog. However, she quickly showed that she could keep up with the best of them. Although we're still not sure how the rest of the season will pan out, the odds are looking pretty good for Jenny West. Here are 10 things you didn't know about Jenny West.
1. She's Really Into Health And Fitness
Jenny has an awesome body, but that hasn't always been the case. Her dedication to health and fitness have helped her get in the best shape of her life. Ironically though, Jenny only started going to the gym as a way to support a friend who was getting into working out. Now Jenny is a fitness enthusiast who enjoys sharing tips with her Instagram followers.
2. She Has A Twin Sister
Jenny has a twin sister named Lucy who is also heavily involved in the health and fitness space. The two have a shared Instagram account called The West Twins where they work together and share advice and resources. At the moment, The West Twins have 343,000 followers on Instagram.
3. She Has A Guinea Pig
Most of us believe that there are only two types of people in the world: dog people and cat people. However, Jenny West is proof that there is a third group: guinea pig people. Jenny has three cute little pet guinea pigs that she loves to cuddle with whenever she can.
4. She Grew Up Playing Sports
Even though she wasn't always into weight lifting and workout routines, Jenny has always been active. She told The Daily Struggle, "I have always been into anything physical and at school wanted to be on all the school teams. Basketball, netball, volleyball …you name it, I wanted to be on it! I would walk to the park and practice back flicks because we didn't have grass in our garden and I didn't have gymnastics lessons. The library eventually gave me the gymnastics book I kept renewing that I was learning all my tricks from."
5. She Often Struggles With Social Media
Social media is a big part of Jenny's life, and it's also something she relief on for opportunities. However, social media can also be full of negative comments, and this is something Jenny has to deal with on a regular basis. She admits that it can be a struggle to deal with, but his realized that it's just best to block those people and keep going.
6. She Likes Making Others Happy
Even though she often has to deal with negativity because of her social media and reality TV fame, Jenny likes to keep everything that comes from her as positive as possible. Jenny really enjoys making people happy and she hopes that she can use her platform to help bring joy to others.
7. She Started Her Own Business
Some people may look at Jenny and write her off as nothing more than a reality TV star, but the truth is she's way more than that. Jenny started her own business called Future Proof Business with a goal of helping and educating people on health and fitness. Through the website, Jenny offers resources and workout guides to help people along their fitness journeys.
8. Being On TV Is Her Greatest Accomplishment
Jenny has accomplished a lot of things over the years, and in some ways she's still getting started. However, so far, her proudest moment has been making it on TV. She describes the experiences as "unreal" and says she will be forever grateful for the opportunities TV has given her.
9. She's Worked Hard For Her Butt
Jenny's butt has gotten her a lot of attention over the years and while it's true that it's all natural, she didn't always have it. After getting countless questions from her followers on how she was able to grow her glutes, she shared that it's simply the result of lots of hard work and dedication in the gym.
10. She's Already Won A Reality Show
In 2018, Jenny appeared on the British reality competition show, Survival of the Fittest. She ultimately become one of the season's winners which may be something she can use to her advantage on The Challenge. Even though Survival of the Fittest and The Challenge are two completely different games, Jenny has already shown that she has what it takes to make it to the end.