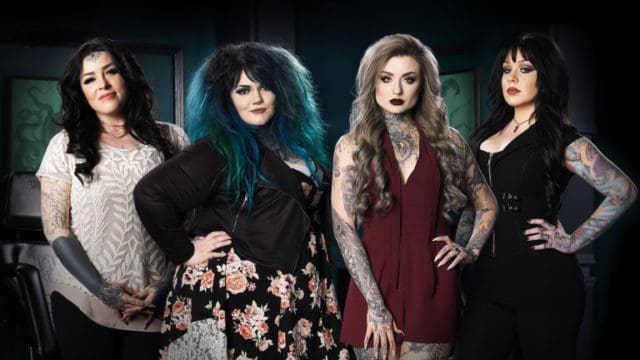 Ink Master: Angels is a TV show on Spike that will focus on the talented tattoo artists who can be found throughout the United States. It shares something of Ink Master's competitive nature, meaning that it should prove interesting to those who keep up with said TV show. Furthermore, its particular premise provides it with a fresh perspective, meaning that it could prove interesting to other viewers as well.
Here are five things that you may or may not have known about Ink Master: Angels:
It Is a Spin-Off
Given its name, it should come as no surprise to learn that Ink Master: Angels is a spin-off of Ink Master. However, it is interesting to note that it has a much stronger connection to its parent series than most spin-offs, seeing as how the people who appear on it will have a chance to appear on the upcoming Season 10 of Ink Master. Of course, this is true so long as said individuals can meet the conditions needed to secure them a spot, which leads to the next point.
It Uses a Competition Format
Each episode of Ink Master: Angels showcases a trio of tattoo artists who compete with one another in a competition hosted by a local tattoo shop. Afterward, the winner of the competition get the chance to take on one of the hosts in a second head-to-head competition, with an appearance on the parent series being the prize that is at stake. This provides the whole thing with an element of tension, thus making it that much more interesting.
Features Competitors from the Parent Series
Ink Master: Angels is hosted by competitors from the parent series. One of them, Ryan Ashley was the winner of her season, while the others were runners-up who nonetheless managed to make a lasting impression on the show-runners as well as the viewers. Unsurprisingly because of the series's name, the former competitors chosen for the series are all women, which provides the series with a unique perspective that cannot be found with ease elsewhere.
The Hosts Are Friends
It is interesting to note that the hosts of Ink Master: Angels are friends. This happened because they were people who shared similar experiences over the course of their careers, with the result that they decided to support one another instead of pulling one another down. Something that stands out in the world of reality TV shows, which have a penchant for pitting female competitors against one another in a much more stereotypically vicious form of competition.
Ten Episodes Have Been Approved
Ink Master: Angels started out with a hour-long special, which convinced the people behind Ink Master that there was potential in the spin-off. As a result, there are now ten episodes that have been ordered up for the season, which should make for an even better test of the concept. Should Ink Master: Angels prove successful, it seems probable that interested individuals can continue to expect similar content in the future, though it is bound to have the usual shake-ups that happen over time.