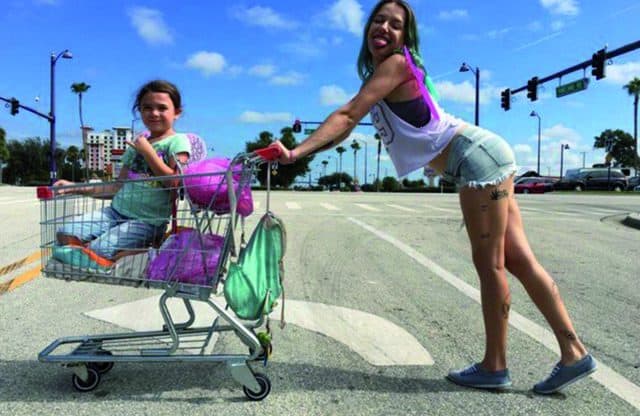 As the summer season winds down, everyone is getting geared up for the winter flicks that are looking to be pretty hot so far. There is a wide range of movies hitting the screen, but one movie that is somewhat offbeat, yet very promising is The Florida Project, a movie about a six-year-old girl and her friends during their summer break experiencing life in an undaunted and carefree way while the adults in their world struggle with their own issues and challenges. The movie stars Willem Dafoe and Brooklyn Prince, but one person who threatens to still the spotlight is the actress, Bria Vinaite. If you have never heard of her, that is definitely about to change.
Since there is a chance that you are unfamiliar with Bria, we decided to share five facts that we will help you familiarize yourself with this free-spirited actress.
1. She Was Discovered and Cast for the Movie Via Social Media
Everyone knows that the power and reach of social media are growing increasingly, but most people are completely unaware of just how powerful these platforms have come. According to the director of The Florida Project, Sean Miller, he literally discovered and cast Bria Vinaite as the mother in his upcoming movie after discovering her on social media. This was a huge gamble, being that she would be playing opposite Willem Defoe, an Academy Award-nominated actor.
2. She Became Famous on Social Media Because of Her Marijuana Business
And yes, I do mean weed as in marijuana. Bria has a blazing hot Instagram account where she shares her experiences surrounding her highly profitable marijuana merchandising business. No, she is not an actress by trade, but obviously, there is something that Sean Miller detected in her that convinced him that he could convert this proud and free spirit into an actress that could hold her own among an extremely talented and experienced cast. According to Sean, he is happy that he took the gamble.
3. She is From Lithuania
Okay, this keeps getting weirder by the minute. It turns out that Bria was born in Lithuania, but she ended up moving to Brooklyn with her mother when she was young. As it turns out, her wild streak didn't come as a result of newfound freedom as a teen or adult. According to Bria, she has always been somewhat of a wild child — fighting and living to be free of many of the situations and circumstances that serve as fetters in the lives of so many others. She says the greatest freedom she has experienced came when she was about 14. That is when she completely stop caring what people thought of her.
4. She Was Sent Away to Boarding School
Well, Bria learned that there is a price to pay for expressing your freedom while still under the authority of one's parents. It seems that Bria became so wild and defiant that her parents sent up off to boarding school when it became too much to try to keep her out of trouble. One thing that is certain is the fact that boarding school did absolutely nothing to break her free spirit. All you have to do is sit through five minutes of an interview with her and you will see that she moves to the beat of an entirely different drum.
5. She Does Not Take Her Opportunity in Hollywood Lightly
While Bria is definitely a free spirit, she has not allowed her freedom to cloud her judgment as far as how she approaches this opportunity to encroach upon the parameters of Hollywood. A task that many have found to be completely daunting. She says that she is absolutely grateful for the opportunity and she appreciates Sean Miller believing in her. When you listen to her, you just get the impression that you are in the presence of a newly defined greatness that will take the world by storm.
Save