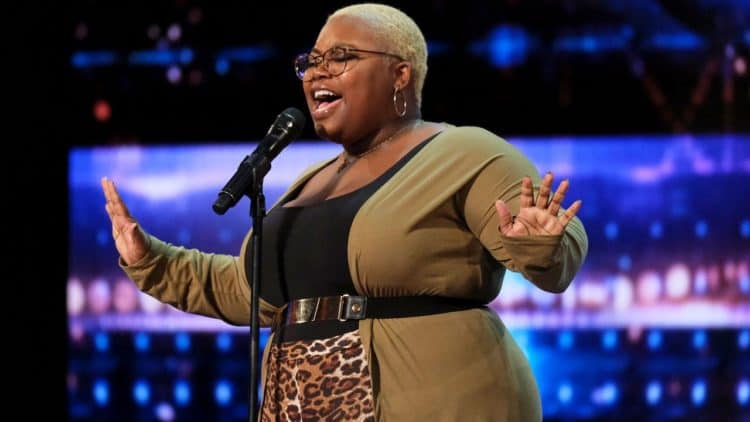 Getting the golden buzzer is the highest honor a contestant on America's Got Talent can earn. Singer, Cristina Rae, is officially one of the few people who can say she's earned one. During her recent performance on the show, Cristina sang two cover songs. Her beautiful voice left everyone stunned, and people were especially in awe of her wide vocal range. Judge, Heidi Klum, so impressed that she couldn't resist pressing the golden buzzer. Now that Cristina knows she will be safe for the next round, she can breathe easy and prepare herself for the rest of the competition. Continue reading to learn 10 things you didn't know about Cristina Rae from America's Got Talent.
1. She's Lived In Her Car
Cristina's journey hasn't always been easy. She's had lots of set backs over the years including a period of homelessness while she was pregnant. During this time, she lived in her car. Right now, she is staying with an aunt in Georgia, but things still aren't as stable as she'd like them to be. If she wins AGT, one of the first things she wants to do is purchase a home for herself and her son where he can have his own room.
2. She Is Classically Trained
As soon as Cristina started singing, it was clear that she was blessed with an incredible voice. However, talent isn't the only thing that sets her apart. Cristina attended Salama Urban Ministries from ages 7-23 where she was classically tanned in acting, singing, and dancing. She also attended the Blair School of Music and Nashville School of the Arts.
3. She's From Tennessee
Cristina was born and raised in Nashville, Tennessee, a place that has a rich musical history. However, the music scene in Nashville is more geared towards country music, so Cristina decided to relocate to Atlanta to give herself better opportunities to expand her career.
4. She Almost Lost Her Ability To Sing
Singing is more than something Cristina does, it's also a part of who she is. Sadly, though, she almost lost the ability to share her beautiful voice with the world. At one point, Cristina was told that she might never be able to sing again after it was discovered that she would need a tonsillectomy. Fortunately, things worked out and Cristina's singing voice is still in tact.
5. She's Performed At The Apollo
When you're trying to get discovered in the music business, putting yourself out there's a must. This means that any opportunity a person gets to perform should be taken very seriously. Before appearing on AGT, Cristina was putting in lots of work and got the chance to perform at the infamous Apollo Theater, in New York.
6. Her Family Hasn't Always Understood Her Dreams
Almost everyone who has ever followed a non tradition career path knows that it can be hard to explain to family exactly what you do and why it's so important to you. This is something Cristina has experienced first hand on her quest to become a professional singer. She says that her family isn't as supportive as she'd like them to be and they mostly see her singing as a hobby.
7. She's Been In Off Broadway Productions
Cristina may not be where she wants to be in her career, but that doesn't mean she hasn't already had some very impressive accomplishments. She's has appeared in off Broadway productions including Queen of Hearts by the New York based theater company, Company XIV.
8. She's Released Her Own Music
When you have a voice as powerful as Cristina's, singing covers is a great way to get noticed. But ultimately, Cristina's goal is record and release her own music, and she's already headed in that direction. Her song, "Unconditional" has been released on all major streaming platforms.
9. She Was Nominated For A Grammy
Winning a Grammy Award is easily one of the highest honors a musician can achieve. According to Cristina Rae's Instagram bio, she has already earned a Grammy nomination for work she has done in the past. However, it's unclear when she got the nomination and what it was for. If she keeps up at the pace she's going now, there will likely be even more nominations — and some awards — in her future.
10. She Doesn't Believe In Giving Up
Cristina has been through a lot over the years, but one thing she's never done is give up. She is very proud of her ability to remain resilient no matter the circumstances. Cristina says, " I've had so many no's over the years. Things change and manifest. It says a lot about endurance. I never gave up on this."
Tell us what's wrong with this post? How could we improve it? :)
Let us improve this post!