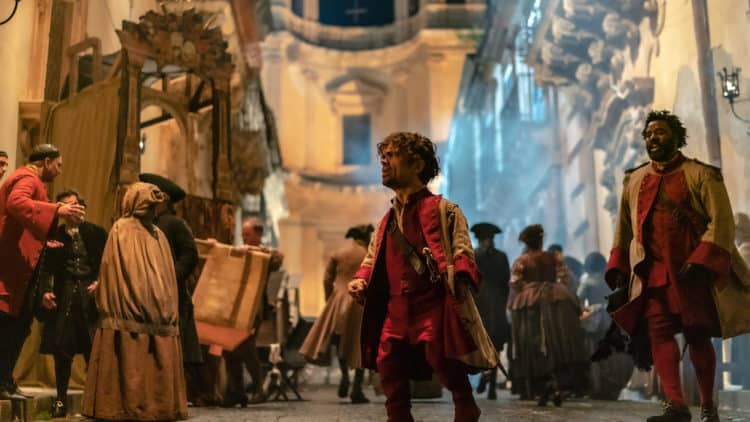 Cyrano is a heartbreaking love triangle that sees Cyrano de Bergerac convinced that his appearance means that he's unworthy of the true love from Roxanne, who happens to be into a guy named Christian. The Joe Wright vehicle features an array of veterans and newcomers such as Peter Dinklage, Kelvin Harrison Jr., Haley Bennett, and Ben Mendelsohn. This list will highlight the five worst movies involving the cast of Cyrano. Each film has had more than ten reviews with a good majority of them highly disregarded. The only movies exempt from this list are animated features. Let's check out the first film:
The Boss
In this misguided attempt at comedy, Melissa McCarthy is Michelle Darnell, a wealthy CEO who's caught for insider trading and sent to federal prison. Following her prison stint, Darnell must start her life back over; however, she tracks down her former assistant, the only person who's willing to help Michelle get back on her feet. Look, this is a Ben Falcone/Melissa McCarthy feature so the same shenanigans that plagued Tammy apply here, The Boss has a few bright spots and Melissa McCarthy is a magnetic lead, but the script is simply awful. Plus, there are several jokes that go on for way too long and there are certain parts that come across as cartoonish. The overall acting isn't bad, though the crudeness and R-rated nature feel unnecessary for a movie about a woman building a brownie empire with a bunch of girl scouts. The Boss isn't as bad as Tammy, but that's still faint praise for this worthless film.
The Angriest Man in Brooklyn
This comedy drama stars Robin Williams as Henry Altmann, a man who learns that he has a brain aneurysm that will kill him in 90 minutes, he struggles to deal with the traumatic situation and tries to make amends with everyone that he's ever hurt. The Angriest Man in Brooklyn has a tricky premise that could be excellent if done correctly, but unfortunately, this comedy drama fails to properly explore its premise. Robin Williams is actually perfect as the lead, but the main issue with this feature is that this film doesn't know what it wants to be. Sometimes it's a social satire. Sometimes it's a sentimental drama. Other times it's a wild comedy. None of the tones mesh well together and the film is a confused mess because of it. Since it's hard to connect with the material due to the uncertainty of emotions that the filmmakers want us to feel, The Angriest Man in Brooklyn ends up being a slog. This isn't worst film on the list, but it definitely isn't good either.
The Haunting of Molly Hartley
After dealing with a traumatic event that almost saw Molly Hartley brutally murdered, the teenager gets a fresh start at a new school. However, the moment it seems that Hartley's life is back on track is when Molly learns the horrifying truth about her legacy. It's a haunting movie that doesn't do anything different with its premise. Though it lacks any fresh ideas, the biggest crime of this film is that it's not competent enough to generate any scares. It's a cheap jump scare fest that does have an interesting opening sequence, but the film completely falls into the boring void of been there, done that. The acting is CW levels of decent, but the video looks murky, and the film lacks any tension and bite. Just see one of the other thousands "The Haunting of" films other than this one.
College
In this pale imitation of Van Wilder or American Pie, College stars Drake Bell as Kevin, a high-school senior who is fresh out of a relationship. He doesn't particularly want to attend the freshman orientation weekend at Fairmont University, but his friends drag him along anyways. Once there, he meets a wild fraternity on campus and his life changes forever. Instead of exploring the age of adolescence and the big life changes after high school, College is just a raunchy comedy that only cares about sex, drinking, and low-class shenanigans. There's nothing wrong with male centric films that focus on young guys diving into such a fantasy world; however, there still needs to be a message and more importantly, a decent plot. College feels like a series of unfunny SNL skits that were turned into a feature length movie.
Robin Hood
In another failed attempt to bring the Robin Hood lore to the big screen, Taron Egerton plays the title character who learns that the Sheriff of Nottingham has seized his family estate. He joins forces with Friar Tuck and Little John, who want to put an end to the Crusades. So, this movie is over-the-top ridiculous. There's some interesting ideas and the film tries to deviate from the thousands of Robin Hood films before it, but it becomes this unbelievable farce that chooses style over substance.
Tell us what's wrong with this post? How could we improve it? :)
Let us improve this post!