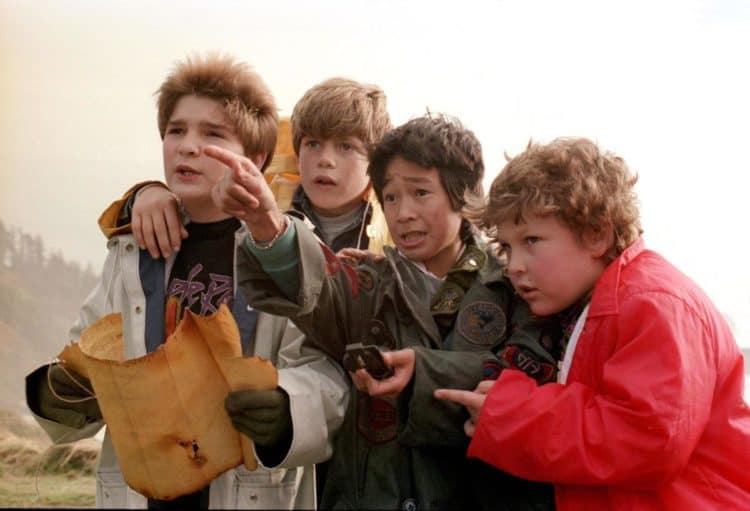 Quite a few of the ideas that could be used as a plot for the Goonies sequel that many people want but likely won't ever be seen are fairly thin since if there was going to be a sequel then it should have happened a long time ago. There's been word about a sequel coming for a long, long time now, but there's also been a lot of resistance to it, especially now that Richard Donner has passed away. Sean Astin has been doing whatever he could to generate enough buzz to get this idea rolling again, but as of now, it feels as though it might not happen before some of the cast members become too old to be interested in the project. At least a couple of the original actors have passed away years ago, but many of them are still around. Here are five ideas among the many that might help to create a Goonies sequel.
5. A relative of the individual that owned the stolen treasure tracks down the Goonies.
One has to wonder about who could claim ownership of the jewels and gold that came from One-Eyed Willie's ship, but a lot of folks were simply glad, as kids watching this movie, that the Goondocks were saved and the Goonies were able to pull out a win over the Fratelli's. It might sound like it's far out of left field, but it does bring up a direction from which to come when talking about the Goonies and the treasure that helped them stick around. It feels as though the Goonies might have moved away anyway upon growing up, but creating this kind of memory does feel like it could be heightened by broadening the scope of the story.
4. Mikey learns about another bit of history and tries to get the others to go along.
Mikey was always the most adventurous of the bunch since the lot of them grew tired of his continual need to put himself, and them, in danger searching for something that may or may not have been real. The fact that Astin has been wanting a sequel to be made for so long makes it clear that he might be able to take up the role of Mikey once again without any difficulty and he could revive the love of adventure that the others fell into so easily. It might take more convincing, but it would be kind of fun to think about, so long as it's at least close to the same location as the first movie.
3. The Fratelli brothers return to Astoria.
Considering that Joe Pantoliano and Robert Davi, Francis and Jake respectively, are still alive, it might be kind of interesting to see them for one more go with The Goonies. It could still have something to do with the treasure and maybe even be kind of a funny revenge story that the Fratelli brothers might seek to gain over the Goonies. This might be a good time to bring in the children of the Goonies as well and see how they've grown up over the years. It's a thin premise really since after three decades and more it does feel as though it would need a great story to make it work.
2. There was more to be found in One-Eyed Willie's cave.
Perhaps other items were secreted around the cave and therefore weren't found or even noticed by the Fratelli's, the Goonies, or anyone else that wandered into the cave. One has to think that after the cavern system was exposed that it would be explored and possibly condemned or even used for a tourist attraction. That might be doubtful, but finding a bit of treasure in the cavern when it was believed that everything was lost with the ship, or recovered depending on how the story went, would be kind of interesting. Plus, it might be worth digging into the history of the items to make this a little more exciting.
1. The kids of the Goonies go on an adventure.
This feels like the most appealing idea since it brings to mind the adventurous nature that the Goonies are known for and it could mean a new generation doing the same old things but for a different reason and a different goal. It might even be nice to see the original Goonies get into the act by making up another bit of history that might bring a technological feel that could be coupled with old-school skills. Some might say that it would be too much like the original to make it work, but unlike something along the lines of Home Alone, this could work with the next generation so long as there's a solid story in place. Face it, a lot of people want to see the Goonies return, but it needs to be done right.