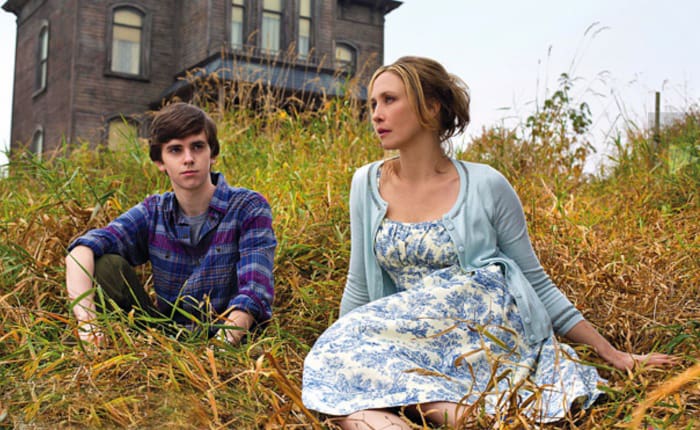 Bates Motel follows Norma Bates and her son, Norman, after she purchases a motel in White Pine Bay. The town seems friendly and quaint but in reality, hides many dark secrets. This show provides an interesting combination of murder, the supernatural, and strong character development that can be hard to come by. Below are five shows to watch if you loved Bates Motel and why each one will give you the same thrill.
1. American Horror Story
In American Horror Story, you get a different type of fear unlocked with each season. Though much of the cast remains the same, each season has a different concept highlighting a new eerie topic. Many of the seasons will satisfy your horror show needs, but if you loved Bates Motel, there are a couple of seasons that stand out. The very first season, Murder House, mimics a lot of what the audience loves about Bates Motel. You get both aspects of family dynamics mixed with a theme of ongoing murders. As Bates Motel goes on, you watch as Norman Bates descends into madness. For the psychological aspect, you may enjoy season two of American Horror Story, Asylum. With so many episodes of American Horror Story, you can choose to continue on the journey and have something you can binge for months.
2. Breaking Bad
When looking at Breaking Bad at face value, it may seem strange for it to end up on this list. However, there are more similarities to Bates Motel than meets the eye. A lot of what makes Bates Motel such an attention-grabbing series comes down to the deep character development we see within the characters. There is more than just murder. Both Norman Bates and Walter White have a deep secret that very few of those close to them know, and each basically has two separate identities. If you loved Bates Motel, then you get the same aspects within Breaking Bad along with a little more. In addition to the serial killer aspect, you also get drugs and crime. You can enjoy five full seasons of Breaking Bad to binge, giving you plenty of TV time after finishing up Bates Motel.
3. The Sinner
The Sinner follows Harry Ambrose as he investigates bizarre homicides. Each season covers a new case where Harry takes more time than usual to get to know the suspected murderer. Much like in Bates Motel, you get to see the person behind the murders. With each new season of Bates Motel, you learn more about Norman making him seem more like a normal person and less like a monster. In The Sinner, as Harry Ambrose uses unusual tactics to create bonds with the suspects, you also find yourself wanting to learn more about them yourself. Both shows do a spectacular job of character development that allows the audience to start empathizing with the characters in some ways.
4. The Killing
The Killing is a series that follows two police detectives solving a murder mystery each season. Like Bates Motel, there isn't murder left and right. In both shows, there is plenty of build-ups paired with twists and turns each episode. As The Killing goes on, you learn more about the lives of the main characters. Sarah Linden has been a dedicated detective who is type-A and by the book. She begins to mentor Stephen Holder, who came from the narcotics division. He is more free-willed and Type-B, causing some character drama as they work together to solve the cases. What both partners have in common is their dedication. While their personalities may be polar opposites, their background in their fields pairs exceptionally to solve cases. If you enjoyed Bates Motel, then The Killing will provide a similar form of entertainment. Both shows are slow-burns, so although it may take some time to get to the climax, each show is equally rewarding at the end.
5. The Haunting of Hill House
Bates Motel gives viewers an eerie feeling as they watch events unfold. Between the haunting secrets within White Pine Bay and Norman Bates's destructive second personality, you get a fascinating story that is addicting to follow. If you like the spooky aspect that you get while watching Bates Motel, then The Haunting of Hill House will take you to a new level. The Haunting of Hill House is a supernatural horror drama that follows a family as haunting memories from their old home confront each of them. The events that take place are terrifying, so be ready to jump a few times as you go through each episode. Both shows combine a creepy supernatural feeling with raw character drama, making The Haunting of Hill House an ideal series to binge after Bates Motel.
Tell us what's wrong with this post? How could we improve it? :)
Let us improve this post!