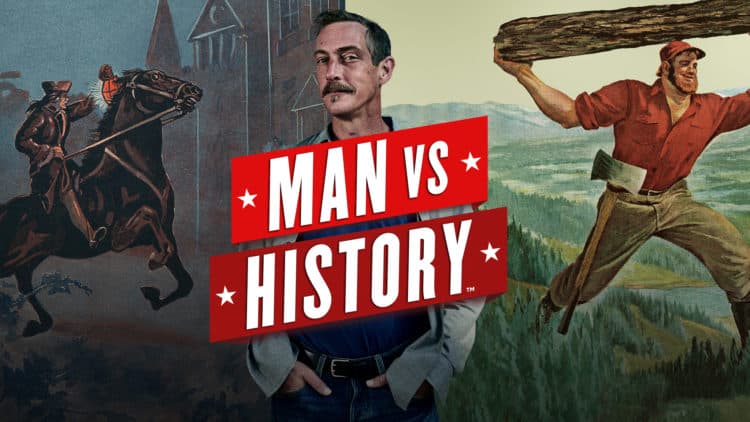 Do you love a little suspense mixed with The History Channel's new series, Man vs. History, attempts to answer questions about the mysteries associated with some of America's legendary figures. Hosted by Bil Lepp, each episode will look back at a historical figure such a Billy The Kidd, and try to uncover a mystery surrounding their story. Viewers will learn something new while also being entertained by Bil's awesome storytelling skills. If you're looking for something new to watch to get you through the rest of the summer, this is one show you might want to think about adding to your watch list. Keep reading to learn 10 things you didn't know about Man vs. History.
1. Bil Lepp Is A Professional Storyteller
Bil Lepp may be new to hosting TV shows, but one thing he isn't new to is telling stories. He comes from a long line of storytellers and he has turned it into his career path. He has competed in countless storytelling competitions and he has become well known for his ability to come up with creative tales.
2. There's A YouTube Channel Of The Same Name
There is already a web series on YouTube called Man vs. History. The channel has been around since 2018 and doesn't appear to have any connection to the show. Oddly enough, however, the channel seems to be very well established so it's unclear exactly how The History Channel was able to put out a series with the exact same name.
3. Bil Would Love To Do Multiple Seasons Of The Show
As of now, Man vs. History has not been renewed for another season, but Bil is certainly hoping that ends up being the case. He's in it for the long haul and has already made it clear that he would love to do many more seasons of the show. Hopefully, that dream will come true for Bil and the rest of the people who work on the show.
4. The Show Seeks To Find The Truth About Legendary American Figures
Man vs. History is one of those titles that doesn't really give you an idea of what you can expect. According to the show's official description, the series "follows acclaimed storyteller and local historian Bil Lepp as he travels off the beaten path across the country to discover the truth behind mysteries and legends of American history." If you like history and are a fan of Myth Busters, this show will probably be right up your alley.
5. Bil Studied History
Telling stories isn't the only thing Bil is interested in. He's also a history buff, which makes him an extra good fit for this role. He has a bachelor's degree in history although it's unclear where he went to school. He also worked with the West Virginia Department of Arts, Culture, and History for many years.
6. Bil Will Seek The Help Of Experts
Even though Bil is very knowledgeable when it comes to history, he won't be trying to solve all of these mysteries on his own. He will be enlisting the help of experts along the way who can provide him with additional information and details. Those who love getting down to the nitty-gritty will really enjoy the experts' perspectives.
7. The Show Will Show Some Cool Artifacts
Artifacts are an important part of every historical journey, and Man vs. History will have plenty of them. Viewers will get the chance to see all sorts of cool items, some of which they may not have known even existed. Through the artifacts, viewers will be able to take a deeper dive into each story.
8. There Aren't Any Social Media Pages Affiliated With The Show
Following shows on social media is a great way to stay in the loop, but unfortunately, that won't be possible with this series. Although there are social media pages with the name Man vs. History, they don't appear to have any connection to the show. As the series gets more popular, there's a chance the network could decide to create an official social media presence.
9. You Don't Have To Be A History Buff To Enjoy The Show
There are some people who may shy away from the show because they're not very well-versed in history. The good news, however, is that you don't need to be. Even if you don't think of yourself as a history buff, you can still enjoy Man vs. History without feeling like you've gotten in over your head.
10. Each Episode May Not Have A Resolution
Although the goal of each episode is to get to the bottom of an old mystery, it's unclear whether or not Bil and the rest of the team will always be able to do that. Since some of these questions have been around for hundreds — and in some cases, thousands — of years, it's quite possible that every question won't be answered.
Tell us what's wrong with this post? How could we improve it? :)
Let us improve this post!