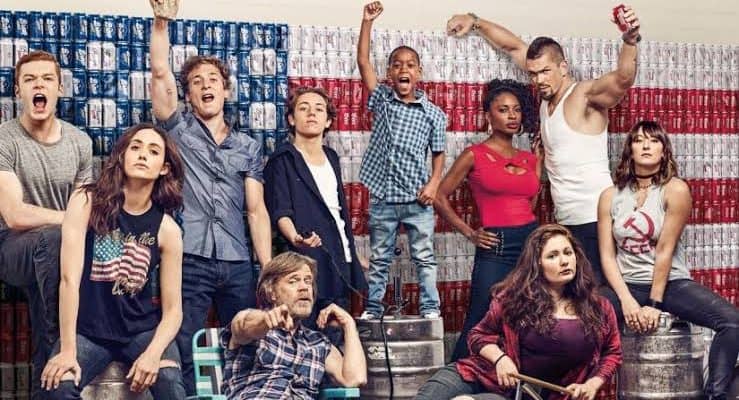 There were so many shameless moments on the show Shameless, some a little more embarrassing than others. Whether Frank Gallagher ( William H. Macy) was calling CPS on his children or Debbie was lying about sexual assault, the show did not shy from giving us cringe-worthy, and sometimes gross moments. One too many times, Frank Gallagher and his brood, hell-bent on showcasing what it was like to live in abject poverty, went a little too far. These are our top five:
1. The Time Frank Sabotaged Dottie's Heart Transplant
With each and every season, Frank Gallagher unleashed a new level of crazy. The second season was no exception. In the second episode, in came Dottie (Molly Price), Franks's new love interest. Except Frank had only learned of Dottie's poor health at the bar. "Her heart muscle is toast. Months to live unless she gets a new one." he heard. She used to be a regular at The Alibi Room but had since disappeared because of her illness. What drew him more to Dottie was the fact that she had a pension plan. In typical Frank fashion, he lured his way into the arms of Dottie. So sleek was he, that marriage was in the offing. Frank went a little too far when he got a phone call about Dottie's potential heart transplant and chose to say she'd already passed away.
2. The Time Liam Overdosed On Coke
Liam's ( Brenden Sims) cocaine overdose was in every way accidental, but a little too extreme. It all began with Robbie ( Nicholas Alan Gehlfuss), who wanted to party with Fiona ( Emmy Rossum), but she was having none of it. Robbie had with him a bag of coke, and when he was kicked out, he did not take it with him. Unfortunately, the coke landed in the hands of Liam, who overdosed. It wasn't until Debbie ( Emma Kenney) and Lip ( Jeremy Allen White) came in that an unconscious Liam was found on the floor. " What's on his face?" Debbie asked. Patches of the white powder were on Liam's face, a sign that he had indulged in the drug. Fiona, in panic mode, kept chanting, " Oh My God!" The three-year-old got whisked out of the kitchen by the paramedics, all while Fiona kept asking whether he'd be okay. Fiona got arrested, but what was sadder was the fact that she was, at the time, supposed to be a guardian to Liam, and had fallen flat on her face.
3. The Frank Convinced Carl He Had Cancer
Most of Frank's money-siphoning schemes were bred in The Alibi Room, and Carl's cancer hoax was one of them. When a boy who was ailing got to meet his heroes, The Bulls, Frank knew he'd gotten his next way out. A ball signed by the whole team was worth a couple of grand, and courtside tickets to a Bulls game were all Frank wished for. He tried to use Hymie, who had Down's Syndrome to get himself tickets, but the organization only happened to work with dying children. " Of course, I know that. It's my other child that's dying." Frank said. He went on to convince Carl that he had cancer and shaved his head. He called the kind of cancer Carl had the 'contagious kind'. Frank went on to assert that Carl had less than a year to live. Carl, who had never been to camp before, was excited to go to summer camp instead. He wasn't allowed to tell anyone it was Cancer camp, either.
4. The Time Sammie Gave Chuckie Juvenile Detention Advice
Following the advice of Frank, who knew a thing or two about drugs and transporting them, Carl decided to use Chuckie (Kellen Michael) to carry heroin. He strapped the drug to Chuckie's stomach, and the pair found their way to the bus station. Things however turned south a little too quick when drug-sniffing police dogs came around. Carl, seeing how dire the situation was, decided to bolt. Chuckie found himself in police custody. In an interrogation room, Sammie ( Emily Bergie) was proud that Chuckie's IQ test had come back, and he was pretty smart. It meant that the judge would take pity on him or go easy on his sentencing. Everything was going well with the state lawyer until Sammie, seeing that there was no hope for Chuckie, gave him advice for coping in juvenile detention. "Chuckie, you've always been my little bunny. Cute, round, and so innocent. But in prison, little bunnies get raped. Do you know what that means? It's when big scary men pretend you're a woman. I am not going to be there to protect you, so you need to listen very carefully. Make friends in there. Do things for them so they'll protect you. Anything it takes. Like, making them feel good. Do you understand? Like touching them."
5. The Time Carl Broke Frank's Leg
There really was no barrier when it came to how far Frank Gallagher would go to get money. His own body was not spared, and he remained on-brand by asking his son to break his leg. His goal was to get an insurance payout. "You're just the man I am looking for," Frank told Carl ( Ethan Cutkosky). When Frank said he needed Carl's help, he was not in any way referring to pills to help with his bleeding nose. " I want you to break my leg," he said. Carl laughed it off. " I need the insurance money. It's the only way I'll be able to pay for the transplant." Frank added. His love for the bottle was starting to catch up with him. Even though Frank wanted Carl to do it because he thought his son loved him, the young boy's only thrill was placing raw footage of him breaking his dad's leg on YouTube. Frank declined his plea to have the moment posted on the internet. The pair tried to look at their options; falling from a higher height, getting run over by a train, or using a sledgehammer. Eventually, Carl did it himself, in the worst way possible, and it was all in a day's work since Frank wouldn't get an insurance payout until 16 months had elapsed.
Tell us what's wrong with this post? How could we improve it? :)
Let us improve this post!