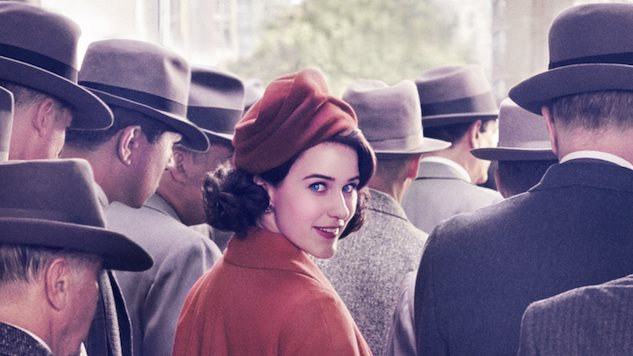 Amazon has added another original series on its growing streaming empire: The Marvelous Mrs. Maisel, a 1950s-set dramedy created by Amy Sherman-Palladino (Gilmore Girls). The pilot premiered last March 17 this year to critical acclaim and it became the most successful in Amazon, with an average viewer rating of 4.9 stars. Almost a month later, the pilot was picked-up by Amazon for an unprecedented two-season order and the first season was finally released last November 29. The second season is expected to premiere next year. The Marvelous Mrs. Maisel centers on a housewife in the 1950s who decided to become a stand-up comic.
To those who have seen Gilmore Girls, you'll be familiar with the tone of The Marvelous Mrs. Maisel. It has Sherman-Palladino's iconic fast-talking characters, pop culture references, and witty dialogues. Just like Lorelai Gilmore, Midge Maisel is also a strong female character and a mother. I was able to binge watch the first season and I must say that, as a Gilmore Girls fan, this doesn't disappoint. I miss Gilmore Girls and I'm hoping for the second revival after the cliffhanger that they brought us at the end of the four-part revival last year. But, the good news is that The Marvelous Mrs. Maisel can serve as our substitute and, at least, we have a regular Sherman-Palladino series to watch now.
The characters are also witty and whimsical. Rachel Brosnahan is very charming as Midge Maisel and this will surely bring her to stardom. She played the character so perfectly and she should be one of the reasons why you should watch the show. Alex Borstein proved that she has great acting chops in this show as well. We only know her for voicing Lois Griffin on Family Guy or her understated performance on Getting On but this show gives her a chance to prove that she is indeed a great actress. Tony Shalhoub and Marin Hinkle were delightful as Midge's parents. They are eloquent and it's not surprising to see them that way given that they are part of Sherman-Palladino's world.
If you're not a fan of Gilmore Girls, I think you will still get to appreciate The Marvelous Mrs. Maisel. The characters are too charming to make you entice to watch the series. The writing is so brilliant and the jokes landed perfectly. The visuals are very appealing and colorful which made the series more entertaining to watch. I know that Amazon is looking for its own Game of Thrones but this series should put them more on the map. Please give this series a try. You will surely love it. It's really marvelous as the title has promised.