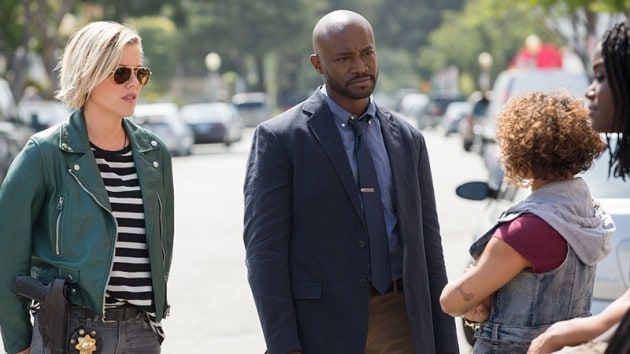 Well, it finally came. Fans of TNT's Murder in the First had a bittersweet Monday evening as the series reached its season 2 finale. It was bitter because it's over, but sweet because we finally found out all of those things we wanted to know. The HYDRA-esque police corruption, the drug war, and the Dustin Maker trial all boiled over in what turned out to be a quite compelling season finale.
This week, on the season finale of Murder in the First: The judge in the Dustin Maker trial reaches a verdict. Molk reluctantly agrees to help get the evidence needed to reach the top of "The Union." Suger decides to get outta dodge, and Raffi chooses to go with him. Another homicide occurs, and Terry and Hildy have to stop what they're doing to attend to it. Warren Daniels (James Cromwell) returns.
Honestly, I was pleasantly surprised by this finale. Last season, as much as I enjoyed it, I was a little let down by the finale. After the last few episodes of Season 2, I was concerned that I would feel the same sense of dissatisfaction that I did last season. However, I am proud to report that I found this finale IMMENSELY more satisfying than that of the freshman season. The stories didn't all tie together like I really hoped for, but the show provided all kinds of cool connections and dramatic flair that I didn't know I wanted.
The best part about this show is the cast. Taye Diggs and Kathleen Robertson lead a fantastic group of actors and actresses. Other than the occasional outlier (like that murdered kid's mom, who seemed like she'd never acted before right that second), the cast has been extremely impressive this year. Lombardo Boyar and Raphael Sbarge did excellent work as Molk and Navarro, and I was truly pleased to see them in expanded roles during the second season. Ian Anthony Dale's Jim Koto was excellent. I was pleased with several of the new additions, too, like AJ Buckley, Mateus Ward, and Laila Robins. Just about every actor involved had an actual character arc, and was there for a reason. There are so many shows you can't say that about, so I found this cast truly impressive. I was pleased to see the always excellent James Cromwell back as well, if for no other reason than to defend another snake and tie the two seasons together a little more.
It wasn't quite in the way I hoped, but the multiple plot threads did end up tying up quite nicely. The Dustin Maker trial, while not directly related to the other cases, came into play in a way that I didn't expect, in affecting the DA's decision-making going forward. The Suger/gang plot tied in nicely with the police corruption. I really appreciated how everything came together, even in a way I didn't expect. I've said this a thousand times, but anytime a show surprises me, it impresses me. Last season, the writers also made a clean break in case of cancellation, which gave Murder in the First Season 1 more of an anthology feel. This season, however, the creative team left several loose plot threads hanging so that they could easily pick things back up should they be given a third season. I, for one, feel they deserve that chance.
All in all, I was extremely impressed by this season. Murder in the First, while displaying some growing pains, ultimately evolved into a stronger, more fleshed-out series. I certainly think it was among some of the better summer programming I've watched (or attempted to watch), and I'd love to see it get a third season. The finale proved to be strong, flowing, and surprising all in one fell swoop.
What did you guys think? Did you enjoy the finale? The season as a whole? Let us know!!
[Photo via TNT]
Tell us what's wrong with this post? How could we improve it? :)
Let us improve this post!