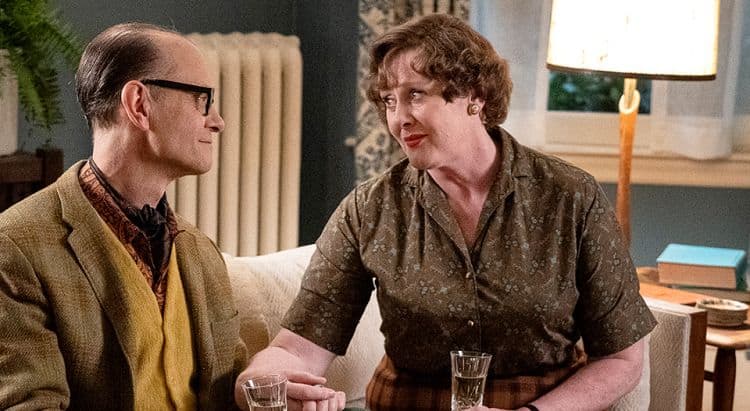 HBO Max has been winning the streaming wars with recent shows like The Gilded Age and Euphoria, and they're about to make it more difficult for competitors to catch up with the upcoming series Julia. The show is created by Daniel Goldfarb, who previously worked on Tyrant, The Marvelous Mrs. Maisel, and Driftwood Two-Lizard Mom. He is also an associate professor at New York University. Julia depicts the story of legendary chef and TV presenter Julia Child, whose life and career inspired millions to take on French cuisine. The show will be produced by Goldfarb and Christopher Keyser, who worked on The Society and Party of Five. If you're interested to learn more about the actors playing parts in the upcoming series, look no further. Here are the cast members expected to appear in the upcoming HBO Max series Julia.
Sarah Lancashire
Sarah Lancashire will be portraying the titular character in the upcoming series Julia. The English actress had worked on TV shows like Talking Heads, The Accident, Kiri, School of Roars, The Dresser, and Happy Valley. On the big screen, she's appeared in Everybody's Talking About Jamie and Yesterday. Considering that the last actor to portray Julia Childs in front of the camera is Meryl Streep, taking on the TV chef might be an intimidating challenge, but given Lancashire's experience, it shouldn't be an issue. Julia is Lancashire's first U.S. TV role. In an interview with Vanity Fair, the actress talked about the preparations she had to undergo to accurately portray her. "Because she is so elevating and she has such warmth and sunshine in her soul, you have to find that within yourself in order to play her, to capture that spirit, which is so genuine," she says. "She makes you feel good about yourself and about the world."
David Hyde Pierce
David Hyde Pierce will be playing Paul Cushing Child, a diplomat and husband to Julia Child. David Hyde Pierce is a veteran of American TV and film, having notably played Dr. Niles Crane in the hit NBC sitcom Frasier. For his role in the show, he received four Primetime Emmy Awards. On film, he's appeared in The Perfect Host, Stingray Sam, Forever Plaid: The Movie, Hellboy, Down With Live, Treasure Planet and Full Frontal. Some of his TV projects include The Good Wife, Wet Hot American Summer, When We Rise, and Julie's Greenroom. In an interview with IndieWire in 2011, he was asked about the possibility of being pigeonholed for his role in Frasier, to which he responded: "What I did was that I went back to the theater. I went to musicals, which is something I had never done before. That's such apples and oranges. If I had done another TV show or another film I would have to have done something very close to Niles, or something very different and people wouldn't have accepted it. But the theater is the thing that allowed me to expand very quickly away from what I had been doing on "Frasier." Playing Julia Childs' husband in Julia gives him yet another opportunity to showcase his versatility as an actor.
Brittany Bradford
Brittany Bradford plays Alice in Julia. She had previously appeared in Love in NY, Fear The Walking Dead, and Glue Trap.
Bebe Neuwirth
Bebe Neuwirth portrays Avis in the upcoming series Julia. The veteran actress is most notably known for her role in Cheers and Frasier as Dr. Lilith Sternin. Recently, Neuwirth played roles in hit movies like Tick, Tick… Boom!, Humor Me, Fame, Game 6, The Big Bounce, Le Divorce, and How To Lose A Guy In 10 Days. She also recently had roles in TV shows like The Flight Attendant, Madam Secretary, and Blue Bloods.
Isabella Rosellini
Swedish-Italian actress Isabella Rossellini joins Julia, playing the role of Simone Beck, a French cookbook author who collaborated with Julia Child in the introduction of French cuisine in America. Rosellini most notably played roles in Blue Velvet and Death Becomes Her. She also received a Golden Globe Award nomination for her performance in 1996's Crime of the Century. The actress is set to make appearances in three upcoming films: Silent Retreat, Spaceman, and Cat Person.
Robert Joy
Robert Joy plays Hunter Fox in Julia. The veteran actor has appeared in movies like Don't Look Up, The Goldfinch, Crown and Anchor, Down to the Dirt, Superhero Movie, Aliens vs. Predator: Requiem and It's A Boy Girl Thing. On TV, he's performed in Prodigal Son, Hand of God, The Good Wife, The Mentalist, and Grey's Anatomy.
Erin Neufer
Erin Neufer will be portraying Marian Morash in Julia. Previously, she worked in Gypsy and Blue Blood.
James Cromwell
The veteran actor James Cromwell is appearing in Julia as John McWilliams. He has appeared in some of the most prominent movies in Hollywood over the past thirty years, from Babe in 1995 to The Laundromat in 2019. His film debut was as Marcel in the 1976 movie Murder by Death. A multi-nominated actor, Cromwell has enjoyed numerous recognition from the Emmys.
Adriane Lenox
Adriane Lenox will be portraying Virginia Naman in Julia. She is most popularly known for her roles in Manifest, The Path, and The Blacklist. She also appeared in an episode of Only Murders in the Building as Roberta.
Judith Light
Judith Light joins Julia as Blanche Knopf, the president of the Alfred A. Knopf, Inc., an American publishing house. Everyone would recognize Light from her iconic role as Angela Bower in the hit ABC sitcom Who's the Boss?. She is set to appear in three upcoming movies: The Menu, Down Low, and The Young Wife.
Christian Clemenson
Christian Clemenson has been cast as James Beard in Julia, an American chef, cookbook author, and TV personality. Christian Clemenson appeared in the legal drama show Boston Legal, playing the character of Jerry Espenson, for which he was nominated for three Emmy Awards. His most recent projects include Malignant and No Man of God.
Fiona Glascott
Fiona Glascott will be portraying an as-yet-to-be-named character in Julia. In 2003, she was nominated for Best Supporting Actress for Goldfish Memory at the Irish Film and Television Award.
Fran Kranz
Fran Kranz is set to make an appearance in Julia. The actor is most popularly known for his role in You Can't Take It With You.
Jefferson Mays
Veteran actor Jefferson Mays also has a role in Julia, the name of whom hasn't yet been revealed. Mays is a multi-awarded actor, having received accolades such as the Tony Award, Helen Hayes Award, Lucille Lortel Award, Drama Desk Award, Outer Critics Circle Award, and three Obie Awards.Tick, Tick… Boom!Frasier