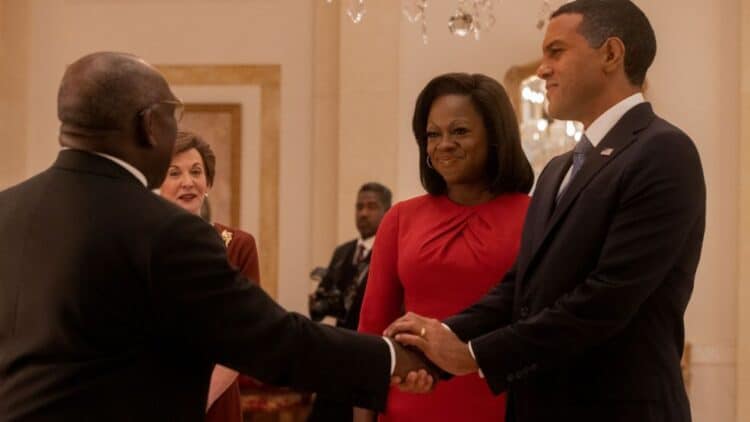 Politics can be a taboo subject in more ways than one can imagine. The mere mention of it can already send people with opposing beliefs into an intense argument. The rise of dramas that center on politics have been a recurring theme over the years. There is much interest on the subject matter, and viewers love the feeling of discovering something new about a certain political figurehead. The Showtime anthology drama series, The First Lady, gives viewers a whole different perspective, as it revolves around the lives of America's favorite first ladies. The first season of the series features a stellar cast paired with inspiring storylines that will only make us look up to these strong and independent women even more. Here are five reasons we are tuning into the television series:
5. Its all-star ensemble already speaks for itself
Prepare to be dazzled with an all-star cast spanning from its lead stars to supporting cast members. The series is a confluence of award-winning actors and actresses who give life to past presidents and their better halves. It's a groundbreaking moment for television and another show to add to our binge-watch list. Gillian Anderson (The X-Files), fresh from her successful portrayal of former British Prime Minister, Margaret Thatcher, in the historical drama, The Crown, jumps right into another iconic female character, Eleanor Roosevelt, with Kiefer Sutherland (24) as Franklin D. Roosevelt. It's also a welcome sight to see Michelle Pfeiffer (French Exit) in the small screen as Betty Ford, with Aaron Eckhart (The Dark Knight) as Gerald Ford, as well as Viola Davis (The Help) as Michelle Obama with O.T. Fagbenle (Breaking and Entering) as Barack Obama.
4. It's a chance to get to know the nation's previous First Ladies on a deeper level
The series dives deep into the First Ladies' public and personal lives. As the saying goes, "Behind every successful man, there stands a woman." These strong and independent women have been a guiding force behind their powerful husbands. The series allows us a more intimate look on what happened behind the scenes and how these women were able to make an impact in their own ways. The first few years of residing in the White House requires a huge adjustment period. All eyes are suddenly on the First Family, and the attention can feel suffocating at times. The series aims to unravel what went on behind the smiles and handshakes. The First Ladies, whose lives are depicted in the series, have stories of their own to tell, and we are all ears.
3. It allows us to travel back into different time periods in history
Time travel is a superpower a lot of us wish we had. How awesome would it be to be able to jump one time period into another in a snap of the finger? The series gives us a glimpse of significant historical moments cut into three different eras— the 1930's, 1970's, and 2000's. It would be most fascinating to witness what transpired during the Roosevelt, Ford, and Obama presidencies that we might not have picked up from watching or reading the news. The intricacies that surrounded the First Ladies' journeys were far from easy.
2. The storyline is filled with significant lessons and realizations
When it comes to biopics, there is usually more than meets the eye. The series serves as a fresh take on historical events as it follows the First Ladies' experiences back when their husbands were one of the most powerful men in the world. Apart from the mind-blowing physical transformations, there is a lot of heart to the story, and important lessons to be learned. History can be one of life's greatest teachers. It is up to us to be able to discern which parts are worth looking up to, and which ones serve as an eye-opener. There are two sides to every story and we are fortunate to be given the opportunity to hear from these notable First Ladies.
1. It's an empowering project that will inspire
The Roosevelt and Ford administrations were set during a more conservative time when women's voices were not deemed to be of primary importance. Women like Eleanor Roosevelt and Betty Ford were a breath of fresh air. They were unafraid to speak their truth and fought for their place in the White House. Michelle Obama on the other hand was a trailblazer in her own right. She advocated for a lot of important causes and was also unafraid to make a name for herself. These three inspirational women are beacons of hope and strength. Their resilience and commitment will be remembered for generations to come.
Tell us what's wrong with this post? How could we improve it? :)
Let us improve this post!