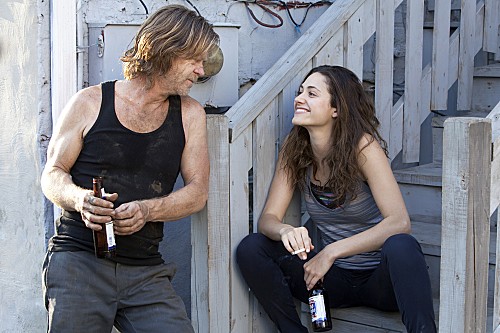 If you have seen one episode of Showtime's Shameless series, you know of Emmy Rossum. She superbly plays Fiona, and if there ever was a prototypical big sister who watches out for her siblings, it is Fiona. But in her real life, Emmy has an online presence on Instagram that is worth following. Here are 5 reasons you should follow her.
1. She has definite political views
You can see her quotes from Steven Hawking about the state of human imperfections as well as her take on the recent Parkland High School shootings. Every once in a while you will see a crossword puzzle she has completed, so it's not likely she will be at a loss for words anytime soon.
2. She is definitely an animal lover
If you have the same heart for animals as Emmy, browsing through her Instagram collection will not only have you seeing some great pics of wildlife, but also the occasional comment about how important it is to connect with and protect animals as much as possible. During the California wildfires she dropped a note not only asking people to realize that animals fleeing the fires were scared, but also to watch out for your own pets and keep them inside at night.
3. She has a way with fashion.
Emmy's great looks and sleek figure are ideal for trying on some of the latest fashions — safely. You can see her donning everything from casual attire to formal wear, and she does justice to every piece of clothing she wears. There are occasional pics of her enhancing eye wear, not the other way around. (It doesn't seem right to say Emmy is "wearing glasses.")
4. She experiments with hairstyles
Shameless fans will almost always see Emmy with her brunette hair straight down or sometimes pulled back. But stop in at her Instagram account and you will see her hair in various shades of brown, styled in ways that have you wondering if it is really her. Yes, a style can make that much difference, and you will have to see it to believe it.
5. She has an eye for art.
We are talking classical art here. Everything from the stained glass windows of churches to Roman and Greek sculptures, to Gothic architecture, you will find pics of that she has found more than interesting. But her appreciation for art is not only classical, but also from behind the camera. You will see some of her shots of her Shameless co-stars from behind the director's lens.
It is clear Emmy Rossum has a wide variety of talents and interests. Her world is complex, and that is the way she has chosen to live it. If you stop in to browse through her Instagram account, be sure you don't bring any Fiona stereotypes along with you.
While many actors and actresses are on Instagram for followers (Emmy isn't lacking in this area with more than 3.1 million) she uses the social media site to find her freedom of expression and a venue for her views on life and the world. You may not agree with them all, but you get an insight to both the personal and professional life on television's best Big Sister.