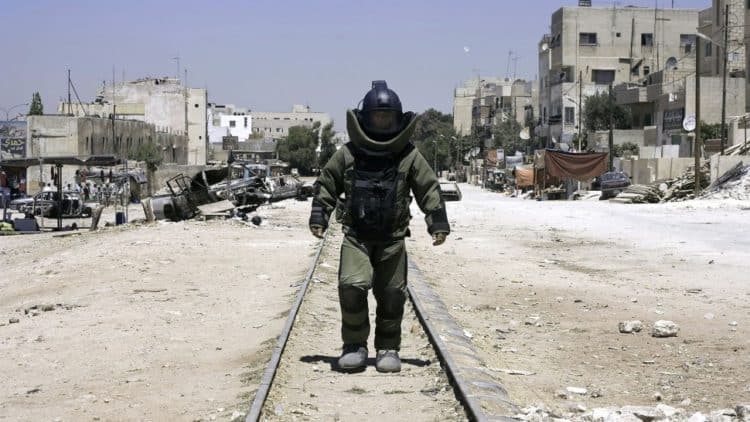 Kathryn Bigelow is one of the most prominent female directors working in Hollywood right now. As a filmmaker, she's repeatedly broken the glass ceiling and made movie history, becoming the first female director to win a Best Director Academy Award as well as the first woman to win the Saturn Award for Best Director. Bigelow has also been actively involved in the direction of multiple blockbuster action films, finding success in what used to be a male-dominated movie genre. Bigelow is an excellent moviemaker who has inspired an entire generation of female director. Hollywood Insider even called her a female film pioneer, writing: "Though Bigelow doesn't identify as a feminist filmmaker, it's also interesting that her films often reflect Hollywood's rotating techniques and styles. Even though she's stayed mainly in the action genre since the early 2000s, her films have themes of sexuality, gender, and racial politics. It's more than just an action movie, these characters have depth and often bring up bigger questions than a typical action movie." If you are new to Kathryn Bigelow's work, here are five movie recommendations to get you started.
The Loveless
The Loveless is Kathryn Bigelow's directorial debut, premiering the movie in 1981. The indie film was written and co-directed by Bigelow and screenwriter Monty Montgomery. Starring Willem Dafoe and Robert Gordon, the movie depicts the story of a motorcycle gang. While the movie only received mixed reviews during its release, it set the tone for Kathryn Bigelow's future work. The Spool's review took note of this, writing: "That sort of shortcoming renders The Loveless an odd creature. That sentiment is doubly true for where this movie fits into Bigelow's career as a filmmaker. Visually, it's nothing like any of her other works. Thematically, though, it does feel like the nebulous form of more fleshed-out works yet to come. A raggedy work of independent filmmaking, the best parts of The Loveless do offer tantalizing glimpses into a future great filmmaker."
Blue Steel
Blue Steel marks Kathryn Bigelow's first time directing solo. The movie, which premiered in 1990, starred Jamie Lee Curtis, Ron Silver, and Clancy Brown. IMDb's synopsis describes Blue Steel as follows: "A rookie in the police force must engage in a cat-and-mouse game with a pistol-wielding psychopath who becomes obsessed with her." Roger Ebert's review of the movie praised Jamie Lee Curtis' performance in the movie. He also praised the direction of the film, writing: "The bottom line, however, is that "Blue Steel" is an efficient thriller, a movie that pays off with one shock and surprise after another, including a couple of really serpentine twists and a couple of superior examples of the killer-jumping-unexpectedly-from-the-dark scene. I always feel dumb after I jump during one of those scenes. But I always jump."
Strange Days
Adding Strange Days to this list might shock some people, considering it's the movie that almost derailed Kathryn Bigelow's career. The movie bombed in the box office, barely making a sixth of its production cost. The movie, a sci-fi thriller, was written by Kathryn Bigelow's husband, James Cameron, and starred Ralph Fiennes, Angela Bassett, Juliette Lewis, and Tom Sizemore. Panned during its premiere, it steadily gained approval a year after it was released and has since gained a cult following. It also gained Bassett a Best Actress award at the Saturn Awards as well as a Best Director award for Bigelow, making her the first female director to win the award. Collider, in a 2020 article, described the movie as being ahead of its time: "The great Roger Ebert loved Strange Days, giving it four stars out of four stars. He seemed to appreciate the fundamental truths of the movie and what it says about humanity with regards to race, power and technology. As Lenny says, "Look… everyone needs to take a walk to the dark end of the street sometimes, it's what we are." 25 years later, that's still true, and that's the scary part. The film's tagline is "You know you want it," and these days, with technology tracking our every move, they know what "it" is is even before we do. Somewhere, someone is figuring out a better way to give it to us. Just be careful what you wish for, because if we don't learn from our past, our future could be as terrifying as it was back in 1995."
Hurt Locker
Thirteen years after Strange Days, Kathryn Bigelow directed Hurt Locker. The movie's screenplay was written by Mark Boal, a journalist who spent a significant period in his career embedded with troops in Iraq during the Iraq War. The movie depicts the story of an Iraq War Explosive Ordnance Disposal Team. Hurt Locker stars Jeremy Renner, Anthony Mackie, Brian Geraghty, Christian Camargo, Ralph Fiennes, David Morse, and Guy Pierce. Roger Ebert sang praises of the movie during its release, writing: "The Hurt Locker" is a great film, an intelligent film, a film shot clearly so that we know exactly who everybody is and where they are and what they're doing and why. The camera work is at the service of the story. Bigelow knows that you can't build suspense with shots lasting one or two seconds. And you can't tell a story that way, either — not one that deals with the mystery of why a man like James seems to depend on risking his life. A leading contender for Academy Awards." Hurt Locker raked in nominations at the Academy Awards. It made history for Bigelow, winning her Best Director for her work on the film, making her the first female director and one of only two women to have won the award (the other one being Chloe Zhao). The movie also won Best Screenplay for Boal and Best Picture.
Zero Dark Thirty
Another collaboration between Kathryn Bigelow and Mark Boal, Zero Dark Thirty is a war movie depicting the decade-long manhunt for Osama Bin Laden. Starring Jessica Chastain, Jason Clarke, and Joel Edgerton, Zero Dark Thirty received five nominations at the 85th Academy Awards. While the movie received critical acclaim, it has been embroiled in several controversies, particularly in its depiction of torture. It was even criticized by the then-acting chief of the CIA, Michael J. Morrell, with the New York Times reporting on his sentiment: "In a message sent Friday to agency employees about the film, "Zero Dark Thirty," Mr. Morell said it "creates the strong impression that the enhanced interrogation techniques that were part of our former detention and interrogation program were the key to finding Bin Laden. That impression is false."
Tell us what's wrong with this post? How could we improve it? :)
Let us improve this post!