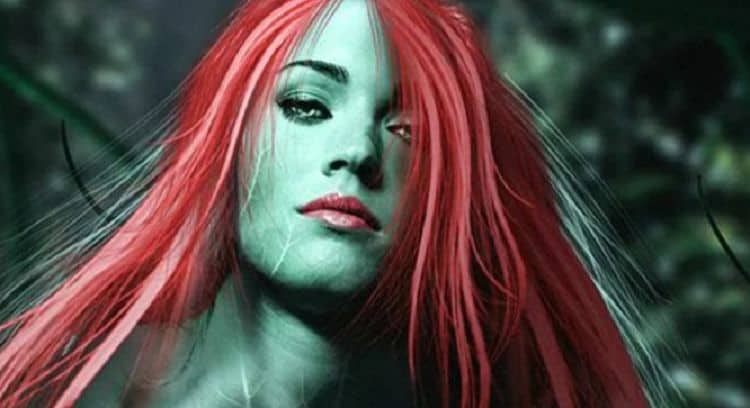 With the news of a Peacemaker series starting in January 2022 on HBO Max, I thought it apt to discuss which characters deserve to be on the big screen in the next batch of DC movies. Most of these are characters that are rumored to appear in upcoming films, but not all of them. Some of them have already been seen in movies, but those iterations won't be part of the new DCEU, and have likely been re-cast for the new class of DC heroes.
5. Poison Ivy
I just needed to get this off my chest. Poison Ivy has been criminally underrated and underused for many years now, but with the success of Harley Quinn on HBO Max (a series that Poison Ivy headlines), it's hopeful that we'll get to see the seductive siren in upcoming films. Margot Robbie has commented on Harley's famed love affair with Poison Ivy, saying: "I've always enjoyed seeing when [Harley and Poison Ivy's relationship] popped up in the comics, and something I'd like to explore like you said, Poison Ivy, that is a relationship I'd love to see play out on screen." -Margot Robbie (ComicBook.com) With the actor's fervent requests to the studio, and the rally cry of DC fans everywhere, it's very likely Poison Ivy is closer than we may think. And before you all type in the comments, yes I know that Uma Thurman is iconic as Poison Ivy. What I'm saying is, while hers is great in many ways, there's a chance for DC to portray a more comics-accurate, sexually-liberated, and multi-faceted Poison Ivy. In the wake of #MeToo, there could also be some interesting dialogue about her powers, about how they manifest, and how she uses them (think Promising Young Woman). Now more than ever, women's sexuality is still a tough subject for some, and Poison Ivy might just be the antidote we all need. I'm manifesting Poison Ivy and Harley Quinn beating up bad guys to WAP by Cardi B and Megan Thee Stallion…but that's just me.
4. Queen Nubia of Themyscira
Seeing as she's currently headlining her own series in print at DC, Nubia is no background character. She's the current reigning Queen of the Amazons (having taken the mantle from Diana's mother) and one of the Wonder Women. Originally seen in Wonder Woman #204 in 1973, Nubia has been a part of the DC franchise for decades; being cited as the first Black woman hero out of DC. Here's why she's so perfect for the DCEU: quality representation.
Many people have commented on the fact that the superhero film genre is lacking in women/BIPOC/LGBTQ+ representation. Not only that, but quality representation. I'm saying, let's not just pick the first Black or LGBTQ+ hero we can find at DC, let's take our time to pick the ones that really show off a full range of sexualities and races. By choosing characters that have rich backstories and canon as long as my arm, the under-represented characters can stand tall next to the heroes we've already seen; not behind them (don't get me started on how Marvel totally dropped the ball with Black Panther). Nubia would fit really well in the Wonder Woman canon, and there have been rumors that she's to appear in the third Wonder Woman film installation. As an LGBTQ+ Black woman, she could be a face for those who haven't seen themselves on screen yet, and create a more intimate connection between the films and the audience. Not to mention, her and Gal Gadot as Wonder Woman? Nothing could stop that duo!
3. Batgirl (Barbara Gordon)
Anybody who knows anything about the Batman comic series will agree when I say; Barbara Gordon is the original baddie and hot girl. She is one of my favorite DC characters of all time, and arguably one of the most well-rounded women characters out of DC. Now, there's a few ways that the studio could take this. As referenced a few times in Lego Batman: The Movie, there is canon to support her being Bruce Wayne's love interest and crime-fighting partner. More widely known and accepted, there's canon to support her being Dick Grayson/Robin's love interest and a protégé to Batman. There's also canon to support her being the Batman/Batwoman and independently kicking around the scum of Gotham. She's a really expanded character, that has lived through many iterations and manifestations. DC would have tons of options from canon with her arcs, which could help sustain a Marvel-like system of multi-movie arcs. Regardless of what storyline they go with, as most of us know, Barbara ends up in a wheelchair (having been paralyzed by a bullet from The Joker) and becomes The Oracle. She could become our first on-screen wheelchair-bound hero from DC. The Oracle would be completely untouched territory, and could usher in a wider pool of characters that have disabilities.
2. Green Lantern (John Stewart)
For me, Snyder's (and Joss Whedon's) Justice League will always be missing one crucial element; John Stewart. Now, Green Lantern (Hal Jordan) is a founding member of the Justice League, and there is very little canon surrounding the Justice League that he's not involved in. That being said, the Green Lantern I'm interested in seeing on-screen is John Stewart. His demeanor is similar to that of Captain America; strong-willed, loyal, kind, and justice-focused. He could be a good foil to the anti-hero route that DC typically takes with their characters. And as a dark-skinned Black man, he could battle some of the colorism that plagues the superhero genre. As far as story content, John Stewart would be a really smart choice for DC. Not only is he involved in most of the Justice League storylines, but he's got an expansive catalog of storylines on his own; ones that could really open up the Lantern Corps and Shazam! universes. He would provide huge story opportunity to further Justice League films, and maybe even start Shazam! and Lantern Corps spin-offs. The Lantern Corps universe is extremely wide and interesting, and it's something we haven't seen from the DCEU yet (because let's all just collectively forget Ryan Reynolds' Green Lantern).
1. Brainiac
For my number one, I had to go with Brainiac. Long-heralded as one of the greatest DC villains of all time (definitely one of the most popular), Brainiac has unlimited potential in the DCEU. He's one of the biggest 'bad's in all DC comics, and could help achieve multi-movie arcs. We have seen him a couple times on TV's Smallville and Krypton, but nothing more. There have been rumors that he's going to be DC's answer to Thanos, in upcoming films, but of course no confirmation. Brainiac has an endless catalog of canon to choose from, and he's one of the oldest villains out of DC (having appeared first in Action Comics #242 in 1958). Much like Batgirl/Barbara Gordon, Brainiac has seen countless re-inventions and incarnations. This allows for character options that would fit with the DCEU already established. He's consistently one of the only villains who can keep the Justice League on the ropes, and his storylines would open up lots of multi-verse and infinite earth options.
Tell us what's wrong with this post? How could we improve it? :)
Let us improve this post!