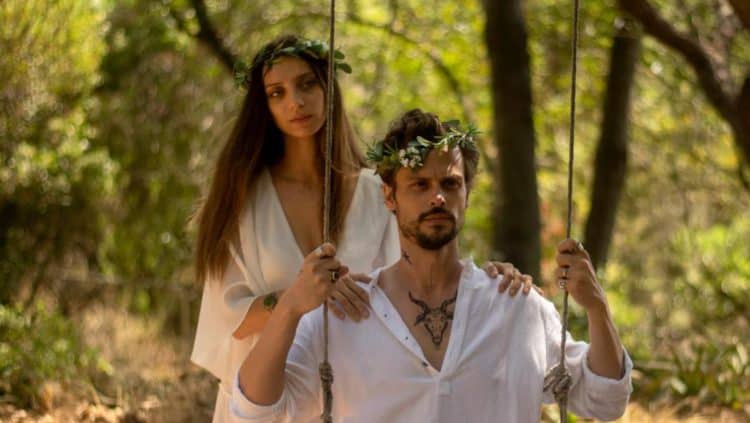 King Knight is certainly a one-of-a-kind movie with a unique storyline. Directed by Richard Bates Jr., the film stars Matthew Gray Gubler, Angela Sarafyan, Andy Milonakis, Kate Comer, Johnny Pemberton, and Josh Fadem. The movie tells the story of a high priest who confronts his more conventional past as he attempts to learn more about himself and his future. An eccentric take on self-reflection, the movie has been well-received by critics, with a review from Blu-ray.com writing: "Not the most ambitious feature, but the production achieves some good-natured hilarity with its limited budget, remaining strangely kind and cheery with this tale of wizardry and shame." Anyone who liked the show will be hard-pressed to think of a similar movie to watch to keep the mood going. But there are actually plenty of movies out there that follow similar themes. Sure, you might not find a movie that deals exactly with the identity crisis of a high priest running a witch's coven, but if you broaden your scope a little, you'll definitely find something. Here are five movies to watch when you're done enjoying King Knight.
Yes Man
A classic Jim Carrey movie, Yes Man, like King Knight, involves a heavy emphasis on confronting one's true nature. The movie's official plot is as follows (as per Rotten Tomatoes): "Carl Allen (Jim Carrey) is stuck in a rut with his negative ways. Then he goes to a self-help seminar and learns to unleash the power of yes. Living in the affirmative leads him to all sorts of amazing and transforming experiences; he gets a job promotion, and even finds a new romance. But Carl finds that too much of anything, even positive thinking, is not necessarily a good thing." Carrey's Yes Man didn't quite endear itself to most critics, but it's still a must-watch if you're looking for movies with similar themes as King Knight. A positive review of Yes Man from Time Out Chicago wrote: "As self-help comedy, the movie is no more overdetermined than its own highbrow counterpart, Happy-Go-Lucky."
Nomadland
An Oscar-celebrated movie that earned its director, Chloe Zhao, the Best Director nod, its star, France McDormand, a Best Actress trophy, and the movie itself a Best Picture award, Nomadland is one of the best movies of the decade. Depicting the story of the so-called modern "nomads," who repudiated home-living and made their cars and camper vans their new abode as they traversed the roads of America, Nomadland featured real-life nomads who played different people but lived similarly to their actual personas. Universally acclaimed by critics and audiences alike, Nomadland remains to be one of McDormand's best films to date. A review for the Empire Magazine wrote: "Nomadland is a Springsteen song in movie form, a beautifully rendered tale of what it means to be disenfranchised in America. Life on the road has never been so tenderly captured, politically alive and profoundly moving."
The Tree of Life
An art film interspersing the beginnings of life on Earth with that of the life of a middle-aged man, The Tree of Life attempts to answer the question of the meaning of our existence. Starring a cast of A-listers in Brad Pitt, Sean Penn, and Jessica Chastain, The Tree of Life, directed by Terrence Malick, is a beautiful film. The Spectator talked about the profoundness of the film in its review, writing: "Ideally, you would bathe in a film like this without striving to decipher it. As it's a film about what we can't get our heads around, we are probably not meant to get our heads round it. But, even so, it is so audacious it will take your breath away. I'm still waiting for mine to return." In an interview with The Guardian, Brad Pitt talked about the film and how the cast had to overcome their starstruck feelings over Pitt. "We had an incident the very first day of filming," says Pitt. "We had a scene where I was supposed to be getting on their case, and they're laughing. They weren't taking it seriously because they were having fun, you know, with a movie guy. So I had to take the eldest two off the set and say: 'This is serious. This is what we're here for, and don't come back until you're ready.' After that, they stopped looking at me as the guy they'd seen in movies."
Being John Malkovich
King Knight is a movie filled with the appropriate amount of eccentricities that you'd expect from a movie about modern-day witches, but when it comes to films that border on the surreal, nothing beats Being John Malkovich. The movie stars John Cusack, who finds a portal that leads to the mind of the real-life actor John Malkovich, of course played by John Malkovich. The movie has since become a cult-classic, with reviewers and audiences heaping praise on the movie even 20 and some years after its premiere. The Guardian, dedicating an article to the movie's 20th anniversary, wrote: "Being John Malkovich is a dense piece of work, as if Kaufman needed his own Malkovichian vessel to serve as a clearing house for ideas that built up over 15 years in the screenwriting wilderness. (Kaufman's awareness of these tendencies is exposed in Synecdoche, New York.) But one of the pleasures of the film is how multiple viewings bring out different aspects of it." It's a must-watch for anyone seeking out bizarre but highly enjoyable movies.
The Witch
The last one is less about self-discovery and more about witches, which is a primary theme on King Knight. The Witch is a 2015 supernatural horror movie starring Anya Taylor-Joy and directed by Robert Eggers. The official synopsis of the movie goes: "In 1630 New England, panic and despair envelops a farmer, his wife and their children when youngest son Samuel suddenly vanishes. The family blames Thomasin, the oldest daughter who was watching the boy at the time of his disappearance. With suspicion and paranoia mounting, twin siblings Mercy and Jonas suspect Thomasin of witchcraft, testing the clan's faith, loyalty and love to one another." Well-received by critics, The Witch is perhaps one of the best witch-themed movies of the 21st century.
Tell us what's wrong with this post? How could we improve it? :)
Let us improve this post!