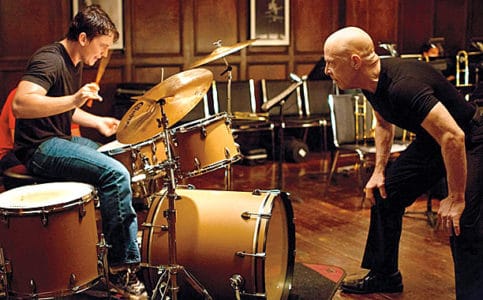 Eight years later, Whiplash has still made an incredible impact on the world of cinema. For anyone who missed out on this lovely gem, it's about Andrew Neiman, an up-and-coming jazz drummer who finally makes it into the top music conservatory. At this point, there's nothing stopping Neiman from becoming the best of the best, unless his new teacher pushes him past his breaking point. Terrence Fletcher is a man known for his terrifying teaching methods, though the intention of the instructor is to create this generation's Miles Davis, a jazz legend like no other, his methods may push Andrew past the point of no return.
Whiplash was nominated for five Academy Awards and for good reason. Now, Whiplash is mainly remembered for the electric performance of J.K. Simmons. Given the context surrounding the teacher, Fletcher could've easily slipped into cartoonish territory; however, Damen Chazelle does an excellent job of balancing the character that fleshes him out as a human being. Sure, his physical and mental abuse wouldn't have been tolerated in the real world, but Whiplash does an excellent job of showcasing that Fletcher isn't a monster. One of the key scenes for the jazz teacher is his reaction to learning about the death of his previous student. It shows that he genuinely does care about these kids and more importantly, it highlights another complex layer to Fletcher's character.
Often, Miles Teller's performance in Whiplash is understated. Was he a powerhouse like J.K. Simmons? Yes, he actually was. We're watching a slow transformation of a kid whose obsession with becoming the best grows over time. He dumps his girlfriend over the notion that she would hate him because he's so dedicated to getting better at his craft. And he allows the mental and physical abuse from Fletcher not because he's weak and can't stand up for himself, but Neiman feels that he has something to prove. Teller is simply tremendous, and you genuinely feel his pain, anguish, and anxiety over simply trying to become the best drummer that he could be. That's where the dinner scene comes. This exact moment explains why Andrew is so consumed by the possibility of success.
The scene starts off simple. Before we even get to the dinner table portion, Chazelle masterfully highlights how much Fletcher's approval means to him. In some odd way, Fletcher feels more like his father, a man who's not easy to please, but clearly wants the best out of you in life. From there, the scene simply gets better. From Andrew's moment making it clear that his accomplishment isn't as big or important as Travis, Dustin, and Jim's. "And Andy with your drumming" is an extremely subtle burn that doesn't necessarily paint the mother as a villain because she didn't mean to throw shade at him, but it highlights the dynamic and the way Andy is viewed in their eyes.
This is a highly relatable moment that audiences can gravitate towards. Whether it's family, school, or work, how many people have ever felt like an outcast? The scene is done beautifully because Chazelle isn't purposely trying to make his family mean spirited towards the young jazz drummer. That's not a reflection of real life because human are subtle creatures. The scene would've been less effective if Andy's mother simply told him that his accomplishments are meaningless. Andy's parents aren't portrayed as abusive, so it ruins the context of their characters in general. They love him, and his parents don't necessarily look down on his accomplishments, but it's a minor blimp on their radar compared to Dustin becoming a Rhodes scholar and Travis scoring a 93-yard touchdown. It's rare to have key character moments like this in cinema.
This one moment makes us care about Andy's journey to becoming the next Charlie Parker and prove to the world that he is meant for something great. It may not showcase Andy practicing his drumming or Fletcher losing his mind over the young upstart not playing the correct tune, but it's still a key element in the film that pushes the story forward in seemingly the simplest manner possible. No one is shouting or cursing, and though Andrew makes it clear that he thinks he's better than Dustin and Travis as the scene progresses, that final burn from his own father brings him back to reality. The family dinner scene is an incredible moment that should be studied by future filmmakers. It highlights the importance of character development that's an essentially tool for any hero's journey.
Tell us what's wrong with this post? How could we improve it? :)
Let us improve this post!