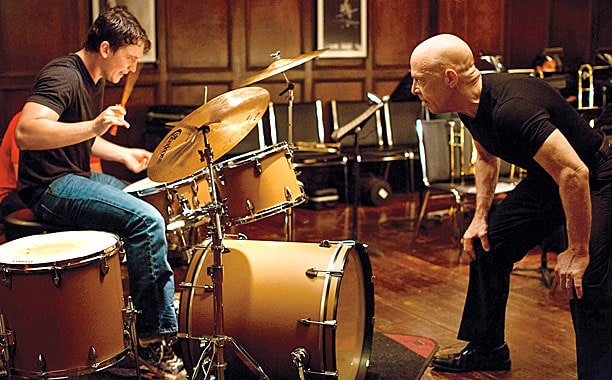 Damien Chazelle's Whiplash seemingly came out of nowhere back in 2014. The film was about an inspiring young jazz drummer, Andrew Neiman, who gets into an elite music band that's held by Terence Fletcher. Despite being one of the top music conservatories, Fletcher is known for his shady practices and the up-and-coming jazz drummer suffers the full force of the jazz teacher's terrifying methods firsthand. Andrew wants to achieve perfection and he spirals into obsession due to his ruthless teacher pushing him past his breaking point. The independent film earned five Academy Awards and left the prestigious event with the Best Performance by an Actor in a Supporting Role award. This was the first time that veteran J.K. Simmons had earned an Oscar, but was this a well-earned affair?
Whiplash is another example of a struggling artist doing anything to achieve his/her goal. The hardship comes from Andrew failing to impress his clearly insane jazz teacher. Now, we could argue about logic when it comes to Whiplash. It doesn't matter how elite a jazz teacher and the ensemble are, Fletcher would never last a month if this was the real world because he's physically and mentally abusing his students. That's easily the biggest negative when comes to the Damie Chazelle vehicle. However, the reason Whiplash works because it details the life of a creator and the constant need for perfection. Some people think that you often have to be insane to be a creative. This statement can be particularly true as artists tend to go above and beyond to achieve their goal of being the best or finally gaining that moment of recognition. Obviously, Fletcher's methods aren't okay in the eyes of Andrew but the young man is so desperate to prove that he's an elite drummer that he doesn't mind the pain and suffering that he goes through in order to achieve success.
Without Andrew's journey, there would be no Terence Fletcher. The jazz teacher dances somewhere in the middle between antagonist and protagonist. In the first and second act, Fletcher genuinely wants to help Andrew achieve his goals of becoming one of the best musicians on the planet. Fletcher said it himself, he wasn't there to simply wave his arms and conduct. He wanted to find the next Charlie Parker. In his mind, pushing people beyond what's expected of them was an absolute necessity, so his methods of madness were completely justified. That scene with Fletcher and Andrew is so crucial because we needed to understand why he is the way he is. We know that Fletcher does care about his students. His emotional scene moaning about a student passing away showcases that he's more than just an angry teacher who gets some sick thrill out of abusing his students. Fletcher's purpose is to guide Andrew on the right path, yet he's still the wall that prevents him from reaching the top level that Andrew so desperately craves. Andrew's obsession sends him into overdrive and fuels him to pour his heart and soul into trying to be the next Charlie Parker. However, there's also a sense of wanting to belong somewhere.
The one dinner scene that showcases Andrew's dynamic with his family is arguably the best moment in the entire film. It's simple, but you understand his mindset. In reality, his family doesn't show his pursues the respect that it deserves, whereas Travis and Dustin are essentially treated as rockstars because they're excelling in their field of football. In some odd way, Fletcher is like his father. He wants what's best for Andrew and his students like any parent. However, he doesn't understand that his methods of trying to find the next Charlie Parker is mentally and physically scarring. Fletcher is so caught up in trying to find the next best thing that he doesn't realize the damage he's doing to actual human lives. That is what makes him such a strong character. Villains are at their best when they don't realize the harm they bring to the world. There's pushing people past their breaking point, but Fletcher's methods go far beyond that. We may not know about his personal life or why he feels it's okay to torture his students just to be find the next great musician, but we understand his psyche and the writing does an excellent job of balancing his character that allows him to show the important layers that make him a fully fleshed out human being. Basically, yes, J.K. Simmons truly deserves his 2015 Academy Award. The actor brings the character to life through his tremendous performance that could've easily landed him into cartoonish territory. But it doesn't, and that's the combination of the script and Simmons himself.
Tell us what's wrong with this post? How could we improve it? :)
Let us improve this post!