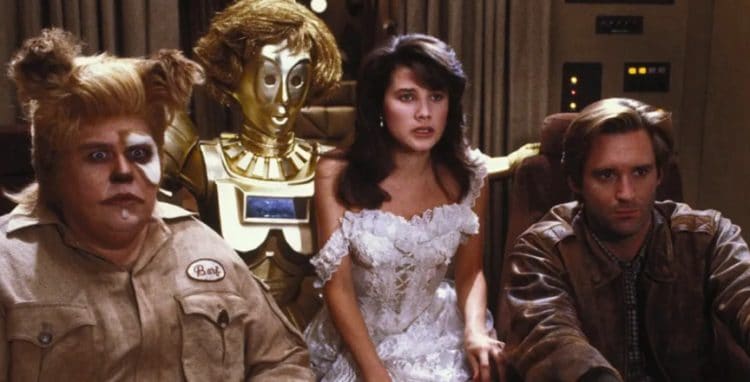 Padraig Cotter from ScreenRant isn't the only one that's been chirping about the possibility of a Spaceballs 2 movie being on the horizon, but there are a few reasons why it probably shouldn't be considered in the first place. The original Spaceballs didn't exactly blow anyone's hair back when it came out since it was a spoof movie and one that was obviously working on a very fixed budget, but if any of you remember just what the original was like and can recall laughing until you cried or at least until your jaw ached then you should be able to echo the sentiment that it shouldn't be touched. The cult classic was one of those movies that seems to stand in a class all its own when it comes to being funny, and the slapstick along with the old-fashioned comedy that had racial bits to it here and there is something that Mel Brooks has been a master of for some time, and few if any have been able to replicate.
Brandon Zachary of CBR actually went deeper and discovered the during the talks for the sequel that Rick Moranis revealed that he and Mel Brooks had discussed an idea about making a movie called Spaceballs III: The Search for Spaceballs II. It would essentially be the same type of movie with more gags and the same kind of dynamic between the characters that people enjoyed the first time around it sounds like. But quite honestly if a sequel was going to be made it should have been done a while back when the rest of the cast was still around and still active in show business. At this point the only remaining members of the cast are getting old and some of them passed on a while back. John Candy and Joan Rivers, two of the most important characters in the story, have been gone now for quite some time as Candy passed in 94 and Rivers passed in 2015. Even Dick Van Patten, who played King Roland, is gone, and many of the other cast members have gotten a great deal older. Then there's the idea that Rick Moranis, despite reprising his role as Dark Helmet in The Goldbergs as James Grebey of Inverse reported, isn't likely to come back since he stepped away from the spotlight a while back and has been happy where he's at.
In other words creating another Spaceballs movie at this juncture would require too much readjusting of the story to really keep it the same, and would likely create something that is much too different from what people remember and would need to stand as its own entity. Recreating Spaceballs entirely doesn't even seem like an option since the movie was something unique and altogether perfect for the time period, not to mention that it was something that many people today might not even tackle considering the slightly racial elements that Brooks is known to put into his movies, or at least was back in that day. At this point it seems as though we might get a very watered down version of Spaceballs if anything ever did come of it, and the fans that watched it come out over three decades ago would likely feel a certain way about it.
Change isn't always a bad thing and different can be fun and engaging. But there are some experiences in life that simply can't be replicated the same way as the original will always be the most magical and the most loved since it was the first to come along and as a result will always be held up as an example to everything else that came before it. Think about it, Spaceballs took from a decent number of movies and incorporated the ideas that Brooks came up with in a way that made us laugh as well as cheer for the good guys and snicker when the bad guys were around since they were so hilarious. Rick Moranis and Brooks played off of one another so easily and had the kind of connection that is hard to find at times since it's the kind of chemistry that doesn't exactly 'just happen' between everyone. Bill Pullman and John Candy were perfect, as were Moranis and George Wyner, who played hilarious Colonel Sanders. The pairings in this movie were done so well that it was almost as if the actors had been working together for a long, long time instead of just on this movie, and that's something you don't tend to see too often.
Perhaps the real reason that Spaceballs 2 shouldn't be made is because the movie ended on a high note, and trying to better that would only bring about certain disappointment that the movie wasn't good enough as it was. Plus, you just can't get moments like these anymore.