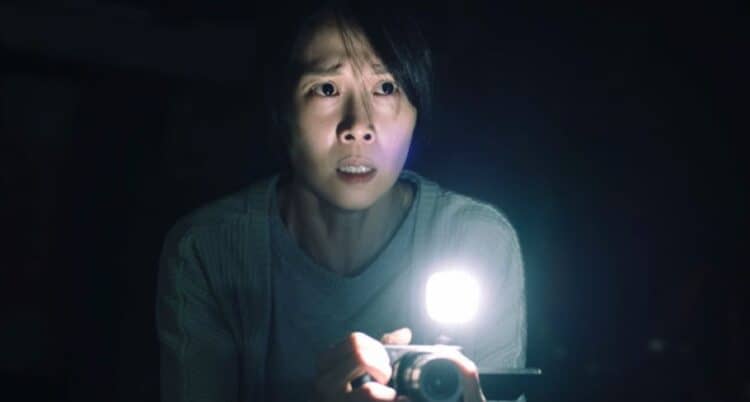 Incantation is a Taiwanese horror film about a mother who must protect her daughter from a curse. The movie was directed by Kevin Ko and released in Taiwan on March 18, 2022. It became the highest-grossing Taiwanese horror film and received an international distribution from Netflix on July 8, 2022. The story centers on Li Ronan, a woman who is cursed after breaking a religious taboo. Six years later, she must use her knowledge of the occult to protect her daughter from the same fate. The movie was well-received by critics and audiences alike, with many praising its atmosphere and unique take on the horror genre.
The Review Geek published a review of the film and praised its unique take on the genre, saying, "The essence of this heart-stopping Taiwanese horror cuts deeper than a supernatural curse. It's in the tender exploration of a mother's love for her daughter. The loving relationship between Ronan and Dodo and the threat of their estrangement add a whole new dimension to the terror of Incantation, making the film a unique, if somewhat amateur, entry to the horror genre." If you enjoyed the thrill and eeriness brought by Incantation, here are five films that involve found footage and occult elements that are indeed must-watch horror films.
The Blair Witch Project
The first one on our list is the precursor of found footage film, the 1999 American supernatural horror film The Blair Witch Project, about three student filmmakers who disappeared while hiking in the Black Hills near Burkittsville, Maryland. The film is presented as "found footage" from their missing cameras and tells the story of their search for the legendary Blair Witch. The students are never seen again, but their footage is found a year later. The film was a major box office success, grossing over $250 million worldwide on a budget of only $60,000. It also sparked a new interest in "found footage" films and has been cited as one of the most influential horror films of the past two decades. Empire praised the film for its influence and success in the genre, saying, "Inevitably, the film has more rough edges than most (many deliberate), and the improvised dialogue veers from the unsettlingly convincing and the needlessly rambling. But as an object lesson of how little you need for terror beyond pitch darkness, The Blair Witch Project deserves all its success, and then some."
The Medium
The Medium is a 2021 Thai-South Korean mockumentary supernatural horror film co-written and produced by Na Hong-jin and directed by Banjong Pisanthanakun. In the Isan region of Thailand, a shaman realizes his nephew has been possessed. However, the goddess that appears to have taken possession turns out not to be as benevolent as she first appears. The film follows the shaman as he tries to uncover the spirit's true identity and save his nephew before it's too late. The Medium is a unique and creepy addition to the horror genre, sure to leave audiences guessing until the end. Variety praised the film's score and production design and wrote, "Chatchai Pongprapaphan's original score provides some atmospheric refinement, as does production designer Akadech Kaewkot's occasional interiors."
Hereditary
Hereditary is a 2018 American supernatural psychological horror film written and directed by Ari Aster in his directorial debut. It stars Toni Collette, Alex Wolff, Milly Shapiro, and Gabriel Byrne. Hereditary follows Annie Graham (Collette), a miniature artist and mother who recently lost her controlling mother Ellen to cancer. Ellen's death uncovers dark secrets about her family history; Annie begins to experience terrifying paranormal premonitions related to her late mother. Meanwhile, her teenage son Peter (Wolff) displays disturbing behavior after being severely traumatized by a family tragedy. Hereditary received critical acclaim, with many critics praising Aster's direction and Collette's performance. The movie grossed $79 million worldwide on a production budget of $10 million. The Guardian gave a five-star review of the film and praised different aspects of the film, saying, "The direction, shooting, and orchestral score are all brilliant, but it would be nothing at all without the terrific performance of Toni Collette in the lead, her face a mask of fear and anger. She is a scary-movie Medea in extreme closeup."
Lake Mungo
Lake Mungo is a 2008 Australian psychological horror film written and directed by Joel Anderson. It utilizes mockumentary-style storytelling and found footage just like Incantation. The film stars Talia Zucker and Martin Sharpe. It tells the story of a family who begins experiencing inexplicable events in their home after the daughter Alice drowns while swimming. Alice's parents hire a psychic and a private investigator to help them deal with the situation. Lake Mungo was generally well-received by critics and praised for its atmosphere, acting, and direction. The film was nominated for several awards, including the AACTA Award for Best Film. In addition, the Hollywood Reporter praised the film's cinematography and soundtrack, saying, "Cinematographer John Brawley's surreal atmospherics are matched by a restrained soundtrack that works on a primal level, issuing a shadow of horror. That helps foster a belief in ghosts."
Noroi: The Curse
Noroi: The Curse is a 2005 Japanese horror film directed and co-written by Kōji Shiraishi. It stars Jin Muraki, Marika Matsumoto, Rio Kanno, Tomono Kuga, and Satoru Jitsunashi. It follows Masafumi Kobayashi, a paranormal researcher investigating a series of mysterious events for a documentary. He begins to unravel the mystery behind a curse that seems to be affecting a small town in Japan. The curse appears connected to a woman named Kagari, who can control people with her voice. Kobayashi's investigation takes him to dark places, and he soon discovers that the curse is much more powerful than he could have imagined. Noroi: The Curse is a gripping horror film that will keep you on the edge of your seat from beginning to end. GQ mentioned the director's creative take on the use of found footage and wrote, "Unlike most found-footage movies—which are usually presented as raw footage shot by a doomed amateur—Noroi is introduced as a mostly-completed "documentary" crafted by a seasoned journalist. This immediately fixes several problems that typically plague found-footage movies. Because the camera character is supposed to be a professional cameraman, Noroi largely avoids the headache-inducing shaky-cam popularized by legions of Blair Witch Project imitators."
Tell us what's wrong with this post? How could we improve it? :)
Let us improve this post!