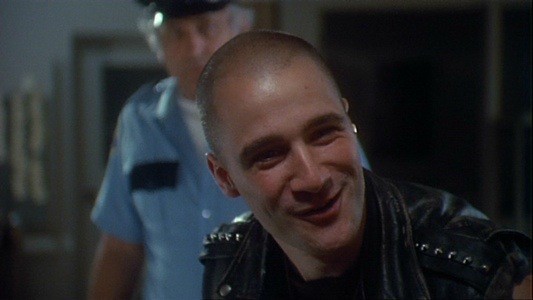 Elias Koteas is one of the actors that you almost always see as a backup, a secondary or supporting role that is noticeable, but isn't the star actor of the film. This is where he seems to shine though, as his personality seems to come out so much more when he's not put on the spot. In some roles he's been absolutely diabolical, while in others he's been somewhat comical and even heroic. In any role however Koteas is quite skilled and more than a little memorable despite the fact that it is rare that he is anyone of great importance in the film.
Here are our picks for the top Elias Koteas movie rolls of his career:
Duncan – Some Kind of Wonderful
Duncan is the kind of guy you really don't want to hang around unless you're just like him, essentially useless until someone finds out that he is in fact a good person. During the first part of the movie he's not that great of a guy, as he seems to feel the need to antagonize others for his own amusement. By the end of the movie he's still the same guy, but by that time it's been established that if you're on his friends list he's the best type of friend to have around.
Casey Jones – Teenage Mutant Ninja Turtles
TMNT fans lost their minds when the figure of Casey Jones hit the live action scene. Since his inception he's been one of the absolute favorite add-ons, and his relationship with April O'Neil has been a mainstay for years now. As the hockey mask-wearing vigilante Koteas added a definite sense of comedy to the franchise and even found a friend in the process to just kick back and trade insults with in Donatello. Out of all the added characters that have fought against or beside the turtles, Koteas playing Case Jones was one of the most memorable.
Edgar Reese – Fallen
He has only a short part in this film, but it's so inherently creepy and tone-setting that it's hard to forget. Convicted of a slew of murders and seemingly proud of it, Reese can't help but taunt his captors no matter that he's on death row and about to be silenced for good. If viewers were really paying attention it's kind of interesting to note that the moment before his death really comes he seems to "wake up", and have no idea just where he is or why. That moment is there and gone before it can ever really develop, which is another reason why Koteas is able to be lauded for being just that good.
Jack Payne – Shooter
For every few good roles an actor often has to play one that is utterly despicable like this one. As Jack Payne, Koteas is little more than a sadist that lives to torture others and be the lackey of a corrupt general that is only interested in doing the wrong thing. He gets his comeuppance eventually, but his death wasn't entirely satisfying in the film considering that he was very much one of the most absolutely evil characters.
Thomas Dagget – The Prophecy
How many people ever lose faith because heaven showed them too much? Koteas is never really given a lot of credit for this role, but it was hands down one of his best. Playing beside Eric Stoltz, Viggo Mortensen, and Christopher Walken has to be hard enough, but playing the role of a disgraced initiate to the priesthood is another challenge that several actors wouldn't even think of taking on. Koteas handles this role remarkably well, and pulls it off beside screen legends that are notorious for stealing the show.
He might not be the leading man, but Elias Koteas is without a doubt one of the greatest and most under-utilized actors in Hollywood. As a backup character he's great, but as a main character he can be even better.