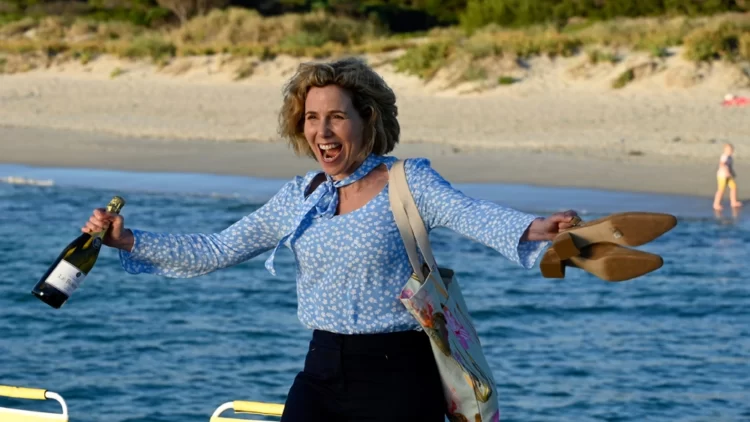 How to Please a Woman is a 2022 comedy film directed by Renée Webster and starring Sally Phillips. The film follows the story of a 50-something woman who hatches a business idea to launch an all-male house-cleaning service. The main character, Gina, is a successful businesswoman struggling to find fulfillment in her personal life. When Sally comes up with the idea for an all-male house-cleaning service, she sees it as an opportunity to help other women find the same satisfaction she has found in her work. However, as the business grows, Sally finds herself facing unexpected challenges and obstacles.
Along the way, she learns some valuable lessons. The film is a lighthearted look at female sexuality and empowerment, and it will leave audiences both laughing and thinking. In a review published by The Guardian, they gave particular praise to Philips' performance, saying, "Phillips has always been a charmer onscreen and, like Grande's Emma Thompson, she's more than willing to use her talent here to make a case for women learning to manage and take charge of their pleasure." If you enjoyed watching How to Please a Woman, here are five movies with similar plot lines and themes of sex positivity and feminism that will keep you entertained.
Magic Mike
Magic Mike is a 2012 American comedy-drama film directed by Steven Soderbergh and starring Channing Tatum, Alex Pettyfer, Matt Bomer, Joe Manganiello, and Matthew McConaughey. It follows a young man named Adam who enters the world of male stripping. He is guided by Mike Lane, who has been in the business for six years. The movie follows Adam as he learns the ins and outs of the company and eventually becomes a successful stripper. He also knows about the relationships between the dancers and their customers and how to navigate the often-cheesy world of male stripping. Ultimately, Magic Mike is a fun and sexy movie that looks inside the world of male stripping. The Hollywood Reporter reviewed the film and commended the choreography sequences saying, "Choreographed by Alison Faulk, the solo routines, and the group numbers are a blast, embracing every cheesy male stripper stereotype from soldiers, sailors, and cops to cowboys and firemen. These guys are like a heterosexual rethink of The Village People."
9 To 5
9 to 5 tells the story of three working women who are fed up with their sexist boss. The movie stars Jane Fonda, Lily Tomlin, and Dolly Parton as the three main characters. The movie was directed by Colin Higgins, who wrote the screenplay with Patricia Resnick. The film was a significant hit when it was released and earned critical acclaim for its depiction of working women. Parton's catchy theme song also became a huge hit, and it helped to make the movie even more popular. Today, 9 to 5 is considered a classic comedy, and it remains one of the most popular movies about working women. Film Inquiry reviewed the film and wrote, "9 to 5 has laughs from beginning to end, a catchy theme song, clever editing techniques, and inspirational characters who prove that we're better united than divided. You're missing out if you haven't already seen 9 to 5 (as I wish I had!). I highly recommend giving this female-centric comedy a shot and reveling in the inspiration of women taking control of their destinies!"
Hysteria
Hysteria is a 2011 British period biographical romantic comedy film directed by Tanya Wexler. It stars Hugh Dancy and Maggie Gyllenhaal, with Felicity Jones, Jonathan Pryce, and Rupert Everett in crucial supporting roles. Set in Victorian England, the plot centers on young doctor Dr. Mortimer Granville assisting Dr. Robert Dalrymple in treating hysteria among women by manual stimulation of the genitalia. Recognizing that manual stimulation is both time-consuming and physically demanding, Granville sets out to find a more efficient way to treat hysteria leading to the invention of the vibrator. In a review by Reviews, they praised the film's take on the themes of female sexuality, saying, "The invention of the vibrator is a subplot; its most interesting contribution to Hysteria occurs during the end credits when we are presented with a pictorial history of the vibrator from its invention to the modern day."
The Sessions
The Sessions is a 2012 American erotic comedy-drama film written and directed by Ben Lewin. Starring John Hawkes and Helen Hunt, The Sessions tells the story of Mark O'Brien, a poet paralyzed from the neck down due to polio. In order to lose his virginity, O'Brien hires a sex surrogate named Cheryl Cohen-Greene. The film follows the two characters as they explore O'Brien's sexuality and come to understand each other on a deeper level. The Sessions is a touching and humorous look at love, disability, and human connection. Hunt and Hawkes give outstanding performances, and the film culminates in a moving and cathartic conclusion. Highly recommended for fans of independent cinema. The Guardian commended Hunt's performance and wrote, "Cohen-Greene is a remarkable woman, and Hunt plays her with a common-sense kindness, intelligence, empathy and good humor that is beautiful to watch, and an unselfconsciousness about her own body that is initially breathtaking in its frankness before it becomes a form of naturalness of a rare, undemonstrative sort."
Battle of the Sexes
Battle of the Sexes is a 2017 biographical sports film directed by Valerie Faris and Jonathan Dayton. The plot is loosely based on the 1973 tennis match between Billie Jean King and Bobby Riggs. The film stars Emma Stone and Steve Carell as King and Riggs, leading an ensemble cast including Andrea Riseborough, Elisabeth Shue, Austin Stowell, Bill Pullman, Natalie Morales, Eric Christian Olsen, and Sarah Silverman in supporting roles. The film chronicles the lead-up to the historic tennis match between King and Riggs and their subsequent legal battle after being accused of unfair play by Riggs. Battle of the Sexes ultimately celebrates the accomplishments of both King and Riggs while highlighting the importance of gender equality in sports. RogerEbert.com praised the performances in the film and wrote, "As for performances, Dayton & Faris have always been strong with an ensemble, and that's true here as well. Stone is subtle and powerful, but Riseborough gives my favorite film performance, playing someone who feels more three-dimensional than the icons at the center of the piece."
Tell us what's wrong with this post? How could we improve it? :)
Let us improve this post!