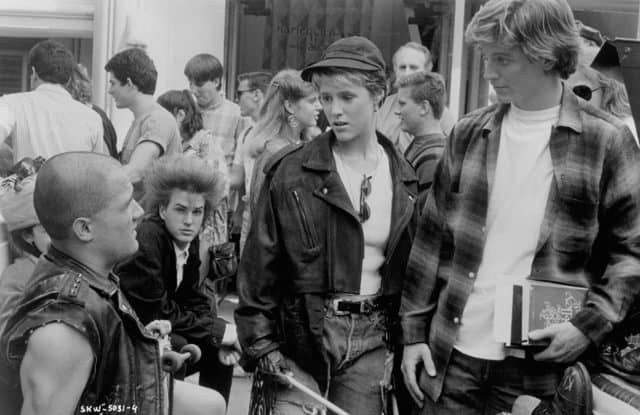 The hectic times in an adolescent's life known as high school can be rough. In fact they can be downright brutal if you're not careful to look where you're going or who you're dealing with at all times. In this high school film Keith, played by Eric Stoltz, is doing what any young man would do when he sees a woman he really wants, he goes after her and seems to completely disregard the best friend that's loved him since day one of their friendship. Near the end when Keith is about to get ganged up on just for following through on a date with the girl of his dreams he's saved by the same misfits he once feuded with, and is then told by the girl he wanted to follow his heart, which leads him to the young woman that helped him gain her attention, the best friend that he can no longer live without.
That's the short and long of it, but there are a lot of other facts about the movie you might want to know.
10. It was originally supposed to be a sex comedy.
The film was supposed to be full of much more innuendo and a lot more crude jokes that would have made it a very different movie.
9. Hughes wrote Ferris Bueller's Day Off when he was supposed to be writing Some Kind of Wonderful.
Hughes stayed up all night while presumably writing Some Kind of Wonderful, but by morning had written fifty pages to the Ferris Bueller script.
8. Molly Ringwald and Andrew McCarthy turned down a chance to work in the film.
Having already starred in several movies between them of this caliber and make both actors declined under the pretense that they wanted to move on with their careers.
7. Lea Thompson said yes because Howard the Duck was horrible.
This was a time for Thompson to try and salvage what was left of her career since Howard the Duck absolutely tanked at the box office.
6. Thompson wanted her character to be more than just a pretty face.
Thompson wanted the character to have a lot more depth and not rely so much on her looks. Being a very big feminist back in those days she wanted to break her character out of the stereotype.
5. It was almost a much darker film.
Upon bringing in another director the film was almost taken in a direction that would allow for no comedy and a much darker view of high school.
4. The actor that played Keith had to cut his hair.
On top of this Stoltz also had to wear eyeliner and blush to accentuate his features a little more, mostly because the powers that be said so.
3. One of the directors and Lea Thompson eventually fell in love.
After the film wrapped up they got together and are still happily married to this day. His name is Howard Deutsch.
2. The movie ending and the script ending are very different.
There was more to the final conversation in the script than there was in the movie.
1. Thompson thinks her character would have gone on to be successful.
Thanks to the depth that she managed to give her character Thompson was very confident that her character might have gone on to be a CEO or someone equally as successful.
How many of you remember the movie to start with?
Save
Save