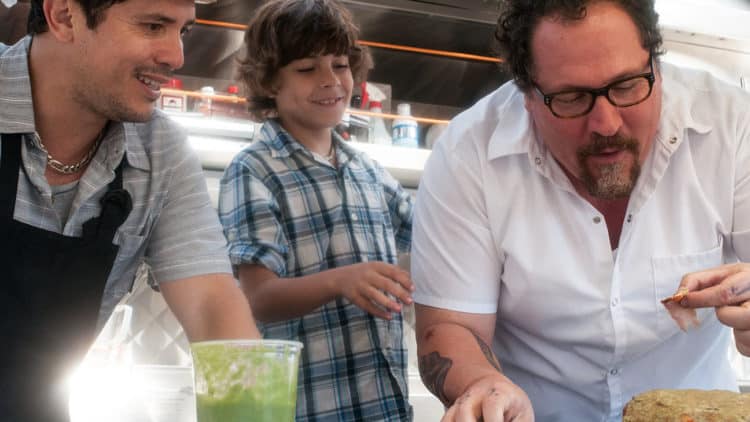 The French comedy-drama Delicious (originally Délicieux in French) was released in U.S. theaters just this month. Los Angeles Times described the film as "an airy trifle about rich meals and serving up one's passion — provided it isn't a form of servitude." Delicious is a tale about the very first restaurant in France. The film is set in 1789 just before the Revolution and centers on master cook Manceron (Grégory Gadebois) who serves the Duke of Chamfort (Benjamin Lavernhe). After serving the Duke and his guests with one of his own creations, he gets ridiculed by one of his guests for the new dish and the Duke fires him. Manceron loses his passion for cooking and goes back to the countryside with his son. A woman named Louise (Isabelle Carré) convinces him to become his apprentice which slowly regains his passion for cooking. New York Times published their review of the film and wrote, "Shot with painterly intent by the cinematographer Jean-Marie Dreujou, "Delicious" is more sumptuous than polemical. If you are wondering whether the film lands on the side of pleasure or gastronomic pretension, let this be the answer: The first words are "du beurre!" — or "butter." If you enjoyed watching the heart-warming and gastronomical French film, here are five movie recommendations that can fill your heart and inspire you to dive into the culinary arts.
Chef
Chef is a 2014 American comedy-drama film directed, written, and co-produced by Jon Favreau, who also stars in the film. Favreau plays the role of chef Carl Casper who gets into a feud with a food critic and a conflict with his boss (Dustin Hoffman) that leads him to quit his position at the prestigious Los Angeles restaurant. Just like the French film Delicious, the film focuses on his journey to reignite his passion for cooking. In Chef Casper's case, he does it by launching a food-truck business with the help of his son (Emjay Anthonyson), his ex-wife (Sofía Vergara), best friend (John Alberto Leguizamo). The film also stars Scarlett Johansson, Oliver Platt, and Bobby Cannavale. The mouthwatering food and menu in the film was supervised by actual food truck owner, chef Roy Choi, who also served as a co-producer of the film. Rolling Stone praised the film in their review saying, "Chef is deliciously entertaining, comic, touching and often bitingly true since Favreau is happily allergic to jokes without a character base. All the actors are aces, with Vergara showing a subtlety and depth outside the range of her role on Modern Family."
Julie & Julia
Julie & Julia is a 2009 American biographical comedy-drama film written and directed by Nora Ephron based on Julia Child's autobiographical book My Life in France, written with Alex Prud'homme, and a memoir by Julie Powell, Julie & Julia: My Year of Cooking Dangerously. The film narrates the lives of two women living at two different timelines. The film recounts the unfolding culinary career of beloved chef and icon Julia Child through a series of flashbacks and narrating the present-day life of Julie Powell who goes on a quest to cook all the recipes in Julia Child's cookbook while sharing the challenge on her blog. The film stars Meryl Streep, Amy Adams, Stanley Tucci, and Chris Messina. The Independent Critic published a relatively positive review of the film, saying, "Easily one of the most wonderful surprises of Summer 2009, "Julie & Julia" features award-worthy performances from both Streep and Adams blending together to become the perfect recipe for a delicious and delightful feast of heart, humor and wondrous storytelling."
No Reservations
The romantic-comedy-drama film No Reservations was directed by Scott Hicks with the main cast featuring Catherine Zeta-Jones, Aaron Eckhart, and Abigail Breslin, and supporting roles by Patricia Clarkson, Bob Balaban, Jenny Wade, Brían F. O'Byrne, Lily Rabe, and Zoë Kravitz. The film follows the story of perfectionist head chef Kate Armstrong, played by Catherine Zeta-Jones, whose life suddenly changes when she becomes the guardian of her niece after her sister dies in a tragic accident. She also faces conflict with the newly hired sous-chef (Aaron Eckhart) who just joined her staff but later on leads to a brewing romance between the two. The movie Delicious also involves some romance in the storyline together and it's a treat to watch the scrumptious meals prepared with warmth and love. The film received mixed reviews but still offers great food on-screen and a greater moving story. In the film review by Reelviews, they wrote, "No Reservations may not be a modern-day classic but, despite the relatively small budget, it has more heart than nearly anything currently playing in multiplexes."
Big Night
Big Night is a 1996 American comedy-drama film co-directed by Campbell Scott and Stanley Tucci, who also stars in the film. The main cast also features Minnie Driver, Ian Holm, Isabella Rossellini, Allison Janney, and Tony Shalhoub. The film follows the journey of two immigrant brothers Chef Primo (Tony Shalhoub) and businessman Secondo (Stanley Tucci) as they launch their Italian restaurant serving authentic Italian cuisine in New Jersey. Struggling to promote their restaurant to the American community, they find hope through the famous Italian-American bandleader, Louis Prima, who is scheduled to visit their restaurant. The brothers must prepare a feast for him to save their struggling restaurant. Just like one of the key events in Delicious, Manceron must prepare the best feast for the Duke to take him back as his chef. Big Night received largely positive reviews and was nominated for the Grand Jury Prize at the Sundance Film Festival and the Grand Special Prize at the Deauville Film Festival. Scott and Tucci also won the New York Film Critics Circle Award and the Boston Society of Film Critics Award for Best New Director. The Guardian published an article about the film, describing how the film helped launch an American dining revolution. "To watch Big Night today is to realize how vastly the food world has changed, and how speedily. In the late 1950s, a small-town mom-and-pop restaurant specializing in authentic Italian food seemed like a clear recipe for failure. Even in the mid-1990s, it was a risky proposition. In 2016, however, it's brilliant."
The Hundred-Foot Journey
The Hundred-Foot Journey is a 2014 American comedy-drama film directed by Lasse Hallström from a screenplay written by Steven Knight, and based on Richard Morais' 2010 novel of the same name. The film was produced by Steven Spielberg and Oprah Winfrey and stars Helen Mirren, Om Puri, Manish Dayal, and Charlotte Le Bon. The film follows a feud between two contrasting restaurants in a French village. Self-taught chef Hassan Kadam (Manish Dayal) and his family move to the South of France after being displaced in India. They decide to open an Indian restaurant in the French village but a hundred feet away across is a Michelin-starred restaurant owned by Madame Mallory (Helen Mirren), who objects to their newly built establishment, which starts the war between the two. The film is filled with feel-good themes and mouth-watering meals. Variety published a review of the culinary film describing the hear-warming themes it tackles., "And so "The Hundred-Foot Journey" becomes a story in which cultural opposites not only learn to coexist but are in fact triumphantly and even romantically reconciled."
Tell us what's wrong with this post? How could we improve it? :)
Let us improve this post!