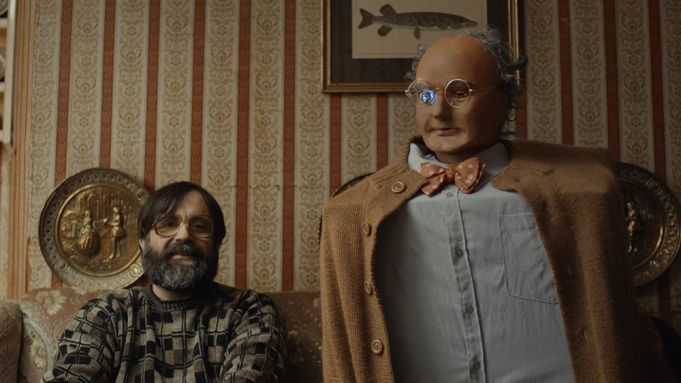 The British comedy film Brian and Charles directed by Jim Archer, in his feature debut, from a screenplay by David Earl and Chris Hayward, who also star in the film was released last June 17, 2022. The plot follows Brian, a lonely inventor in rural Wales who invents a robot. The robot, named Charles, quickly becomes Brian's best friend. However, when Brian attempts to show Charles off to the world, he discovers that the world is not ready for his invention. Brian and Charles must go on a wild adventure to find a place where they can be accepted for who they are. Brian and Charles is a heartwarming story about the power of friendship and the importance of acceptance. The Hollywood Reporter gave particular praise to the lead performances saying, "The performances by Brealey, Earl and Hayward are terrifically sweet and sincere, in sync with the film's unaffected attitude of silly but serious. The magic that Brian and Charles taps into is handwrought and underplayed, with Archer letting the weird details cast a low-key glow." If Brian and Charles left you feeling good and you're interested in films that also touch on the topic of robots, existence, and friendship, here are five movies worth watching.
Finch
Finch is a 2021 American post-apocalyptic survival film directed by Miguel Sapochnik and written by Craig Luck and Ivor Powell. The film stars Tom Hanks as the titular character, alongside Caleb Landry Jones. The plot follows Finch, a robotics engineer who invents a helper robot programmed to protect and care for his dog companion, Goodyear. Together, they must find a way to survive in a world that is totally hostile to life. Similar to Brian and Charles it centers on the friendship that develops between man and robot or android. Finch is a thought-provoking film that asks questions about what it means to be human and whether or not we can truly survive without other humans. It is an excellent film for fans of post-apocalyptic fiction. It is ultimately a story of hope, as it shows how the human spirit can triumph in even the direst circumstances. Empire published a review of teh film saying, "Finch hits most of the notes you'll be expecting, but that's also largely what you want from this sort of film: laughs, several medium to large cries, and lots of bits with a dog."
Robot and Frank
Sharing similar themes of companionship to Brian and Charles, the film Robot & Frank is a charming, comedic drama about a retired cat burglar who is given a service robot to help with his declining health. Though at first, Frank is resistant to the idea of having a robot in his home, he soon warms up to the idea and starts training his new robotic friend in the art of burglary. As their partnership blossoms, the two embark on a series of daring heists that revitalize Frank's waning passion for life. Ultimately, Robot & Frank is a heartwarming story about companionship, aging, and the importance of living life to the fullest. The Guardian reviewed the film and wrote, "Unclassifiable and unpredictable, this interesting movie scripted by former TV writer Christopher D Ford and directed by first-time film-maker Jake Schreier has a low-key charm."
After Yang
After Yang is a 2021 American metaphysical science fiction drama film written, directed, and edited by Kogonada. It stars Colin Farrell, Jodie Turner-Smith, Justin H. Min, Malea Emma Tjandrawidjaja, and Haley Lu Richardson. After Yang is more serious compared to Brian and Charles, with its existential and moral themes but nevertheless shares the importance of connection. The plot centers on Jake, a father who searches a way to repair his daughter's android companion, Yang. Along the way, he learns about Yang's origins and discovers that the line between humans and machines is not as clear as he thought. After Yang is a thoughtful and moving exploration of what it means to be alive and a reminder that even the most advanced technology cannot replace the human connection. The Observer reviewed the film commending its aesthetics and message saying, "After Yang is a beautiful film, both in how it looks and in what it evokes. It's not flashy or dramatic, and very little actually happens. But isn't that truer to how we live? On an average day, the real action takes place within us; the drama occurs in our own minds. After Yang poses questions, certainly, but Kogonada isn't there to answer them."
Her
Her is a 2013 American science-fiction romantic drama film written, directed, and co-produced by Spike Jonze. It marks Jonze's solo screenwriting debut. The film follows Theodore Twombly (Joaquin Phoenix), a man who works for a company that writes personal letters for other people. He is going through a difficult divorce from his wife Catherine (Rooney Mara). One day, he purchases a new operating system that comes with a virtual assistant named Samantha (Scarlett Johansson). Theodore begins to develop feelings for Samantha but as their relationship starts to unravel, Theodore begins to question the reality of his entire relationship with Samantha. The film also stars Amy Adams, Rooney Mara, Olivia Wilde, and Chris Pratt. Her was released to critical acclaim with many praising the film's direction, writing, acting, and themes. The film was nominated for five Academy Awards, including Best Picture and winning Best Original Screenplay. RogerEbert.com described the film as "engaging and genuinely provocative" while The Guardian gave particular praise to the film's visuals and wrote, "Visually, Her is stunning, the contemporary vistas of Shanghai adding to the mesmerising portrait of near-future LA in which streets shimmer and shine, and people bathe in the light of hi-def screens and glowing personal appliances, each locked into their own virtual world."
Batteries Not Included
The 1987 American science fiction comedy film Batteries Not Included directed by Matthew Robbins does not involve robots or AI but centers around the residents of an apartment block who are facing eviction by a ruthless property developer. Instead of robots, it tells the story about small extraterrestrial living spaceships that save an apartment block under threat from property development. Just like Brian and Charles, Batteries Not Included is a heartwarming story about the power of friendship as well as community spirit. In a review published in Common Sense Media, they shared the film's strengths and minor flaws saying, "Although this film often drags at points, its message is warm and heartfelt. The movie emphasizes the notion of standing up for one's beliefs.The relationships between the characters are mature, but not overly complex for a child to understand. The movie features a unique plot and conveys an overall positive message that both kids and adults will appreciate."
Tell us what's wrong with this post? How could we improve it? :)
Let us improve this post!