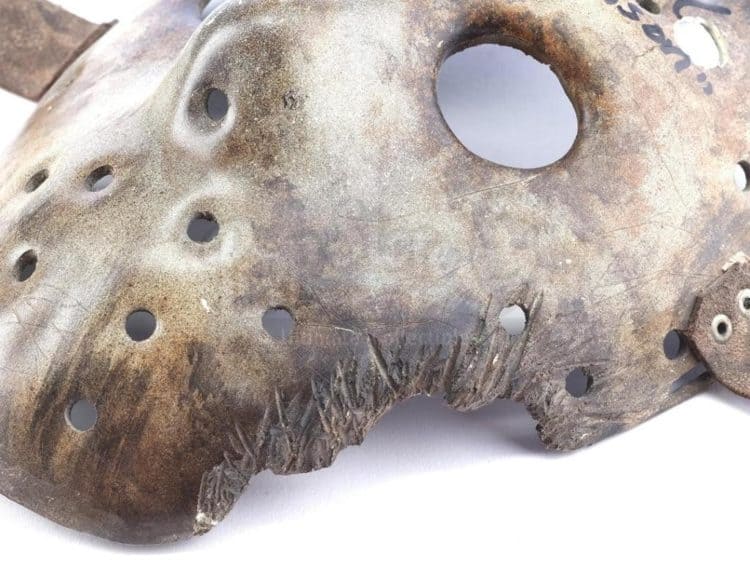 It kind of has to be said, it must be nice having all that money to toss around, since paying $180,000 for a hockey mask used in Jason Goes to Hell, is a ridiculous sum of money, even for a movie prop, especially one that looks like it could break if someone sneezed on it the wrong way. The price was kicked up to $225K after all was said and done, and Kane Hodder, who played Jason Voorhees, even signed the thing. That goes to show that those with money spend it on the strangest things since other items at the auction that were used as props in various movies, such as a Velociraptor egg from Jurassic Park, Vasquez's M-41A Pulse Rifle from Aliens, and a few other items went for far less than this one beaten up old hockey mask. But among horror fans, this is akin to the holy grail since not only has it been used, it belongs to one of the longest-running horror franchises around that people still talk about and happen to love. There's no practical side to this when it comes to collecting since this mask might be a piece of cinematic history, but it's hard to see plunking that kind of money down for any single item unless it has a practical use.
Hey, to each their own, and hopefully a good portion of that money went to a charity that will help those in need. But while having that kind of money to drop on a single item is all well and good, the thought of getting the mask and helping people out might actually even the playing field. If it was a case of one millionaire buying something they 'just had to have' for no better reason than being a collector, then it might be time to just roll your eyes and move on. There are plenty of people out there that love to collect certain items from their favorite movies and TV shows, I'm one of them, but the prices that people want for this stuff sometimes make a person cringe.
What's even more frustrating about it is that the mask is being hailed as coming from the movie Jason Goes to Hell, which was only a step or two up from a couple of the other entries into the franchise since Jason X and Friday the 13th part VIII were all kinds of awful. But while the effects managed to get a little better, Jason Goes to Hell wasn't exactly the best storyline, though it has been remembered a bit more than other movies over the years. The price that this mask went for still boggles the mind since trying to justify such a thing is easy enough when charity is involved, but moving past that is all kinds of nuts since the idea of buying something that a person wouldn't dare wear since it might lower the value is a little awkward considering that it would be destined to become a conversation piece at best and something that people would covet at worst. Perhaps it's a more practical side speaking, but this is likely one of the many purchases that doesn't make a lot of sense when it comes to putting down the kind of money that this thing costs.
But, there are plenty of Jason Voorhees fans out there that would disagree in a very big way since the whole idea behind the mask and the movies that it was used in is enough to get people to think of how great it would be if they had it in their own collection. There were likely fans that were drooling to think of what it would be like to have this in their home, possibly framed or placed in a shadowbox somewhere that it could be seen by others, prominently displayed so that other fans could gasp in awe and wonder what it might be like if this was in their own home. Hell, some people might have even heard an angelic chorus in the background, but the point is that this mask has definitely brought out the fanboy in a lot of people since it's one of those items that a lot of folks feel is just hard to top.
Imagine what something like Freddy Krueger's original glove might bring if this mask was this price. Robert Englund admitted to taking the original glove, but of course, someone else professed to have the original, so it's hard to say. But just think of what price that would bring in if this mask hit well over $100K. Yep, people are willing to lay good money down for cinematic history, even if there's a good chance that what they're getting might not be one hundred percent real. Maybe it is and maybe it isn't.