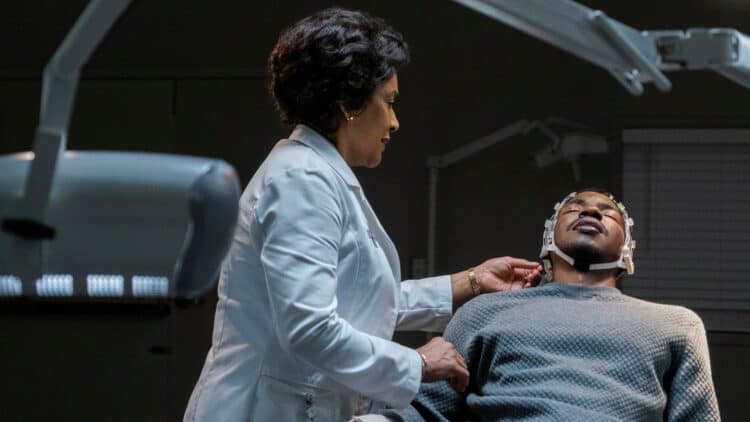 Black Box is a 2020 American science fiction horror film directed by Emmanuel Osei-Kuffour Jr. who also co-wrote the screenplay with Stephen Herman. The film stars Mamoudou Athie, Phylicia Rashad, Amanda Christine, Tosin Morohunfola, and Charmaine Bingwa. The film centers on a man named Nolan who suffers from amnesia after a car accident which also led to his wife's passing. A father to a 10-year-old girl, he struggles to fulfill his obligations as a father. Desperate to regain his memory to help him function better, he decides to undergo an experimental treatment which leads him to doubt his identity. The film has received relatively positive reviews, and in a review published by The New York Times, they wrote, "This feature directing debut from Emmanuel Osei-Kuffour Jr. has some presentation features that suggest a calling card for the mainstream (whatever that is nowadays), a crystal-clear narrative through-line, a conventionally supportive music score by Brandon Roberts among them. But it also brings some devilish ingenuity to its variations on "Memento" and other "who am I?" thrillers. And it adds to that something more rare: a genuine emotional potency." If you have watched Black Box and you enjoyed the thrill and were enthralled by this type of storyline, here are five movies we recommend watching that involve similar themes.
Unsane
Just like Nolan in Black Box, who faces an inner conflict, the protagonist of the 2018 American psychological horror film Unsane grapples with her sanity. The film was directed by Steven Soderbergh with a screenplay by Jonathan Bernstein and James Greer and stars Claire Foy, Joshua Leonard, Jay Pharoah, Matt Damon, Juno Temple, Aimee Mullins, and Amy Irving. The film shot entirely on an iPhone 7 Plus centers on a young woman who moves to Boston to escape a stalker. To help her cope with her trauma, she decides to go to therapy and undergo counseling. However, she unknowingly signs a consent form for voluntary 24-hour admission to a mental institution where she begins to struggle between reality and paranoia. The film has received relatively positive reviews and in an article published by IndieWire, they wrote, "With its wicked game of perspective, "Unsane" constantly makes us question if what we're seeing is "real," forcing us to replay earlier interactions in our heads and judge subsequent actions accordingly, at least for its first hour"
A Cure for Wellness
A Cure for Wellness is a 2016 psychological horror film directed by Gore Verbinski and written by Justin Haythe, based on a story co-written by Haythe and Verbinski who were inspired by Thomas Mann's 1924 novel The Magic Mountain. It stars Dane DeHaan, Jason Isaacs, and Mia Goth, and similar to Black Box, it centers on a form of treatment through a remote rehabilitation in the Swiss Alps. It follows a young executive sent by his financial services firm to a wellness center in the Swiss Alps to bring back the company's CEO. On his mission to bring back his boss, he discovers something about the rehabilitation center and it tests his sanity. The film received mixed reviews but has been praised for its technical aspects which were mentioned by The Guardian in their review saying, "This is a technically impressive film, particularly in terms of the production design. DeHaan's sun-starved skin tone chimes with the duck-egg blue of the institution walls; the building itself is a warning, all bristling turrets, and aggressive crenellations." Empire on the other hand commended Verbinski's direction and wrote, "Freed from the shackles of tentpole moviemaking, the former Pirates and The Lone Ranger director takes the handbrake off – and then some – with a mind-bending mash-up of psychological horror, capitalist critique and old-fashioned folktale."
Horse Girl
The 2020 American psychological drama film Horse Girl shares similar elements about an inner battle and painful experiences. The film centers on introverted and awkward Sarah who begins to encounter bizarre experiences she struggles to explain and finds herself struggling to define the thin line between dream and reality. The film is directed and produced by Jeff Baena, from a screenplay written by Baena and Alison Brie who also stars in the film. The cats also feature Debby Ryan, John Reynolds, Molly Shannon, John Ortiz, and Paul Reiser. The film received relatively positive reviews from critics, especially for Brie's performance and Baena's direction. In a review by Variety, they wrote, "The transgressiveness of Baena and Brie's strange and sorrowful "Horse Girl," is in how it turns the simplistic, inauthentic tweeness of the generic, quirky indie comedy in on itself to produce a rare and piercingly compassionate exploration of the sorts of madness that come from intense loneliness, and the intense loneliness that comes from being regarded as mad."
Hypnotic
The 2021 American thriller film Hypnotic shares a very similar plot with Black Box as a young woman who is seeking treatment finds herself falling victim to mind manipulation. The film was directed by Matt Angel and Suzanne Coote, with a screenplay by Richard D'Ovidio, and stars Kate Siegel, Jason O'Mara, and Dulé Hill. The film has mixed reviews and in an article published by Variety, they wrote about the film's entertainment value saying, "Slickly if impersonally directed by Susanne Coote and Matt Angel, this Vancouver-shot suspense tale is entertaining enough to meet undiscriminating viewers' needs on a slow night."
After Yang
The 2021 American metaphysical science fiction drama film After Yang belongs to a different genre from Black Box, but it shares similar elements about memory and the importance of bonds and relationships. The film was written, directed, and edited by Kogonada and stars Colin Farrell, Jodie Turner-Smith, Justin H. Min, Malea Emma Tjandrawidjaja, and Haley Lu Richardson. The plot centers on Jake, a father attempting to repair their family's caretaker android named Yang who is especially close to her daughter. In the process of finding a way to fix Yang, he discovers something important and personal. The film received positive reviews from critics, and in a review by Rolling Stone they describe the film's core themes by saying, "The chin-stroking, heartbreaking, very humanistic post-human sci-fi weepie from the writer-director Kogonada — is a movie about life as much as it is about death," Polygon also wrote a review of the film and wrote, "After Yang is intensely internal and personal, as grief so often is, which guarantees it won't connect with a wide audience. But as a collection of images and moods, all gently nudging at that central question of what defines a person, it's gravely hypnotic. It's an old question, asked in a new way, with deepest gravity and respect."
Tell us what's wrong with this post? How could we improve it? :)
Let us improve this post!