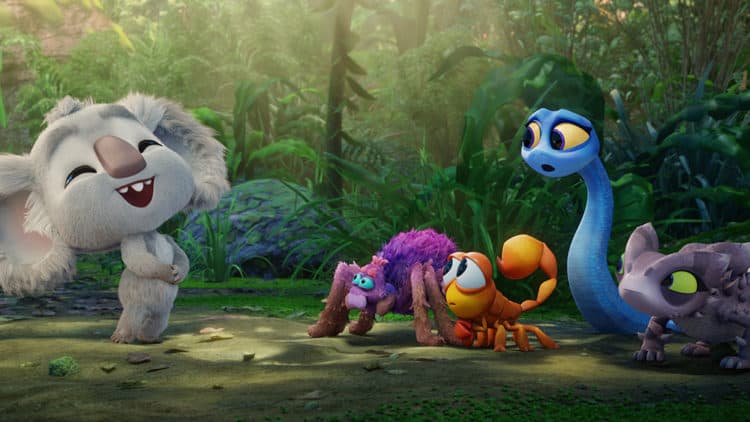 The animated movie Back to the Outback premiered on Netflix early this December, featuring a group of "dangerous" creatures who try to escape an Australian zoo to find their new home in the Australian outback where they feel like they truly belong. The main cast features the voices of Isla Fisher, Tim Minchin, Eric Bana, Guy Pearce, Miranda Tapsel, Imrie, Keith Urban, Jacki Weaver, and Diesel La Torraca. The New York Times published a review of the film, saying, "however generic this movie is in premise, there is with to be found in its details, and warmth in its message. Its cleverest running gag concerns the Ugly Secret Society, a faction of resourceful misfits who vow to protect fellow "ugly" critters — a deus ex machina that, like "Back to the Outback" as a whole, is unexpectedly touching." If you're still on the lookout for heartwarming tales of self-discovery, or just want to watch movies chock-full of cute animals, here are five movies you can watch with the whole family after watching Back to the Outback.
Madagascar
Back to the Outback will definitely remind you of DreamWorks' animated media franchise Madagascar, about a group of animals in New York's Central Park Zoo who find themselves shipped to the exotic island country of Madagascar. The main cast features the voices of Ben Stiller, David Schwimmer, Chris Rock, Jada Pinkett Smith, Sacha Baron Cohen, Cedric the Entertainer, and Tom McGrath. The film was a box office hit and led to two more films, Madagascar: Escape 2 Africa (2008) and Madagascar 3: Europe's Most Wanted (2012), as well as a spin-off featuring the Penguins of Madagascar and a couple of TV series. Indie Wire described the similarities of Back to the Outback and Madagascar in an article, "The film packs a familiar enough premise, and "Back to the Outback" borrows heavily from "Madagascar" for its zoo-escape setup, though the creatures here are snakes, spiders, and alligators. Friendly creatures behind closed doors, they must endure the pain and humiliation of being paraded around screaming crowds as evil killers."
The One and Only Ivan
The Disney+ original film The One and Only Ivan, based on the children's novel by Katherine Applegate of the same name, tells the story of a gorilla named Ivan as he discovers his past with the help of an elephant, Stella, and their adventure in escaping from captivity. The novel and the film were inspired by the true story of the real-life silverback gorilla named Ivan who was part of an animal attraction in a shopping center. Ivan lived at the shopping mall for nearly 30 years before eventually being relocated to the Atlanta Zoo. The film has a stellar cast including the voices of Angelina Jolie, Sam Rockwell, Helen Mirren, Danny DeVito, Ron Funches, and Chaka Khan. It also features actors Bryan Cranston, Brooklyn Prince, and Ariana Greenblatt. The film made its debut on the streaming platform in 2020 at the height of the pandemic. In an interview by Variety with Angelina Jolie, she shared how the theme of the movie resonates to a lot of children cooped up during the pandemic, "There's something about the captivity of it too that I think was sadly speaking to children and helping each other through with feeling confined. I think it spoke to kids and touched at a good time."
UglyDolls
Back to the Outback focuses on characters who are described to be misfits and ugly as they try to find a new home. If you want a feel-good movie with similar themes, the animated musical movie UglyDolls should be on your list. UglyDolls tells the story of Moxy, a flawed "ugly" doll who lives in Uglyville together with other dolls who are discarded from a toy factory. She goes on an adventure with her friends to be the perfect doll and to find her perfect kid. The cast includes the voices of Kelly Clarkson, Nick Jonas, Pitbull, Janelle Monáe, Blake Shelton, and Wanda Sykes. The movie is based on the popular PrettyUgly plush toy line by David Horvath and Sun-Min Kim. In the film review published by Variety, they wrote, "the sincerity with which "UglyDolls" pits unblemished conformity against ungainly soul is touching — and, yes, instructive — in all the right ways. The vocal performances really register, from Clarkson's life-force ebullience to Shelton's saddened drawl to Pitbull's street bravura."
Over the Hedge
The animated comedy film Over the Hedge featured the voices of big stars such as Bruce Willis, Garry Shandling, Steve Carell, Wanda Sykes, Nick Nolte, Allison Janney, Thomas Haden Church, William Shatner, Avril Lavigne, Eugene Levy, Catherine O'Hara, and Omid Djalili. The film's plot focuses on a group of hungry critters led by a raccoon as they make their way over a giant hedge to invade suburban homes foraging for food after hibernating. The animated movie produced by DreamWorks Animation is directed by Tim Johnson and Karey Kirkpatrick and written by Len Blum, Lorne Cameron, David Hoselton, and Mr. Kirkpatrick. The film is based on the comic strip of the same name by Michael Fry and T. Lewis. In a film review by Richard Propes he shared, "It is an animated film designed to appeal to both children and family, and it succeeds in this goal magnificently. In many ways, this is film teaches basic lessons about family, self-acceptance, honesty and, at least I got this lesson, maybe we humans aren't as smart as we think we are."
Zootopia
The critically acclaimed animated film Zootopia is a must-watch for its great animation and for tackling themes about discrimination and social stereotypes. The animated film garnered a variety of awards and nominations which include Best Animated Feature, Golden Globe Award for Best Animated Feature Film, and a nomination for the BAFTA Award for Best Animated Film. The movie had an overwhelmingly positive review, gaining a 98 percent rating on Rotten Tomatoes, and it also grossed a total of $1.024 billion worldwide according to Deadline. The movie is set in a mammal metropolis called Zootopia where optimistic Officer Judy Hopps becomes the first bunny in the police force and struggles to prove herself among her tough colleagues. She tries to crack a mysterious case and partners with a scam-artist fox Nick Wilde. The film features the voices of Ginnifer Goodwin, Jason Bateman, Idris Elba, Jenny Slate, Bonnie Hunt, Don Lake, Tommy Chong, J.K. Simmons, Octavia Spencer, Alan Tudyk, and Shakira.Kelly Clarkson
Tell us what's wrong with this post? How could we improve it? :)
Let us improve this post!