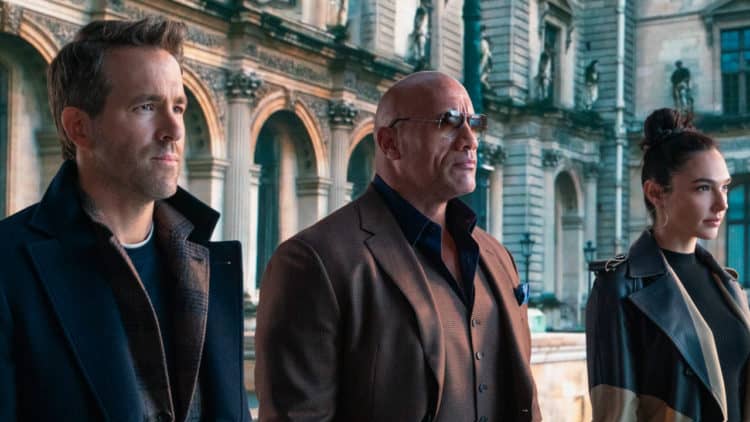 Surprise, surprise. The critics didn't like Red Notice. The movie was heavily criticized for being childish and shallow — in other words, being exactly what it's supposed to be. The action-comedy film was widely panned, but it did provide some fun and thrill for those who aren't exactly expecting it to be the next Citizen Kane. For anyone who likes Dwayne "The Rock" Johnson (Moana), Ryan Reynolds (Free Guy), or Gal Gadot (Wonder Woman), the movie is a treat. It's a brainless caper movie that doesn't promise anything. It's all fun and games, with the movie trying to hit every checkbox in a typical comedy heist film. The Australian's Stephen Romei goes against the grain by writing: "I watched this 117-minute movie on a rainy afternoon and it was just about perfect for the time and place. The final scene suggests a sequel. I hope it happens." Red Notice has been popular with audiences. Deadline reports that the movie is currently the second-most-watched Netflix movie of all time, with a current watch time of 229 million hours all over the world. It only trails Sandra Bullock's Bird Box, at 282 million hours, but Deadline reports that Red Notice hopes to surpass Bird Box soon. Red Notice was even able to defeat Disney+'s Shang-Chi in streaming time, according to another report by Deadline.
Perhaps the popularity of the film comes from the chemistry between Johnson and Reynolds. Johnson has been friends with Reynolds for as long as he has been in Hollywood, according to IMDb's Burning Questions. "I have not known any actor in Hollywood longer than I've known Ryan Reynolds. We started our careers together," said Johnson. "I had 'The Scorpion King come out. He had 'Van Wilder' come out. We were criss-crossing promotions. We wound up in Cancun on 'MTV Spring Break' promoting your movies. We're like an old couple who bicker and fight. And of course, we love and respect each other." Gal Gadot also proved her comedy chops in the film. The movie may have also seen overwhelming success due in part to the emotional support the cast members have shown each other. Dwayne Johnson's father, sadly, passed away on Day 1 of Red Notice's shooting. According to Johnson, Reynolds and Gadot did not fail to support him during those terrible moments, according to People. "On the first day of filming, my dad died. The moment I walked in the door, Ryan gave me a big hug and said, 'I got you, man,'" says Johnson. Gal Gadot, on the other hand, was instrumental in cheering up The Rock. "Gal is always taking care of the people around her and has the most positive presence," he says. If you're done with Red Notice but you still want more heist hilarity, check out these five films.
1. Now You See Me
Now You See Me stars Jesse Eisenberg (Social Network), Mark Ruffalo (Avengers), Woody Harrelson (Zombieland), Melanie Laurent (Inglourious Basterds), Isla Fisher (The Lookout), Dave Franco (The Disaster Artist), Michael Caine (The Dark Knight), and Morgan Freeman (Red). It's about a magician who leads a group of similarly talented individuals in their attempt to siphon money off of corrupt businessmen. The movie received mixed reviews from critics, with Shubhra Gupta of the Indian Express writing, "The magic tricks are quite spectacular, especially one which features Ms. Fisher floating above the audience in a giant bubble. But Now You See Me needed more sharpness for it be a really good film."
2. Ocean's Eleven
When we think of heist films, the first movie that comes to mind is Ocean's Eleven, which itself is a remake of a 1960s movie titled Ocean's 11. The movie stars George Clooney (Gravity), Matt Damon (Good Will Hunting), Andy Garcia (Internal Affairs), Brad Pitt (Mr. and Mrs. Smith), and Julia Roberts (Erin Brokovich). Directed by the acclaimed director Steven Soderbergh (King of the Hill, Contagion, Erin Brokovich), Ocean's Eleven tells the story of Danny Ocean, who organizes a ragtag group to orchestrate an elaborate casino heist. In a 2001 review of the film for In These Times, Joshua Rothkopf sang praises for Soderbergh: "As we live and breathe, Steven Soderbergh is making the best kid-stuff for adults since Howard Hawks put Cary Grant in a sombrero. It's no small achievement."
3. Army of the Dead
Surprisingly receiving mostly positive reviews despite its ridiculous premise, Army of the Dead stars Dave Bautista (Guardians of the Galaxy) as a down-on-his-luck zombie war hero tasked with breaking into a zombie-infested quarantine zone to retrieve $200 million. Ella Purnell (Ways To Like Forever) and Omari Hardwick (Sorry To Bother You) also appear in the movie. Salon's Melanie McFarland provides a generous review for the movie, particularly for Bautista's performance as the main character. She wrote: "Setting aside the explosions and bloodlust, watching Bautista tap into a kind of softness and vulnerability makes him consistently watchable. He looks physically imposing as ever, but he emphasizes endearing Ward to the audience where other actors would be content to run and gun the role. You'll want him to make it and more to the point, to truly live if he does."
4. A Fish Called Wanda
A classic, A Fish Called Wanda set the tone for succeeding heist films. The movie starred John Cleese (Monty Python and the Holy Grail), Jamie Lee Curtis (Halloween), and Kevin Kline (Dave) and was critically acclaimed during its release. The Los Angeles Times' Sheila Benson, praising the movie's complexity, wrote: "Low comedy at high speed, it pretends to be a caper movie about a smooth London jewel heist and its infinitely complex aftermath. Actually, it's a smart farce about ingrained cultural differences."
5. The Italian Job
Starring Mark Walhberg (Boogie Knights), Charlize Theron (Monster), Ed Norton (Fight Club), Seth Green (Robot Chicken: Star Wars), and Jason Statham (Furious 7), The Italian Job is a heist film with revenge angles thrown in, making for an exciting caper classic led by an ensemble cast. Neil Norman of the London Evening Standard describes the film as "smart, funny, and well-plotted."
Tell us what's wrong with this post? How could we improve it? :)
Let us improve this post!