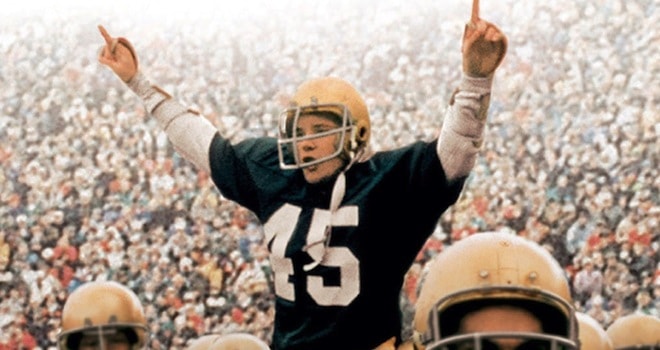 Sports movies are usually a lot of fun or a lot of drama, people enjoy them either way since they end up dealing with more than just the sport they're focused around. But there are usually at least a couple of stars that help make these movies great, and in some cases, there's a definite lead or supporting actor that helps to push the story along in a convincing manner as they portray either a positive or negative influence on the story or both. The point is that these movies were great enough for focusing on a favorite sport that many happen to enjoy, but adding famous actors that know how to win the people over and get them even more hyped about the story is great since it helps to create memories that aren't about to be forgotten so long as the movies can be found. Sports movies are great, but having someone to root for or root against is even better since it allows people to form a stronger memory that they can enjoy for years. Here are some of the more successful actors in sports movies.
5. Ed O'Neill – Little Giants
Plenty of people remember how Al Bundy from Married With Children scored four touchdowns in one high school game, but Kevin O'Shea went even further than that and was a success before returning home. Despite outshining his brother Danny, played by Rick Moranis, and being the antagonist of the story, O'Neill was given a chance to develop the character as well. He came off as a jerk and someone that didn't know how to lose initially, but he also managed to have a nice uncle to niece chat, and despite wanting to win he didn't feel like cheating, as he does berate the father of his star player after Spike delivers a late hit on the quarterback of the Little Giants. So in other words, he's a jerk, but a fair jerk.
4. Kevin Costner – Bull Durham
You've got to hand it to Crash, he knew how to grill the young buck and teach him at the same time, and he did it with a flair that was hard to miss. Initially, he was a bit antagonistic toward 'Nuke', but eventually the younger pitcher did manage to come around and realize that Crash was a man that had been there and done it, and seen and learned quite a few things that were of great value to any ball-player. The harder lessons that Nuke had to learn were those that came with what happened off of the field and between every pitch. That's where the real thrust of this movie appears to come from, since Nuke is by far and large a great pitcher, but has little to no focus, at least until he meets Crash.
3. Tom Hardy – Warrior
Tom Hardy has taken on a lot of different roles in his career at this point, but seeing him bulk up to become a UFC fighter was impressive since, even though he gave up a bit in size to some of the fighters in this movie, he was every bit as intimidating from the first moment he stepped in a ring. A lot of people might want to state that this isn't how the UFC goes, that he wouldn't be running through fighters like a buzz saw through butter, but he still makes it look great since he enters the ring and exits within a couple of minutes, leaving his opponents poleaxed on the mat.
2. Samuel L. Jackson – Coach Carter
A lot of us should be able to admit that Coach Carter is the kind of person that might be needed in some schools since too many young folks appear to think that they're untouchable thanks to school rules and various laws. There's plenty of argument over whether a teacher should be able to respond to a student with any type of force when they feel threatened, and in a lot of cases, the answer is a definitive 'no'. But there are times when the younger generation needs to remember that violence isn't allowed on school grounds for a reason, and it doesn't take a beating to do this, just a reminder that they can't lash out blindly at anyone they like.
1. Sean Astin – Rudy
There was plenty in this movie that was altered and a lot of people have been made aware of it over the years, but the fantasy that was created still stands out as one of the greatest sports movies ever filmed. Rudy is an inspirational movie that has managed to reach a lot of people while giving them the needed oomph they required to get themselves in gear. Reading up on the actual story of the real-life character isn't any less inspirational, but it does manage to dispel a few of the myths that the movie creates.
Inspiring stories are made even better by great actors after all.
Tell us what's wrong with this post? How could we improve it? :)
Let us improve this post!