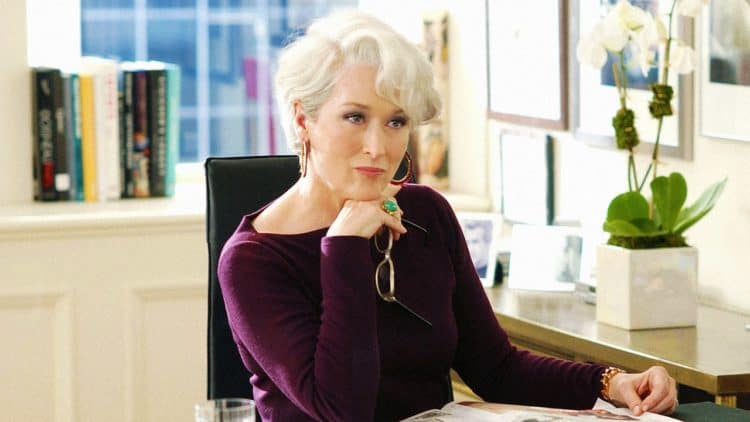 In the history of film, never before has a character come off as so bossy. Miranda Priestly (Meryl Streep) is a role that not only earned Streep an Academy Award nomination but a Golden Globe one as well. According to David Frankel, the film's director, "You know, I'd like to think that, if she were the Patriots, Devil Wears Prada would be one of her Superbowl rings." Streep's performance in the film is the only one of its kind and is more loved than it is hated. There are lessons from Priestly we can apply in real-life situations. Here are some of them:
1. The Power Of Choice
More often than not, we are choosing something. And, whether we'd like to admit it or not, even the decision to not be burdened by making a choice is a choice in itself. Priestly, in conversation with Andy (Anne Hathaway), tells her that, by deciding to come to Paris, as much as she'd hate to admit it, she's in many ways just like Miranda. "That was different… I didn't have a choice." Andy says, to which Priestly replies: " Oh no…you chose. You chose to get ahead. Want this life? Choices are necessary." The conversation helps Andy realize that she does not particularly want the life Priestly has. " Don't be ridiculous Andrea, everybody wants this!" Miranda says as she wears her glasses. The moment Miranda steps out and is swarmed by the paparazzi, Andrea realizes that, unlike Miranda, who betrayed Nigel so she could keep her job, she wasn't so vile. It was great to have been acknowledged, finally, but she wasn't ready to walk over others to get to the top.
2. Be So Good At What You Do
Priestly, thought to be inspired by Vogue Editor-in-Chief, Anna Wintour, is set in her ways, and has earned a reputation in the fashion industry. To her employees, she's an enigma, and not one to be messed with in the slightest of ways. Priestly started out as a designer's assistant and worked her way towards becoming a junior editor. She managed to climb up the ladder and landed at the very top as the editor-in-chief of Runway. Her personality is not the most likable thing, but it instills enough fear to get things done the right way. As editor-in-chief, she's firm in making decisions. This shows itself in a big way when she decides that Salma cannot do a summer spread to coincide with her movie release. Not only is Priestly good at her job, but she also lets Andrea know it as well. When it comes to fashion, her opinion is the only one that matters.
3. Good Work Is Always Rewarded
When Andrea and Miranda first met, it wasn't love at first sight, largely because Andrea looked nothing like fashion. It was one of Miranda's very first observations, and she was clear about letting it known. " You have no style…or sense of fashion." She says during Andrea's interview. When Andrea tries to defend herself, Priestly says, " No, No, it wasn't a question." Progressively, Andrea gets a total makeover while working as a junior assistant and becomes 'one of them'. Emily Charlton (Emily Blunt) points this out when she says, " You sold your soul to the devil when you put on your first pair of Jimmy Choos, I saw it." In the end, Miranda accepts her as one of them and makes reference to it when Andrea is in the car, despite the fact that Andrea's job took a toll on her personal life. Unlucky for Miranda, that is not who Andy is, but it goes to show that she valued her enough to give her a promotion.
4. It Doesn't Hurt To Be A Bit Kinder
Miranda Priestly may have the best taste when it comes to fashion, but her personality is not the most likable. Her taste is epic. Designers who have encounters with her know that they get the most honest feedback. Since her opinion is such a big deal, when a designer comes face to face with Priestly, they know what a single nod means, as well as two nods. Once in a while, a designer will get that dreaded press of the lips that may make them rethink their entire collection. Only once has a designer ever gotten a smile out of Priestly. As much as we would like to be taken seriously in our places of work, a Priestly-like attitude may not be the way to go. Humans are, at the end of the day, emotional people, and a little kindness can go a long way. It doesn't hurt to put a smile on someone's face. Building a protective wall around us means we never really get to nurture relationships with our seniors. When one creates a welcoming aura, they don't have to betray others to get to the top. Likewise, extending a kind hand in someone else's direction makes a team warm and gets work done faster.
5. We're Human, After All
Miranda Priestly is a high and mighty career-obsessed woman. In the world of fashion, she is idolized, feared, and respected. She is the queen, and she walks and talks like it. She is larger than life, and to an extent, has put herself on a very high pedestal. Despite her success, Priestly's personal life shows a much more human side of things. When she talks to Andy about her divorce, she sets her bossy demeanor aside. In place of the commanding, sassy side of her that's full of witty comeback lines, we are introduced to a much more soft-spoken, vulnerable Priestly.Her face is plain, free from excessive make-up, and she's wearing no sunglasses to hide her teary eyes. " Another divorce splashed across Page Six." She says. But in true Priestly fashion, even at her worst, she's ready to deal with the situation at hand and admits she does not really care about what's going to be written of her divorce. What worries her more is her children, Caroline and Cassidy. " It's just so unfair to the girls. It's just another disappointment…another letdown…another father figure." She tells Andrea. Priestly's vulnerability is proof that, however larger than life anyone seems, deep down we are all human.
Tell us what's wrong with this post? How could we improve it? :)
Let us improve this post!