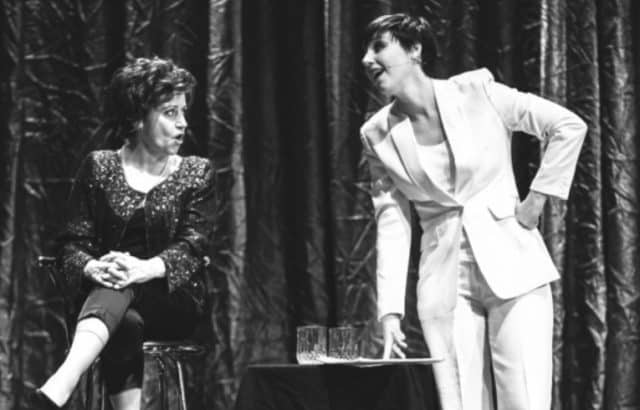 There's something very impressive about mother/daughter celebrity relationships that gets touched on occasionally but doesn't get a whole lot of exposure. The relationship between mother and daughter is a complex thing more often than not and it bears some attention at times since in show business mothers and daughters can be quite complex. Sometimes they look to upstage one another, other times they're completely complimentary of each other. How they go about maintaining their relationship is usually a matter of public news and something that a lot of fans love to hear about, be it for good or ill.
Mothers and daughters in show business are something that can offer a great deal of entertainment or drama.
5. Judy Garland and Liza Minelli
There's been no doubts that from the time she was very young Judy Garland has not had an ideal life in show business. When it came to her life with her daughter though she was reportedly very kind or the complete opposite. Her daughter Liza had no middle ground with her mother, but she loved her unconditionally and was always proud of her and the things she'd accomplished in her life. The sad part is that Garland told her children to learn from her mistakes, but Minellie went down pretty much the same path.
4. Kris Jenner and the Kardashian-Jenners
It's hard to know if the fascination for the Kardashian/Jenner clan is real or if it's some sort of morbid interest that focuses around the drama that Jenner has established throughout the years. Her relationship with her daughters is personal as well as a matter of business, which means that the family is close but sometimes too close since they know just how to grate on each others nerves.
3. Dakota Johnson and Melanie Griffith
It goes without saying that people found it hilarious that Griffith admitted that she could never watch her daughter in Fifty Shades of Grey. That sounds reasonable to be honest since a lot of us couldn't bear the thought of watching our own kids in a position such as this even if it was their job. The chances are great that mother and daughter are still on good terms, but it's also likely that Griffith still hasn't seen the movie.
2. Kate Hudson and Goldie Hawn
There's a very special dynamic between Goldie and Kate that has continued to blossom throughout the years as they take their pokes at one another but also show that they share a very deep bond that keeps them extremely close and able to talk to each other about anything. This mother and daughter duo have been through a great deal in their lives but they've always been able to count on one another.
1. Carrie Fisher and Debbie Reynolds
It took a while for these two to get really close with one another. In her early 20's Fisher wanted to start out on her own and be known as someone other than Debbie Reynolds' daughter. Reynolds', for her part, believed she was a great mother, but spent a lot of time onstage. It's heartwarming though that later on in life they started to bond.
Mothers will always love their daughters and daughters will always look to their mothers in one way or another.