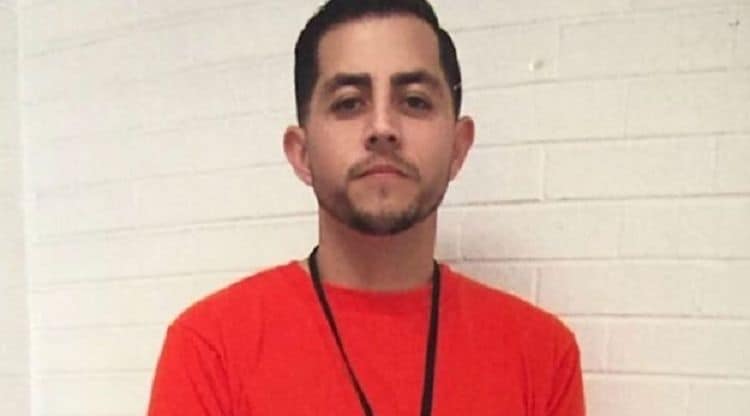 Jorge Nava is easily one of the most infamous cast members in 90 Day Fiance history. He first appeared on the show in 2016 where his relationship with Anfisa Arkhipchenko was highlighted. The couple met on Facebook and began a long distance relationship while Jorge lived in the United States and Anfisa lived in Russia. Once the couple got in the show, it was clear that they had some serious issues. However, for Jorge, the biggest issue proved to be outside of the relationship. In 2018, Jorge was sentenced to 2.5 years of prison time on drug charges. Recently, however, Jorge was released, and 90 Day fans are excited about it. Continue reading for 10 things you didn't know about Jorge Nava.
1. He Claims Anfisa Abandoned Him
It's clear that Jorge and Anfisa's relationship had issues from the start, but once he was sentenced to prison things really went down hill. Jorge says that Anfisa abandoned him while he was in prison. However, Anfisa says that she did no such thing. Anfisa said, "I'm surprised to see him saying that I 'abandoned' him. I didn't leave him to be with another man, I left because I didn't want to be with him anymore. I took this time alone to heal myself. People grow apart sometimes, it doesn't mean the relationship wasn't genuine from the start." Jorge has already said that he plans to file for divorce from Anfisa.
2. He Was Getting Love Letters In Prison
Anfisa may have left Jorge hanging while he was in prison, but there were plenty of other women who were interested in showing him attention. Jorge received several love letters while he was locked up from women who were interested in getting to know him.
3. He Lost Over 100 Pounds In Prison
If you've seen pictures of post prison Jorge, you've probably noticed that he looks very different. That's because he lost nearly 130 pounds while he was serving his sentence. Jorge says that it was easy to lose weight in prison because he didn't have access to the same food he was eating in the outside world. He also began working out with fellow inmates and said his fitness became somewhat of an "addiction".
4. He Lives In Arizona
Jorge is originally from Riverside, California, however, he has lived in Arizona for the last several years. He served time in an Arizona prison and will continue to live in the state for the time being. It's unclear whether his family resides in Arizona as well.
5. He's Already On Instagram
Even before being released from Instagram, Jorge was already trying to build up his social media following. He posted a picture of himself from prison in late March updating his fans with a positive message. He hasn't even been out of prison for a month and he already has 105,000 followers on Instagram.
6. He Wants To Come Back To Reality TV
Now that Jorge has gotten a taste of reality TV fame, he isn't ready to let it go. He has expressed that he's interested in returning to TV and hopes the right opportunity comes along. I wouldn't be surprised if we saw him on 90 Day Fiance again in the future, but this time trying to form a relationship with one of the women who wrote him in prison.
7. He Hopes To Get Back Into The Legal Marijuana Business
If you've been following Jorge's story since he first appeared on 90 Day, you may remember that he used to work in the legal marijuana business. Now that he's a free man, he hopes to return to the industry again and hopes that his status as a felon won't get in the way.
8. His Confidence Has Grown
It's no secret that Jorge wasn't exactly oozing with confidence when he met Anfisa. But things have certainly changed since then. Now that Jorge has dropped a lot of weight and survived a prison stint, he says that his confidence has grown tremendously.
9. He's Ready To Be Around Positive Vibes
Jorge has had to deal with lots of negative comments over the last few years. Even before he was arrested, there were a lot of people who bad things to say about him and Anfisa. Jorge is hoping to surround himself with more positivity and enjoy his fresh start.
10. He Could Have Spent Much More Time In Jail
When Jorge was arrested his charges were so serious that he could have served around 24 years in prison. Luckily, his lawyer was able to arrange a plea agreement to get some of the charges dropped. Jorge ultimately pled to a class 4 felony.
Tell us what's wrong with this post? How could we improve it? :)
Let us improve this post!