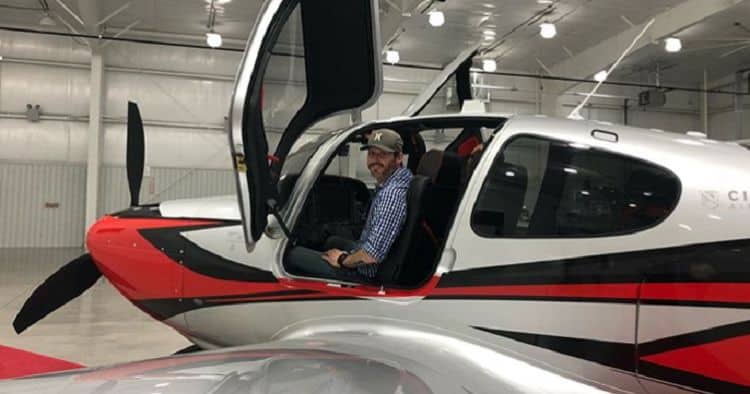 Being married to a celebrity definitely has its perks, but if there's one major downside it's that most people will only know you because of your relationship status. Although Brandon Blackstock is now best-known for being married to Kelly Clarkson, he actually has an interesting path that dates back to long before he and Clarkson got together. He may be in his wife's shadow at the moment, but Brandon's light will definitely come shining through. Continue reading for 10 things you didn't know about Brandon Blackstock.
1. His Father Was Married To Reba McEntire
Brandon Blackstock has some serious connections in the entertainment industry. His father, Narvel Blackstock, is a TV producer who was married to music legend, Rebca McEntire, from 1989 to 2015. Reba McEntire has also been a mentor to Kelly Clarkson throughout her career.
2. He Was Married Once Before
Prior to his marriage with Kelly, Brandon was married to a woman named Melissa Ashworth. Brandon and Melissa had two children together and divorced in 2012 before he began dating Kelly. He and Melissa have maintained a good co-parenting relationship and Melissa says thats that she 'adores' Brandon and Kelly together. Kelly and Brandon have two children together and have done a great job of building a beautiful blended family.
3. He's Black Shelton's Manager
Brandon may not be as well-known as his wife, but he's equally as successful in his own right. He is a well-known talent manager who currently managers country music superstar, Blake Shelton. Judging by the success Blake has had over the years, it looks like Brandon's managerial skills are on point. So much so, that Kelly decided to hire Brandon as her manager. Even though working with your partner can cause friction in the relationship, Brandon and Kelly have managed to set clear boundaries and are making it work.
4. He Met Kelly In 2006
Brandon and Kelly originally met back in 2006 when Kelly was practicing for her performance at the Country Music Awards. Kelly told People, "This guy walks by, making everybody laugh. I said, 'I'm gonna end up with him. I know it." However, Brandon was still married at the time. The two were reintroduced to each other in 2012 at the Super Bowl and began dating shortly after that.
5. He Owns A Plane
When Brandon isn't working, he also enjoys a good adventure. In the summer of 2018, Brandon purchased his very own plane. The aircraft is a red, silver, and black Cirrus. This may seem like a pretty extreme purchase, but Kelly was supportive of her husband's plane and seemed genuinely excited about his new toy.
6. He's A Cowboy
Brandon is definitely the type of guy who has a lot of interesting talents and interests. He grew up in Wyoming and spent a lot of time working on cattle ranches. He's always dreamed of one day owning his own ranch, and his dream finally came true. He and Kelly live on a ranch in Montana where he enjoys tending to horses and other farm animals. Brandon loves to spend the day herding cattle and riding his horse around the property.
7. He's An Executive Producer On Kelly Clarkson's Show
Although the music industry is Brandon's primary line of work, he also has a bit of TV experience. According to his IMDB page, he has been an executive producer on The Kelly Clarkson Show since 2019. He has also appeared on several episodes of Entertainment Tonight between 2016 and 2018.
8. Brandon's Dad Was Kelly's Manager
In many ways, it looks like Kelly and Brandon's relationship was meant to me. In addition to Brandon's father being married to Kelly's mentor, Reba, the couple shares another connection. Brandon's father, Narvel, actually used to be Kelly's manager. In fact, Narvel was managing Kelly when she and Brandon began dating.
9. He Plays The Guitar
Brandon may not have pursued a career as a musical artist, but he's definitely got some skills. He's a talented guitarist who has performed on stage alongside his wife. In 2019, he surprised Kelly during one of her performances and played the guitar while she sang "Piece by Piece".
10. He's Very Supportive
Support is one of the most important aspects of any successful relationship. Luckily, it's something that Kelly and Brandon have plenty of. Brandon doesn't like a lot of spotlight, but he's more than happy to be a part of his wife's shine. Kelly also doesn't mind returning the favor. They are both very supportive of each other's careers, and are always willing to go the extra mile to be there for each other during important moments.
Tell us what's wrong with this post? How could we improve it? :)
Let us improve this post!