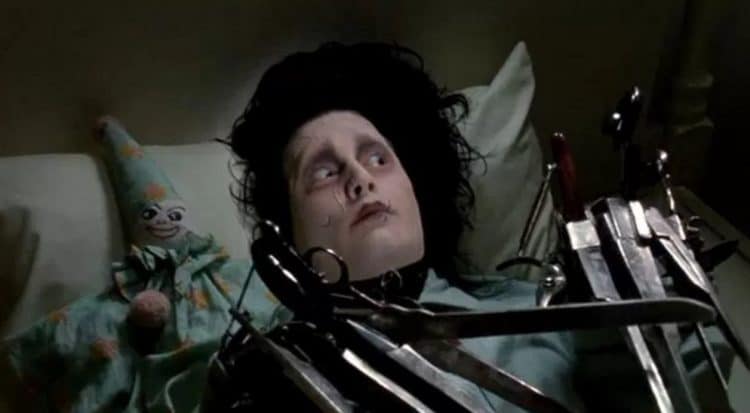 Hollywood bad boy, Johnny Depp, has made the headlines countless of times— and not always for good reason. Nevertheless, he is one hell of an actor, who is able to command an audience with each portrayal. He finds a way to thrive in whatever genre he ventures into and does not allow himself to be boxed into certain roles. Depp is a risk taker who is always up for a good challenge. It has been a pleasure to witness him evolve through the years, and we can't wait to see what else he has in store for his fans. Here are five highly intense scenes starring Johnny Depp:
5. Edward Scissorhands
Depp and critically acclaimed director, Tim Burton, has collaborated in a number of films over the years. The two share a deep bond that goes beyond a working relationship, and we have greatly benefited from this friendship. The fantasy romance film marked one of the duo's earlier collaborations, which followed the life of Edward, portrayed by Depp, an unfinished artificial humanoid with scissor blades instead of hands, who is taken in by a suburban family.
Edward falls in love with the family's teenage daughter, Kim, portrayed by Winona Ryder (Girl, Interrupted), and the two form a unique bond wherein Kim also develops feelings for Edward, and defends him every chance she gets. The scene where Kim's boyfriend, Jim, portrayed by Anthony Michael Hall (Sixteen Candles), went on to attack Edward during the time where Kim confesses his feelings for him turned from a romantic moment into an intense fight scene real quick. Jim was too emotional, as he tried to shoot Edward and assault Kim in the process. This resulted to his untimely demise, as Edward stabs him and throws him out the window. Edward was not the film's antagonist. Instead, he was just a victim was brave enough to stand up for the people he loved.
4. Sweeney Todd: The Demon Barber of Fleet Street
We experienced another Burton and Depp collaboration in this eerie musical slasher. The film was also an adaptation of a Tony Award-winning musical that created waves in the 1970's. It followed the story of Sweeney Todd, portrayed by Depp, a serial killer who poses as a barber, who murders his customers using a razor. He gets away with his crimes with the help of his accomplice, Mrs. Lovett, portrayed by Helena Bonham Carter (Fight Club), who turns the dead bodies into meat pies.
The scene where Sweeney finally sought deadly vengeance on Judge Turpin, portrayed by Alan Rickman (Harry Potter and the Philosopher's Stone), a man who has done him a lot of harm in the past was gruesome yet satisfying to watch. Sweeney did not go easy on him, and made him feel every ounce of the anger and resentment he has caused him. Revenge may never be the answer to one's problems, but it is safe to say the Judge Turpin deserved his unhappy ending.
3. Pirates of the Caribbean: Dead Man's Chest
The highly successful Disney film franchise has given birth to five films that have shattered world box office records. The action-adventure storyline is set during an era where pirates inhabited the turbulent Caribbean seas. Depp played the iconic role of Captain Jack Sparrow, a legendary and highly skilled pirate whose colorful and unpredictable personality kept us entertained throughout the different installments.
The second installment followed Jack's involved the search for the Dead Man's Chest. The entire film was a melting filled with humor, silly antics, romance, and a whole lot more. The scene where Jack escaped a group of cannibals and made it back to his ship just before its departure had us laughing our hearts out and gripping the edge of our seats at the same time. Leave it to Depp to give us an all-out performance that we can joyfully look back on.
2. Blow
The biographical crime drama covered the controversial life of drug trafficker and smuggler, George Jung, portrayed by Depp. The film followed George's humble beginnings until his meteoric rise and devastating fall. Depp gave the character justice by portraying him with depth, and showing us the consequences brought by a life of crime.
The confrontation scene between George and his business partner, Diego, portrayed by Jordi Molla (The Lucky Star), was frightening and intense. George discovered that Diego betrayed him, and this caused him to blow a fuse. It's always painful to discover that one of your nearest and dearest has sold you out. George may have been acting on emotion, but it all came from a place of hurt and disbelief. Criminality is never the answer to life's problems, and George discovered all this the hard way.
1. The Tourist
Depp starred alongside Angelina Jolie (Maleficent) in the romantic thriller. The film followed Frank Tupelo, portrayed by Depp, a math teacher who travels to Europe to mend a broken heart. His life takes on a 180-degree turn after crossing paths with a mysterious woman named Elise, portrayed by Jolie. Their electrifying flirtation turns dangerous after Frank gets mistaken for Elise's notorious lover, Alexander Pierce, who was being hunted down by the police and a vicious mob led by Reginald Shaw, portrayed by Steven Berkoff (Beverly Hills Cop).
The film turned into a game of cat and mouse, as Frank was suddenly entangled on a man hunt. The storyline also did not hold back on twists and cliffhangers that just kept revealing itself in unpredictable ways. The scene towards the end of the film where Frank faces Reginald, who has held Elise captive made us feel as if we were walking on thin ice. Events could turn ugly in a split second, and Frank was the only person who could make the whole situation better. Depp and Jolie's sultry performances set the mood for the film, and has gotten us all hoping for another collaboration in the future.