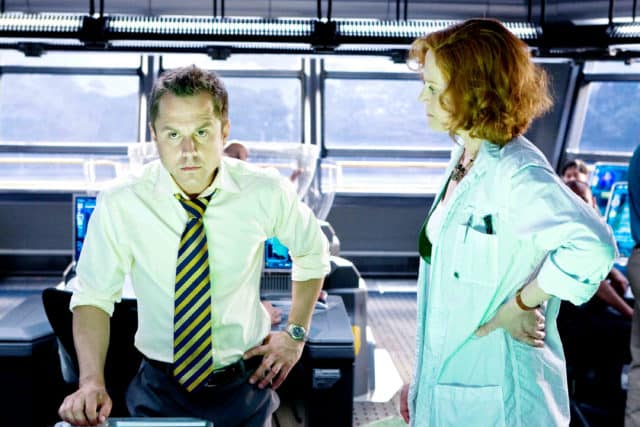 Giovanni Ribisi's real name is Antonino Giovanni Ribisi. He is an American actor who was born in Los Angeles, California, on December 17, 1974. He began his acting career in his childhood when he appeared on many television shows, including 'The Wonder Years', The New Leave It to Beaver', 'My Two Dads', and 'Married… with Children'. As his career continued into adulthood, he began to appear in movies. Some of the movies for which he is best-known include 'Ted', 'My Name is Earl', 'Friends', 'Boiler Room', and 'Saving Private Ryan'. As he has appeared in so many movies covering a diverse range of genres, it is easy to forget what he has appeared in over the years.
Here are five of the movies that you probably totally forgot Giovanni Ribisi was in.
1. Avatar
In this 2009 movie, Ribisi plays the role of Parker Selfridge, an administrator for the RDA mining operation. This character faces conflict when he is told he must order attacks on the Na'vi civilization. On the one hand, he is willing to follow this instruction and can see it is necessary. On the other hand, he is worried that it will taint his image and he feels uncomfortable about the use of violence. Avatar was written, produced and directed by James Cameron. It starred Sigourney Weaver, Michelle Rodriguez, Sam Worthington, Zoe Saldana, and Stephen Lang.
2. The Gift
In 'The Gift', Giovanni Ribisi plays Buddy Cole opposite Cate Blanchett as Annabelle 'Annie' Wilson. This supernatural thriller movie was directed by Sam Raini and was released in 2000. Others who starred in this movie include Keanu Reeves, Hilary Swank, Greg Kinnear, and Katie Holmes. Billy Bob Thornton co-wrote the script with Tom Epperson and it is based on Thornton's mother's psychic experiences.
3. Public Enemies
Giovanni Ribisi plays the role of Alvin Karpis in this biographical mob drama that was released in 2009. The character portrayed a real gangster and this was one of Ribisi's smaller movie roles. Public Enemies was co-written, co-produced and directed by Michael Mann. Johnny Depp and Christian Bale both star in this movie.
4. Sky Captain and the World of Tomorrow
'Sky Captain and the World of Tomorrow' is a science fiction action adventure movie in the 'dieselpunk' genre. Ribisi plays the role of Dex who is a mechanic in the Flying Legion. Initially, Ribisi was unsure about getting involved in this movie. However, once he had seen the teaser trailer, he did not hesitate to sign. This 2004 movie was directed by Kerry Conran and starred Angelina Jolie, Gwyneth Paltrow, and Jude Law.
5. Contraband
Ribisi plays the role of mobster Tim Briggs in this 2012 crime thriller, directed by Baltasar Kormákur. Drugs, art theft, corruption, and violence are just some of the themes running through this movie. It is a remake of an Icelandic film in which Baltasar Kormákur starred. In the 2012 version, Ribisi stars alongside Mark Wahlberg, Kate Beckinsale, and Ben Foster.