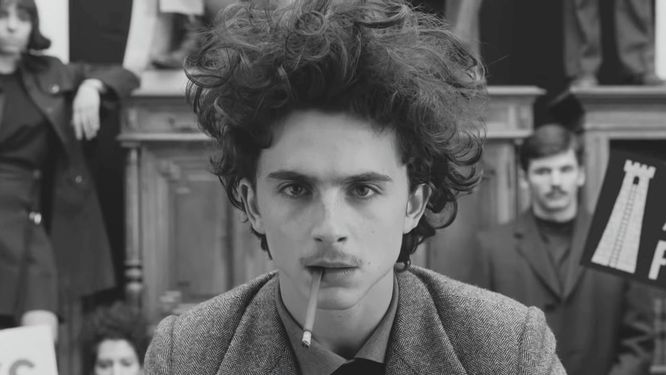 Several weeks ago, arthouse filmmaker Wes Anderson released another acclaimed movie, The French Dispatch, which features a big all-star cast of veteran and new actors such as Bill Murray, Timothee Chalamet, and Benicio Del Toro. With the celebration of the latest Anderson pic, this list will look back at the best films featuring members of the talented cast. With an array of talent on board, not every great film will make it on the list; however, the only exemptions from this list are animated features, so don't expect a movie like Isle of Dogs. Let's get started with the first film.
Inglourious Basterds
A huge breakout role for Christoph Waltz who plays Colonel Hans Landa, this Quentin Tarantino feature sees the writer/director at top form in a movie that tackles World War II between a group of American soliders sent to Europe to kill a bunch of Nazis. Arguably in the top three spot of Tarantino films, it also features Brad Pitt and his lovely use of Spanish. Basterds is filled with classic Tarantino traits: violence, colorful dialogue, compelling characters, and strong themes. While Waltz has plenty of great movies in his filmography, the cunning and cruel Colonel Hans is easily one of his best roles to date.
The Grand Budapest Hotel
One notable thing about Wes Anderson is that he tends to work with the same actors in most of his films, so it isn't much of a surprise that Bill Murray, Adrien Brody, Jason Schwartzman, Lea Seydoux, Owen Wilson, and Tilda Swinton were apart of Anderson's classic, The Grand Budapest Hotel. This 2014 feature takes place at a popular European ski resort, where concierge Gustave H. and his new lobby boy, Zero, find themselves involved with a strange murder case following the death of Gustave's lover. This highly stylized and hilarious movie puts its all-star cast to good use and it helps that Anderson is such a confident and talented filmmaker. In the wrong hands, this absurd, over-the-top comedy-drama could've ended up being a convoluted mess; however, Anderson understands his characters and story, thus making an entertaining feature and one of the best of the early 2010s.
Snowpiercer
Before Parasite, but after Mother, Bong Joon-ho directed this 2014 feature that comes from the 1982 French graphic novel Le Transperceneige by Jacques Lob, Benjamin Legrand, and Jean-Marc Rochette. Snowpiercer follows a class of survivors of the post-apocalyptic ice age that force humanity's last remaining people to live on board a globe-spanning super train. However, one man risks everything to uproot the system and change the course of his future in order to gain control of the engine. This Chris Evans vehicle manages to rise about a standard action thriller thanks to challenging its audiences with its important themes and a few clever twists. Thankfully, Snowpiercer never forgets to build character and while eating babies isn't exactly a likeable trait, it's hard to not root for Curtis and his rag tag gang of low-class bandits as they march to the front of the train.
Three Billboards Outside Ebbing, Missouri
Frances McDormand is one of the best actresses in Hollywood and the veteran has been apart of many classics such as Fargo, Moonrise Kingdom, and Almost Famous; however, Three Billboards Outside Ebbing, Missouri stands out because of how much McDormand chews up her meaty role. Couple that with the fact that this Martin McDonagh feature is packed with a unique set of characters and a compelling story that brings out the best from its talented cast of actors. Three Billboards Outside Ebbing, Missouri follows Mildred Hayes, who decides to paint three signs with a controversial message regarding the death of her daughter. The situation only gets worse when Officer Dixon – an immature and racist cop – gets involved with the case. You'll easily find yourself laughing, crying, and filled with anger as you watch this film that artfully toys with your emotions. Three Billboards Outside Ebbing, Missouri is one of the top films to come out in the late 2010s.
Lady Bird
A powerful debut for writer/director Greta Gerwig. Despite Lady Bird showcasing the life of a teenage girl growing up, this coming-of-age story can be relatable to anyone who's ever had to deal with school, or life in general! Lady Bird follows the title character and the relationship with her strong-willed mother throughout her final year in high school. Lady Bird manages to be funny, sweet, and captivating; Part of that reason is due to Saoirse Ronan's committed performance. The talented actress effortlessly rolls with the punches to deliver a flawless performance that's enhanced by her dynamic with Laurie Metcalf.
Tell us what's wrong with this post? How could we improve it? :)
Let us improve this post!