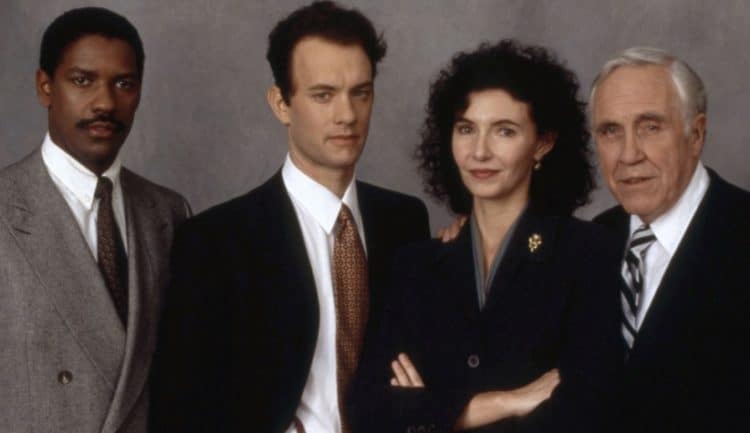 Most people aren't fond of lawyers, due to mostly unfair stereotypes they have been subjected to on film. But in reality, many lawyers dedicate their lives and careers to bettering the human condition, from fighting for human rights to defending the environment and everything in between. Some of these lawyers have lived exceptional lives and contributed outstanding work that producers have deemed their stories movie-worthy. If you are on the lookout for movies depicting heroism within the legal profession, here are a few movie recommendations you should add to your list.
On The Basis of Sex
On the Basis of Sex is a movie that premiered in 2018, portraying the life and career of one of the most popular justices to have ever served the Supreme Court, Ruth Bader Ginsburg. The movie is directed by Mimi Leder, who previously worked on Deep Impact, Pay it Forward, and Thick as Thieves. Felicity Jones, best known for her roles in The Theory of Everything and Hysteria, portrays Ginsburg, or RBG as she was more popularly known. Other cast members include Armie Hammer as Martin D. Ginsburg, Justin Theroux as Melvin "Mel" Wulf, Kathy Bates as Dorothy Kenyon, Sam Waterston as Erwin Griswold, Cailee Spaeny as Jane C. Ginsburg, Callum Shoniker as James Steven Ginsburg, Jack Reynor as James H. Bozarth, Stephen Root as Professor Ernest Brown, Ronald Guttman as Professor Gerald Gunther, and many others, portraying real-life figures who had influences on Ginsburg's life. In a review of the movie for The Guardian, Peter Bradshaw wrote: "Subtlety isn't this movie's strong suit and it's often needlessly chary about drawing the parallel between sexism and racism. But it's got a worthwhile story to tell."
Philadelphia
Philadelphia is a 1993 movie loosely inspired by the life story of lawyer Geoffrey Bowers. Bowers was an attorney who lived with HIV. In the movie Philadelphia, the character of Andrew Beckett was based on Bowers' real-life persona. The movie was directed by Jonathan Demme. Its cast includes A-list performers like Tom Hanks as Andrew ("Andy") Beckett, Denzel Washington as Joe Miller, Jason Robards as Charles Wheeler, Mary Steenburgen as Belinda Conine, Antonio Banderas as Miguel Álvarez, Joanne Woodward as Sarah Beckett, Robert W. Castle as Bud Beckett, Ann Dowd as Jill Beckett, Adam LeFevre as Jill's husband, John Bedford Lloyd as Matt Beckett, and Dan Olmstead as Randy Beckett. Here is the official synopsis, according to Rotten Tomatoes: "Fearing it would compromise his career, lawyer Andrew Beckett (Tom Hanks) hides his homosexuality and HIV status at a powerful Philadelphia law firm. But his secret is exposed when a colleague spots the illness's telltale lesions. Fired shortly afterwards, Beckett resolves to sue for discrimination, teaming up with Joe Miller (Denzel Washington), the only lawyer willing to help. In court, they face one of his ex-employer's top litigators, Belinda Conine (Mary Steenburgen)." Philadelphia is lauded for being one of the first movies to tackle the issue of HIV and AIDS head on. For his role as Becket, Tom Hanks won the Academy Award for Best Actor at the 66th Academy Awards.
Dark Waters
The most recent movie in this list, Dark Waters was released in 2019 and directed by Todd Haynes, with a screenplay by Mario Correa and Matthew Michael Carnahan. The movie depicts the story of a lawyer named Robert Billot who took on the chemical manufacturing corporation DuPont after a chemical contamination of a town. The movie is based on a New York Times magazine article describing Billot as the "lawyer who became DuPont's worst nightmare." The cast of the movie includes: Mark Ruffalo as Robert Bilott, Anne Hathaway as Sarah Barlage Bilott, Tim Robbins as Tom Terp, Bill Camp as Wilbur Tennant, Victor Garber as Phil Donnelly, Mare Winningham as Darlene Kiger, Bill Pullman as Harry Deitzler, William Jackson Harper as James Ross, and Louisa Krause as Carla Pfeiffer. A highly acclaimed movie, RogerEbert.com had generous words to say about Dark Waters, writing: "But "Dark Waters" is still a strong and involving, though understated, example of this dying breed of film, resonating with present-day feelings of hopelessness at the brazen corruption on display every day in the United States, and throughout the world. Haynes might not initially seem like the kind of director you'd expect to see attached to this sort of project. But he has a keen eye for the narratively meaningful camera move (notice how often the movie starts a scene in darkness or by zeroing in on an out-of-focus element, then gradually makes the image clear) and undeniable skill with actors (Victor Garber as the CEO of DuPont is a perfect distillation of the nice-guy arrogance of the super-rich)."
Inherit The Wind
Inherit the Wind, on the other hand, is the oldest film on this list of lawyer-focused movie recommendations. The movie premiered in 1960 and is inspired by a real trial in the '20s called the Scopes "Monkey" Trial, which involved a lawsuit accusing a high school science teacher of teaching evolution to students in Tennessee. During the time, it was illegal to teach evolution even in science classes. The movie particularly features the work of Clarence Darrow, the lawyer in the case; however, in the movie, his counterpart is named Henry Drummond. A highly acclaimed movie, Inherit the Wind has been positively reviewed and continues to garned acclaim even decades after its release. A review for Time Out (via Rotten Tomatoes) wrote about the movie: "Tolerably gripping in its old-fashioned way, thanks chiefly to old pro performances from Tracy and March as the rival lawyers and ideologists."
Marshall
Last on the list is Marshall, a 2017 movie that features the life of Thurgood Marshall, the first African American Supreme Court Justice. Marshall was played by the late Chadwick Boseman, in one of his final film roles. He also co-produced the movie. Other performers featured in the movie are Josh Gad as Sam Friedman, Kate Hudson as Eleanor Strubing, Dan Stevens as Lorin Willis, and James Cromwell as Judge Carl Foster: In an interview with NPR, Boseman talked about taking on a larger-than-life figure in front of the camera. "And for me, as an actor, when I first read this, I was like, wait a minute. I thought I was playing Thurgood Marshall. I thought I was going to have like these big courtroom speeches and, you know, I was going to be able to like use my Shakespearean training, my classical training. And that's not the case because he's silenced. So it becomes a really difficult task to win this case without being able to speak. So Sam Friedman becomes essentially a student, a protege."