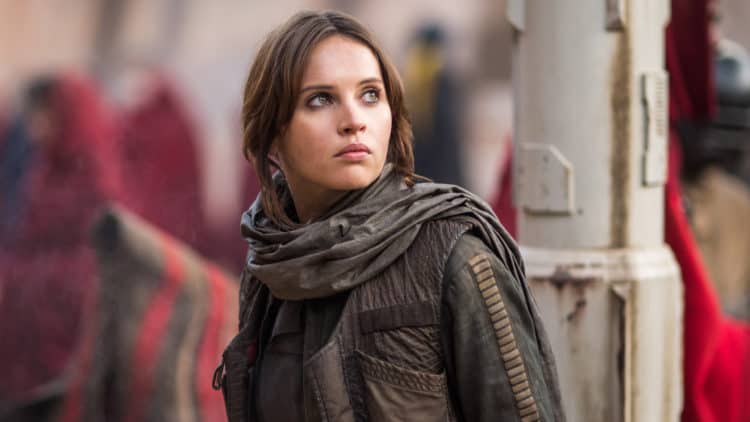 Felicity Jones started acting at age 11 and was inspired by a family member that had been an actor for some time as well. Some people might have just caught wind of her when she showed up a Star Wars film but she's been around for a good long while. Some of her films have gained a great deal of notoriety throughout the years while some have gained her attention but at a different level than the type that Rogue One offered her. Since that role it seems that everyone knows her and would love to see more of her. As far as Star Wars goes however there won't be any films that feature Felicity moving forward in the story, but there could always be a show featuring her on the soon to arrive Disney streaming channel. Until then it's easy to say that she's made quite an impact throughout her career and seems poised to continue doing so.
Here are five of her best movies.
5. The Invisible Woman
Even in this day and age having a mistress is something that's still fairly frowned upon, though it's not unexpected. Back in the time of Dickens however, Nelly was the type of woman that might have had a very bright future in theater, or at least something stable and satisfying. With Dickens however she had a chance at something much grander when it came to life, but also far more secretive. Dickens was obviously a complicated man, but there's no mistaking the fact that once he was certain that things with his wife could not be reconciled it was time for him to move on to another woman.
4. Inferno
It's amusing how most of the film would have people believing that she's one of the protagonists that she ends up being one of the antagonists that is actively trying to kill off a large portion of the world's population using a viral superweapon. While a lot of people watching this movie have enough common sense to realize that any hidden clues left behind by those that had a huge influence on civilization are not real, there are likely some that would insist on believing that such things as this could be true. The wonder of fiction is that it can pull off of fact and take on a life of its own in a way that some people attribute to reality.
3. On the Basis of Sex
Playing the part of Ruth Bader Ginsburg had to be somewhat of a challenge since many people would call the woman a true pioneer in a world that doesn't treat such individuals all that kindly when they advocate for the kind of changes that some people don't want. But try as people might to keep her down Ruth was dogged in her determination to change laws that had been antiquated decades before in order to make sure that they were updated and made to serve those in the current era. In doing this she didn't make a lot of friends at first, but in the long run she did manage to effect a great deal of change in our sytem.
2. The Theory of Everything
On one hand it wouldn't be easy being married to a man whose every other thought seemed to be on a level that wasn't felt by a lot of people around him. But on the other hand it would be difficult once his health started to fail and he needed more and more help than one person could possibly give. So many people decided to criticize this film that it's a wonder anyone enjoyed it. But the idea that someone could be so intelligent and yet be struck by fate in such a distinctly cruel way is hard to imagine. But then Stephen Hawking never allowed anything to really keep him down even if it got him down. He still proved himself as one of the smartest people in history.
1. Rogue One: A Star Wars Story
It's hard to see why Star Wars fans are divided on this story since in truth it bridges the first two trilogies quite nicely with only a bit of explaining left to do in the main story. Jynn Erso is the perfect rebel despite the fact that she wants nothing to do with the Rebellion since she's still quite bitter that her father left her when she was a child. She has no love for the Empire however since it was Imperial soldiers that killed her mother. In the end however she does what's necessary to keep the Rebellion alive and becomes a martyr for the cause just like so many others. In essence this would be the story that kicked off the original trilogy, and it was done quite well.
She's worn many roles so far throughout her career and still has a lot left to give.
Tell us what's wrong with this post? How could we improve it? :)
Let us improve this post!