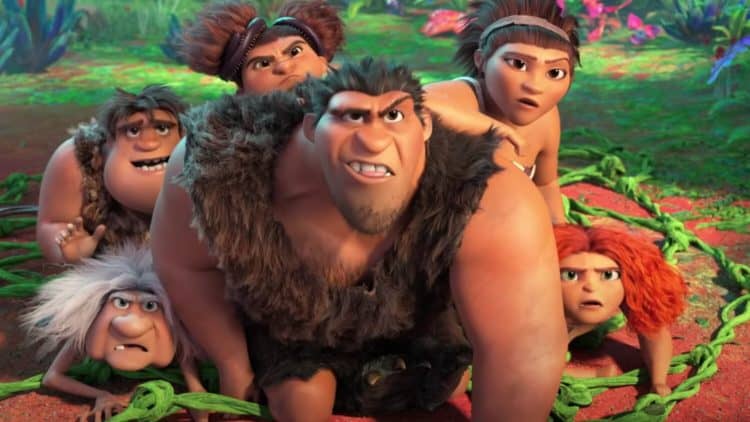 If you enjoyed The Croods the first time around then this might be another chance to see just how far evolution can be pushed since the family is now seeking a new place to live and comes upon a walled-in paradise where the Betterman's have made their home. Bringing in Peter Dinklage, Leslie Mann, and Kelly Marie Tran as the Betterman's, the story is pretty easy to determine when it comes to what's bound to happen and why the Croods and Betterman's are bound to eventually come together and learn that they're better off as a small community than separate families. What already appears to be happening is that we're going to see a lot of change taking place as Eep now has another young woman around her age to talk to and Guy appears to be an evolutionary step between the two families since the Croods were cavemen while the Betterman's are perhaps a slight step above Guy, but not much. As much as the initial movie was about family, change, and adapting to said change, this movie will also be about that since there are many similar themes that can be seen throughout the trailer. Anyone that's seen the first movie will know just how resistant Grug is to change, so it's bound to be hilarious to find out just how he'll take to the Betterman's and their way of life, no matter how much progress was made in the first movie.
Thankfully the entire cast will be returning as Nicolas Cage, Catherine Keener, Emma Stone, Clark Duke, Ryan Reynolds, and Cloris Leachman will be taking up their original roles in order to round out the movie. It does look as though at least a couple of the pets will be returning, as Chunky the death cat and Douglas the, um, dog, will still be with the family. But what ousts them from the home they found at the end of the first movie isn't quite clear, though given how the world is changing around them it might be another natural disaster that makes their home unlivable and forces them out into the wider world yet again. One thing is very clear though, fantasy has definitely taken over since there are insects the size of school buses, wolf-spiders that are quite literally a nightmarish version of that hybridized name, and monkeys, plenty of monkeys, that are likely to be the bane of Grug's existence once again. In short, it's bound to be familiar since some aspects feel as though they're different imaginings of the first movie, but with new ideas and possibly new threats that are going to easily trump those found in the first movie. It does look like it might be worth watching, but whether or not it's really going to get that much attention is hard to say.
To be fair, it looks funny and the trailer is already hilarious. As with the first movie it does look as though there are a few good parts being given away, but if it follows the same formula then there's a lot more that we're not seeing at the moment, which is a big up for the movie since not giving out everything is a better idea than trying to win people over by handing over every good part there is to be had. The first movie was without a doubt funny since Nicolas Cage and Ryan Reynolds provided a duo that was hilarious given that Grug was so resistant to anything that Guy had in mind and Guy was the individual that knew what was coming but couldn't get the Crood's to understand him in the least bit. Guy had actually been out in the world and seen what was there, while the Croods had, by Grug's order, stayed mostly in their cave, not venturing out for much more than food since Grug made it clear that anything new was bad. It's a hope that they're not bound to go back to this way of thinking since they'd made so much progress in the first movie, but change is a slow and torturous ordeal sometimes and with some people, it can take a lot of convincing before anything really happens. But it will be interesting to see how Peter Dinklage and Leslie Mann fit into the mix.
The young woman, played by Emma Stone and Kelly Marie Tran, appear to factor in as the adventurous duo as Eep and Dawn make their way over the wall and into an adventure that's bound to bring the families closer together despite probably splitting them apart from the get-go. After all, it's kind of obvious that the Betterman's created their walls to keep the rest of the world out while staying safe inside. Once the Croods come to visit though all bets are bound to be off.
Tell us what's wrong with this post? How could we improve it? :)
Let us improve this post!