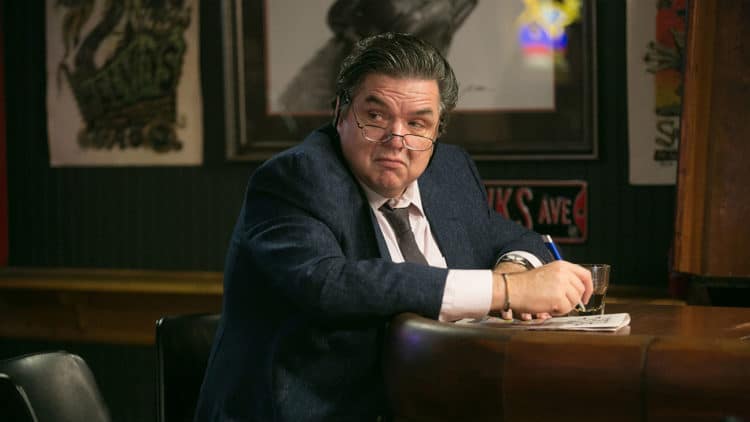 Chicago Med is one of the most popular medical dramas on TV and it's introduced the world to some equally memorably characters. Among them is none other than Dr. Daniel Charles. As the head of the psychiatry department at Gaffney Chicago Medical Center, Dr. Charles (Oliver Platt) is always called on when a patient's mental health is in question. Although his methods can sometimes be frustrating, Dr. Charles always has his patient's best interest at heart and he has had some amazing breakthroughs over the course of the series. In fact, Dr. Charles has actually saved the day more times than we can count. Here are five awesome Dr. Charles moments from Chicago Med.
1. Dr. Charles Helps Save A Young Patient With Cystic Fibrosis – Season 1
Over the course of the show, Dr. Charles has become known for saving the day. That tone was set in the first season and one of the scenes that made it clear was when Dr. Charles met a young patient who was suffering from cystic fibrosis. Although this is a physical illness, it's no secret that poor physical health can eventually weigh on a person's mental health. After realizing that he has pneumonia, the patient feels like he is ready to completely give up on life. However, Dr. Charles steps in and encourages him to keep receiving treatment. In the end, the patient is given a life-saving lung transplant and Dr. Charles makes it a point to be there when the patient wakes up. This moment shows the level of compassion and care that Dr. Charles takes with patients and it also shows viewers how easily mental and physical health can overlap. This is something the show has continued to touch on over the years.
2. Dr. Charles Maniupated By Identical Twins – Season 7
As a seasoned psychiatrist, Dr. Charles is usually a step ahead of his patients. However, during season 7, he met his match when a pair of identical twin sisters visited the hospital. One of the twins was suffering from abdominal pain and because they insist on doing everything together, the other twin demands that she get the exact same procedures as her sister. When Dr. Charles was called in to assess the situation, he is ultimately able to convince the twins to separate so that the one in pain can undergo surgery. At least that's what he thinks. However, during the procedure, Dr. Charles realizes that the twins have switched places. Fortunately, he is able to save the day and he also helps the twins realize how their attachment needs some adjusting.
3. Dr. Charles Saves A Suicidal Patient – Season 6
Dr. Charles has found himself in lots of sticky situations during the show, but one of the most memorable was during season six when he begins treating a patient named Ramona who harms herself for her attention. Ramona develops an unhealthy attachment to Dr. Charles and during a visit to the hospital, she becomes upset when he declines her invitation to hang out. She eventually comes up with a plan to end her life by jumping off of the roof of the hospital, but Dr. Charles makes it to the roof and manages to talk her down. This was an awesome scene because it showed Dr. Charles' dedication to his patients even when he doesn't particularly like them.
4. Dr. Charles Tries To Help His Shooter In Court – Season 3
Season 6 wasn't the first time Dr. Charles showed that he could be objective regardless of his personal feelings. In the last episode of season 2, Dr. Charles was shot by a frustrated patient who felt that Dr. Charles had been neglecting him. The patient then shoots himself in the head but he survives the incident. At the beginning of season 3, Dr. Charles is recovered from the shooting and goes to court to testify that his shooter was clinically insane and shouldn't be put in jail. The fact that Dr. Charles was able to put his personal feelings to the side was a very special moment. Ultimately, however, Dr. Charles' colleague, Dr. Sarah Reese, testifies that the shooter was sane which results in him going to prison.
5. Dr. Charles' Daughter's Pregnancy – Season 6
Unlike the other moments we've talked about, this one is more about Dr. Charles as a person than it is about him as a professional. During season 6, Dr. Charles finds out that his youngest daughter, Anna, was pregnant but the fetus didn't survive. At the time this was revealed, Dr. Charles was in the middle of a custody battle with his ex-wife (Anna's mom). Although she feared that her father would be upset, he actually showed her empathy and compassion and the two shared a touching moment.
Tell us what's wrong with this post? How could we improve it? :)
Let us improve this post!