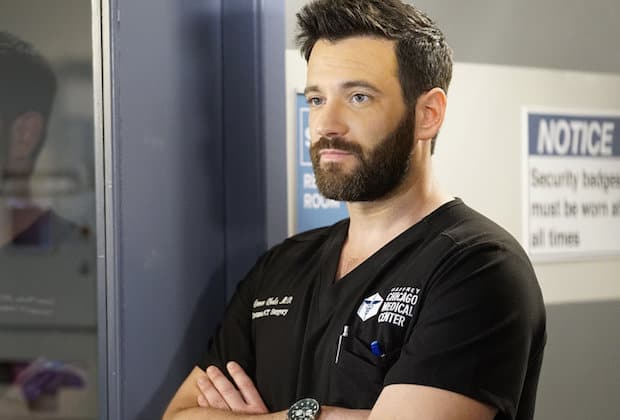 As one of TV's most popular medical dramas, Chicago Med has been going strong for more than five years. During that time, it has given us some of the best TV doctors to hit the screen in recent years. Dr. Connor Rhodes (Colin Donnell) is among them. Introduced during the first season, Dr. Rhodes is the kind of doctor who is passionate about his job and it didn't take long for him to become a fan favorite. Although he left the show during season five, Dr. Rhodes remains one of the most memorable characters on the show. Hopefully one day, he'll make a surprise comeback to Chicago Gaffney Medical Center. Keep reading for 5 of Dr. Rhodes' most awesome moments in Chicago Med.
1. Dr. Rhodes Seperates Conjoined Twins
Conjoined twins have played a very interesting role in medical history. However, even after all of these years, separating them can be very challenging. As a result, they are often left together for the sake of their safety. However, Dr. Rhodes felt confident that he could separate a set of conjoined babies. During the third season of Chicago Med, Dr. Rhodes put his surgical skills to the test in order to pull off the difficult procedure. When he presented his plan to his colleagues, there were some who doubted that the surgery would be a success. However, Dr. Rhodes was able to complete the operation with both babies surviving.
2. Dr. Rhodes Leaves Med
Okay, if you're a Dr. Rhodes fan you'll probably feel like this moment was more sad than it was awesome, but I'd argue it was equal parts both. He was one of the first characters to leave the show, so it was an especially memorable time. Even though it was sad to see Dr. Rhodes character leaving the show, his final moments at Med her were very touching. It was nice to see him take the time to have a personal moment with nurse Goodwin. It was also great to know that he left on good terms since that hasn't always been the case with characters who have been written out of the show. Leaving on a positive note makes it more likely that he will reappear in the future.
3. Dr. Rhodes Does A Lung Transplant
In real life, doctors often find themselves forced to make difficult decisions. Medical dramas certainly aren't any different. Dr. Rhodes ended up in more than his fair share of sticky situations, but he usually managed to rise to the occasion. During his time on the show, there were several times when Dr. Rhodes stepped up to show he was willing to do whatever it took to save a patient's life. One of the most notable times was during a lung transplant when Dr. Rhodes stepped up to the plate to take the lead on the surgery. This represented a major moment in Dr. Rhodes' career and his mentor was especially proud of his ability to handle such a complex procedure.
4. Dr. Rhodes Seeks Advice From His Mentor
A doctor's goal is always to save their patients' lives, but sometimes patients make the difficult decision not to continue receiving treatment. When Dr. Rhodes found himself dealing with a patient who decided he wants to withdraw from treatment, he struggled to honor the patient's wishes. As a medical professional he felt there was still hope. However, after talking to his mentor, Dr. Rhodes realized that it would be best to follow the patient's request. Dr. Rhodes' ability to seek advice and actually consider other people's opinions is a quality that not all of his colleagues have. This was just one of the many moments that showed why Dr. Rhodes was one of the most likable characters on Chicago Med.
5. Dr. Rhodes Brings The Hybrid OR to Med
Dr. Rhodes was the type of doctor who was constantly looking for ways to improve the quality of care at Med. Not only did he have the skills to do this, but he also had the finances because he came from a very wealthy family. He came up with the idea to bring a hybrid operating room to Med which would allow him and other doctors to perform surgery like never before. Although Dr. Rhodes was able to secure the funding for the hybrid OR, it came with a huge price. His girlfriend at the time, Ava, slept with his father in order to persuade him to donate the money. Of course, he was highly upset when he found out about this and it ultimately led to the demise of his and Ava's relationship.Medical dramas
Tell us what's wrong with this post? How could we improve it? :)
Let us improve this post!