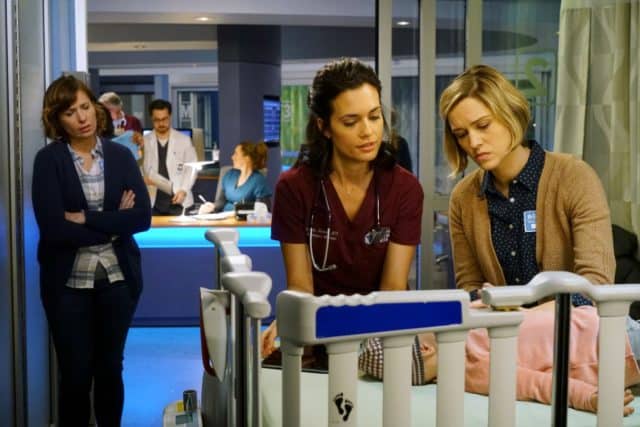 Chicago Med had a very confusing title for this week's episode, because it was a phrase in French that most aren't familiar with. "Folie à Deux" directly translates to "A Madness of Two". As a psychiatric term, it is characterized as a shared delusion. The ED did have a legitimate case, but there were quite a few people walking around who seemed to revel in justifying their own thoughts.
Let's start with matters of the heart, literally. Rhodes and Bekker treat a patient who was misdiagnosed in the ER, by Noah, and the head of the department. Now Noah is still a student. We would hope he wouldn't make a mistake like that, but it was actually a really easy thing to miss. Most physicians look for the obvious, and when you train yourself to look for that 9/10, you'll miss that one that is a far more serious condition. Rhodes understands that, and gives Noah a really good pep talk. By this point, Bekker can't deny her attraction to Rhodes. This was the most obvious setup from the get-go, but I'm glad they took their time.
Dr. Choi and April's night off is blown when one of Choi's neighbors is stabbed by a mentally ill patient. Dr. Charles isn't so sure that this woman is unstable, and then things get fishy. The woman's "friend" shows up, immediately starts taking over the woman's care, and has a bad history with Choi's neighbor. Things get a little clearer when Dr. Charles sees the codependency. He diagnoses the women with Folie à Deux, which unfortunately, is a very difficult case to make in order to exonerate the stabber. Who knew you had to worry about someone else's mental health transferring onto yourself?
Dr. Manning treats a baby with Whooping Cough, and doesn't think much of it, as the baby's immunizations might not have kicked in yet. What she doesn't know right away is that the baby's cousin never had his immunizations. No matter how you feel about vaccinations, and whether or not you believe that the baby got her sickness from her cousin, there is one indisputable fact. A child who hasn't had his vaccinations should not be brought into an environment like the Emergency Department where everyone is sick. That makes zero sense. Luckily, the baby survives.
Reese's absent father suddenly reappears, but he goes about it in a roundabout way. He first connects with Dr. Rhodes and Dr. Charles because he is in heart failure. Because of confidentiality, they can't tell Reese this will be her last chance to connect with him. She does connect with him on her own terms. But Dr. Charles gets another one of his funny feelings. After all that Sarah Reese has been through this year, she does not deserve to be taken advantage of, but that's exactly what's happening. Her father has the nerve to admit to using Reese for her care and money, then reminds Dr. Charles he is bound by doctor-patient confidentiality. This will not end well.
Is Reese destined to be pushed over the edge by the end of the season?
Chicago Med Season 3 Episode 11 Review: "Folie à Deux"
Summary
The patients, and those who should be patients, at Chicago Med, can talk themselves into believing anything.