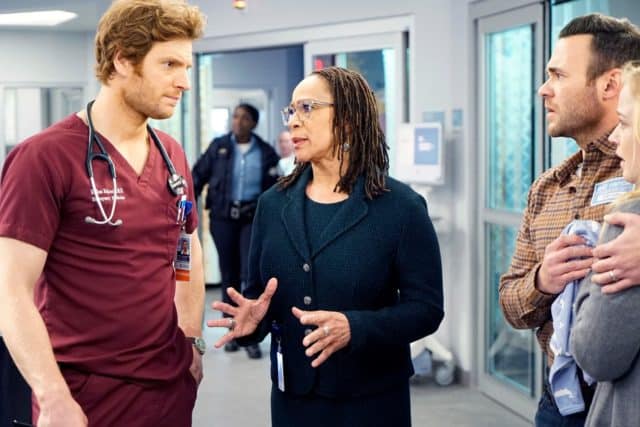 One of the scariest codes you never want to hear in a hospital is Code Pink. Code Pink is the code for an infant abduction, and unfortunately, Chicago Med has to call one. A code like that disrupts all hospital proceedings. Only authorized personnel are allowed to travel outside the hospital. Basically, besides security, you can count that number of authorized personnel on two hands. With a limited amount of supplies and physicians, the ER goes into chaos. Unfortunately, it means that patient's lives are put at risk.
Maggie has to do a procedure on one of Noah's patients when he steps out of the ER. With a limited amount of time, and no other doctors around, Maggie does a procedure only a doctor is allowed to perform. She's successful, but a short while later the patient suffers a stroke. Ms. Goodwin has no choice but to suspend Maggie as a result. She didn't really have a choice, but it will take some time to sort out whether or not Maggie's actions directly led to the patient's death.
Halstead and Manning face a similar situation when they have to inform a patient he has reached need for end-of-life care. But instead of sending the patient off to a comfortable ending, they get into a major disagreement about risks and protocol. Manning finds an anecdotal, non-FDA approved treatment for the patient. When Dr. Halstead refuses Manning's request, she goes behind his back and administers the drugs anyway. The patient then dies, and Halstead takes the fall. Dr. Manning isn't grateful that Halstead fell on his sword for her, she is angry. Even when it comes out that the drug Manning administered actually helped, she thinks her boyfriend's actions could be harmful to her career. Was Halstead thinking more like a boyfriend instead of a doctor? Yes, Manning also put Halstead in a terrible position, not for the first time.
Without access to a heart surgeon, Dr. Choi has to perform open-heart surgery by himself, in the middle of the ER. Dr. Rhodes and Dr. Bekker try to talk Choi through what he has to do over Facetime, but it's not enough. So Rhodes breaks lockdown, going through boarded up tunnels in the hospital to get to the patient. Bekker is able to talk Choi through keeping the patient going until Rhodes can get there. Rhodes seemed much happier breaking into the hospital than he did at that stuffy donor brunch with his father. Can we blame him, given that though he watches his son perform surgery, the man only has compliments for Bekker?
What staff isn't in chaos tending to their patients aids in the search for the missing baby. It's up to Dr. Charles and Dr. Reese to find the woman who kidnapped the baby. Unfortunately, Reese's head isn't all in the game. She's still reeling from the knowledge that her father is a genuine psychopath, incapable of ever loving her. It's coloring her judgment for the day. But she has to pull it together since time is of the essence. An infant abduction is one thing. An abducted infant who is in need of medical care is quite another. When they finally find the baby, Dr. Reese has to talk a grieving mother through giving up the child. She lies and promises the patient can trust her in order to get the baby back. Reese is the hero of the day, and still overreacts that she has psychopathic tendencies like her father. Talk about an overreaction.
Though tensions were high during the Code Pink, there was quite a bit of overreaction in many situations. In such a high pressure situation, was it really fair for so many big judgments to be made?
Chicago Med Season 3 Episode 14 Review: "Lock It Down"
Summary
Chicago Med deals with the widespread ramifications of a lockdown when an infant goes missing in the hospital.