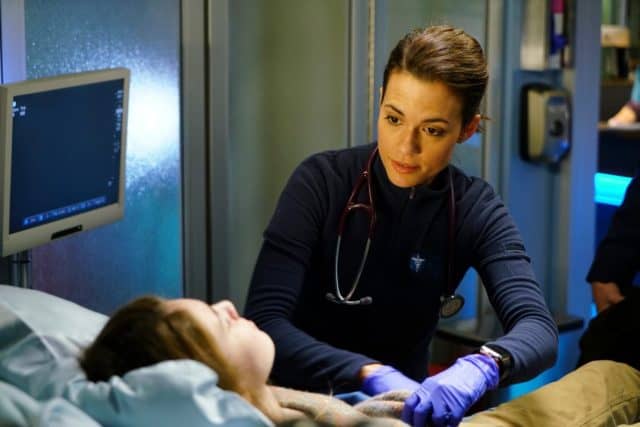 If there is one place that you're allowed to be inappropriate, it's the hospital. That leeway only applies if you are a patient, which this week's Chicago Med makes very clear. When you are a patient, you are feeling at your worst and most vulnerable. You don't go to the hospital because it's fun. You go because you are in pain, you need help, and you're scared. It's a physician's job to fix all that to the best of their ability. But there is a right and a wrong way to do things.
If you want to endear yourself to the girl you're wooing, take a bullet for her friend. Dr. Manning is shot at while on a ride along with Barry, and only survives because he pushed her out of the way, took a bullet in the leg, and shot back at the assailants. Now that's a well-prepared man. Barry is used to working out in the open like that. That's why he had the sense to carry a licensed gun when he was picking up gunshot victims. He has also built up the mentality for this type of situation. Dr. Manning hasn't, and it shows, quickly.
Dr. Manning wouldn't have gone home no matter what Will tried, but the morning already had her on edge. Her undiagnosed concussion didn't help. She was pretty much ready to explode when a man came in for his 14-year old wife suffering complications from her miscarriage. Is it disgusting? Absolutely. Is it illegal? Unfortunately, no. What's worse is that the man (and I use that word loosely) would rather his young bride die from tumors on her uterus than risk any treatment that would make her infertile. It takes some doing, and Will has to do some pretty heavy acting to get rid of the husband, but the girl does get some time alone to make her own decision. I can't say that a hysterectomy didn't make sense for her situation.
I've said it once, and I'll say it as many times as I need to. Dr. Reese should not have come back to work so soon. At the very least, she shouldn't have been allowed to dive right in with her patients solo. Where before she was hypersensitive to her mortality and danger, now Reese is a little too comfortable putting her life in jeopardy. Just because locking herself in a room with a patient and a knife helped him, doesn't mean it was a smart idea. It was stupid and dangerous, not to mention a complete slap in the face to the faith Dr. Charles has placed in her.
In the land of the uncomfortable, Dr. Rhodes brings his one-night stand in when she complains of chest pains. His married one-night stand. Yeah, I'm with Dr. Bekker. I'd have fun teasing him, too. Luckily, Dr. Latham keeps Rhodes focused on the drive-by patient from Barry's shootout, so as to avoid any possible legal entanglements down the line. At least he saves the man Barry shot.
Barry isn't as prepared for the day's events as he thought. Just as things were looking up with him and Maggie, he is arrested. Not because he shot back in self-defense, but because his license to conceal was under a false identity. Barry changed his name to hide from some problems in his juvenile record, and he never told Maggie. Barry probably had his reasons for not telling Maggie the truth, but it doesn't make her feel any less icky.
Whose actions were inappropriate, and whose were justified, on this week's Chicago Med?
Chicago Med Season 3 Episode 10 Review: "Down By Law"
Summary
A few Chicago Med staff members cross the line to treat their patients, but who is morally justified, and who is not?