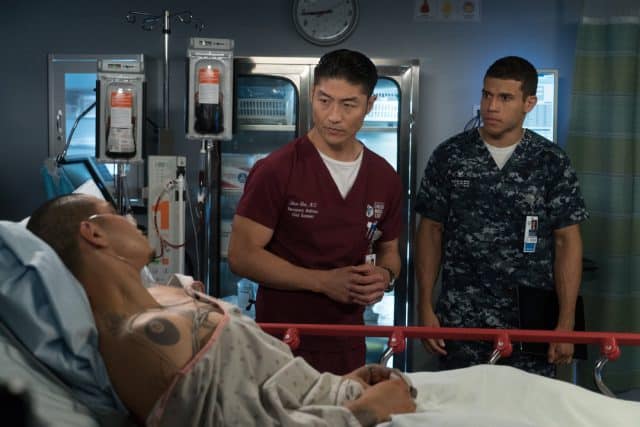 Something Chicago Med consistently does well is tell real stories no matter how ugly or unfair they are. A gang member doesn't walk into the ER with a gunshot wound and walk out without happy feelings. People in poverty and debt don't climb out of that without suffering for a little while. Some children who get sick don't get better. Plenty of miracles don't happen everyday, but some do. Sometimes the little miracles you don't expect are the ones you need.
Being in psychiatry makes Dr. Reese prone to overreaction when it comes to the people around her. She can't stop diagnosing everyone. Luckily April and Maggie let her know how silly she is being. Dr. Charles eases her mind as well. This is perfectly normal for every first year psychiatry resident.
Dr. Manning treats a 3-month old baby girl who suddenly stops nursing and presents with reduced reflex control. Her condition deteriorates rapidly. Dr. Manning can't even figure out why this happened so quickly. What Dr. Manning doesn't anticipate is that Dr. Rhodes' 8-month old patient is in need of a heart. His patient doesn't have any more time to wait on the UNOS list. He asks Natalie to ask the parents of her patient to consider organ donation should their baby girl be brain dead. The babies are a match. It looks like a transplant is going to go through until Dr. Manning figures out that her patient has Botulism. With a treatment plan in place the little girl will survive. The same cannot be guaranteed for Dr. Rhodes' patient.
Dr. Choi trains a Corporal set for deployment. Unfortunately, the gun violence in Chicago is perfect training for combat wounds. A drop-off gunshot victim really rattles the Corporal. The young man makes it through surgery fine, but his only thoughts are on revenge. The revenge his buddies take lands an innocent bystander in the hospital. With the trauma surgeon unavailable, the Corporal gets hands-on training on combat surgery in the ER. Not that it saves the bystander. The Corporal is impressed with the way Dr. Choi handles himself. We all know that Choi came back from the war with deep emotional scars. He goes home to his parrot, then writes down the name of the latest person he wasn't able to save in what can only be described as a 'Combat Book'. He doesn't ever forget the ones he's lost.
Not all stories in poverty settings are bad. Dr. Halstead is getting used to being broke as he's overwhelmed with medical school loans and malpractice insurance payments. His homeless patient gives him a fresh perspective. Mr. McGregor has lived on the street for 15 years but remembers details of events which happened over a decade ago as if it was yesterday. With Dr. Charles's help, he and Halstead figure out that McGregor has actually had a brain tumor which is pressing on his optic nerve. Yet he's happy. He spends his time in the ER telling baseball stories and explaining the beauty of color. Even in the worst of circumstances there is beauty in the world. Things can always get worse, so why not appreciate the good?
What did you take away from this episode?
Chicago Med Season 2 Episode 2 Review: "Win Loss"
Summary
Chicago Med balances the good, the bad, and the emotionally exhausting examining the miracles we do and don't get.